All the time Jose Mourinho is Manchester United manager, I will back him and believe in him but this cannot go on. Something has to change - so abject, so apathetic and so anodyne was our performance at the London Stadium that it's becoming increasingly clear that the 'something' might have to be the manager. I believe there is a hierarchy of blame - Mourinho is not 100% to blame for the plethora of problems permeating through the club from top to bottom, and nor is he not to blame at all.
The board are useless, and a good few of these United players aren't good enough but you can't sack an entire squad and - unless anyone has a spare 400 million knocking around anywhere - Ed Woodward and his merry band of men aren't going anywhere either. That leaves only one option - Jose Mourinho has to go. It's a situation that now feels like a matter of when and not if. I'm not one for sacking managers with abandon, but United are broken, battered, a mess and a club on their knees. Mourinho has appeared a man on the brink for some time and doesn't look capable of turning this around. When the rot sets in, he never recovers, he never comes through a bad patch of form and this looks no different.
I'm not sure what the answer is but I do know this: it certainly is not Jose Mourinho. The guy's a winner, his record and career cannot be argued with, but he was never really the right fit for a Man Utd team that needed stability. Two and a bit years into his Old Trafford reign, and Mourinho still doesn't have a clue what his best XI or, indeed, even what his best formation, should be.
It's impossible to say whether the players remain fully behind the boss or not - we can't know that for certain - but the body language and attitude at West Ham was shocking, this ragtag collection of mismatched, discombobulated pieces looked like a side at odds with themselves. Bereft of belief and confidence, Manchester United are mentally weak and failed to even manage the basics at the London Stadium. We struggled to string two passes together, players were jogging rather than sprinting, throwing arms up in frustration rather than attempting to win the ball back, there was no organisation, communication or movement and on one occasion Ashley Young gave the ball straight to Declan Rice from our own corner. The team fell to pieces with fear at the first sign of a West Ham foray, and from the moment Felipe Anderson scored, we never looked like turning things around.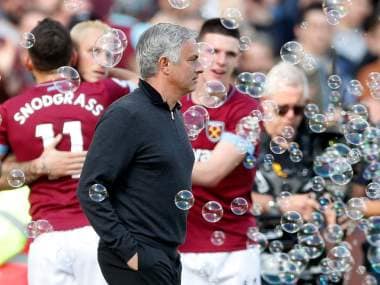 A lack of quality can be excused but what I - and many others - have issues with is not so much the results themselves, but the manner in which United have capitulated. For players to go out and not give 100% in criminal, unacceptable and inexcusable at any level of football, but the fight, hunger and desire to win is just not there in this team.
Too many players aren't giving their all and aren't working hard enough for the shirt. Too many players don't seem interested in fighting for the club, their manager and us fans - disgraceful for any professional player, never mind one at Manchester United. Players would've run through brick walls for Sir Alex under the leadership of Roy Keane and Bryan Robson and even the mere thought of a half arsed attitude in any game would have resulted in a one way ticket out of Old Trafford. How times have changed. It's more evidence - if it were needed - that's something is massively wrong at the club.
Not only that, but United's game management was non-existent as one Mark Noble through pass cut us wide open to put Marko Arnautovic in for 3-1 moments after Marcus Rashford had scored to restore a faint modicum of hope.
Mourinho's team selection, formation and system were simply baffling. I couldn't tell you what the tactics were, what we were trying to do or how we were trying to play. It was quite some achievement from Mourinho to make the demotion of Alexis Sanchez look negative. McTominay, Chris Smalling and Victor Lindelof were behind the pedestrian Nemanja Matic and cumbersome Marouane Fellaini, supplemented by the puerile Paul Pogba in what was the biggest football team ever known to man. Those under six foot need not apply. McTominay has never played in defence in his life and yet, for some inexplicable reason, he was picked ahead of Eric Bailly - an actual, proper, centre-half, whom it's clear Mourinho does not like or trust. Alexis Sanchez and Jesse Lingard were left out completely. There was a complete lack of identity, no clear style, a messy and disjointed system with a back five and three defensive midfielders, and round pegs repeatedly rammed into square holes.