In a Manchester United side that has been seemingly in a constant state of flux for the past eight years, there has one been man swimming against the tide. One man that has been the epitome of consistency, one last solitary ray of hope and a beacon of light where there appeared to be none. Even the best fall down sometimes. Sometimes, just occasionally, even the stars refuse to shine.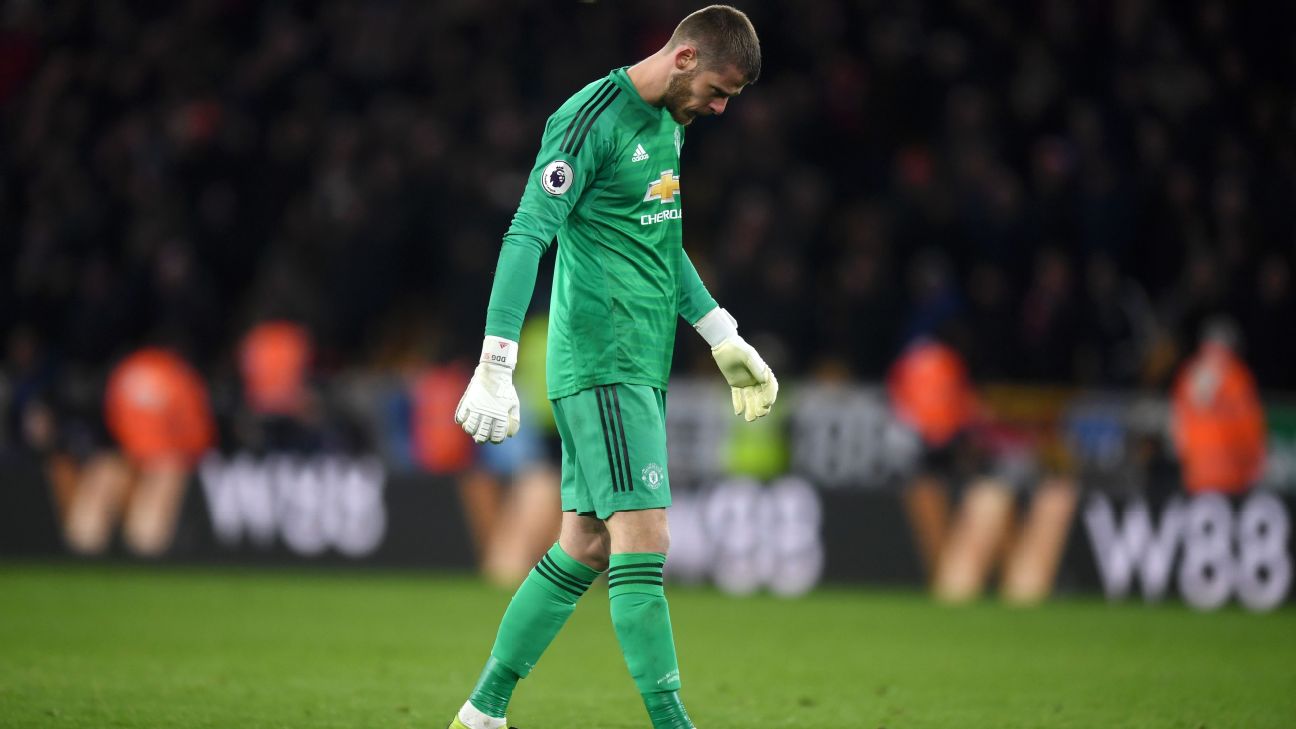 David de Gea has often been singled out as Manchester United's saviour and a shoo-in for player of the season, having been named in the PFA Team of the Year for four consecutive seasons. After the defeat at Wolves on Tuesday, 'Dave' found himself thrust into the spotlight for entirely different reasons.
It was De Gea's careless throw out to Fred that resulted in Diogo Jota's equaliser after the Brazilian had lost the loose ball. When Chris Smalling put the ball into his own net for the comedic winner, De Gea failed to react. A keeper of his calibre should be throwing everything on the line to stop the cross, but instead DDG remained rooted to the spot as if running through treacle. He didn't even call for the ball or move for it when the cross came in. De Gea can't come for the first ball but when it's the second phase he should come out, spread himself and take everything - including probably stitches - for the team.
It epitomised what, by his own metronomically high standards, has been a poor season, stemming - perhaps - from an underwhelming World Cup campaign when he was made something of a scapegoat for La Roja's early exit.
What followed has been a season littered with costly mistakes from De Gea, who is out of contract in the summer and looks increasingly likely to leave in June. Having only been denied their much sought-after man thanks to a dodgy fax machine in 2015, it looks as though Real Madrid will get De Gea this time. What Real Madrid want, they usually get one way or t'other. The uncertainty about the will he won't he saga has undoubtedly had an affect on De Gea's normally impeccable form and morale. Certainly he has appeared a man at odds with himself for many months now. De Gea is using Alexis Sanchez's deal to bump up wages that the board are simply unwilling to pay. As our best player and arguably the finest exponent of his craft on the planet, De Gea deserves to earn more than a £500,000 per week bench warmer, so you can understand why he wants to leave.
It's an impasse and one that needs to be resolved soon. It may already be too late as De Gea is not at the races with his head, and heart, seemingly set on a move away from Old Trafford. The prospect of losing a player whom has almost literally single handedly kept United heads above water used to be unpalatable. No longer.
There are at several other errors that instantly spring to mind, two against Arsenal this year alone. Shkodran Mustafi's header squirmed out his grip to gift the Gunners an opener at Old Trafford in December, before he completely missed Granit Xhaka's speculative strike from distance in the reverse fixture a few weeks ago. Lucas Moura's effort for Spurs should have been bread and butter but instead went straight through him back in August.
Even the best are far from infallible and De Gea has become a worry.