Manchester United will need another unlikely Houdini act of escapology in the Champions League quarter finals. A fortuitous Luke Shaw own goal proved only the wafer-thin difference between Ole Gunnar Solskjaer's side and the heavyweight giants of Barcelona at Old Trafford. It was a better outcome than we could have hoped when Ernesto Valverde's side took a 12th minute lead they were never to relinquish.
Scratchy, ill disciplined and careless throughout, one thing is certain - Barcelona will not be this poor again in the return fixture at the Camp Nou on Tuesday.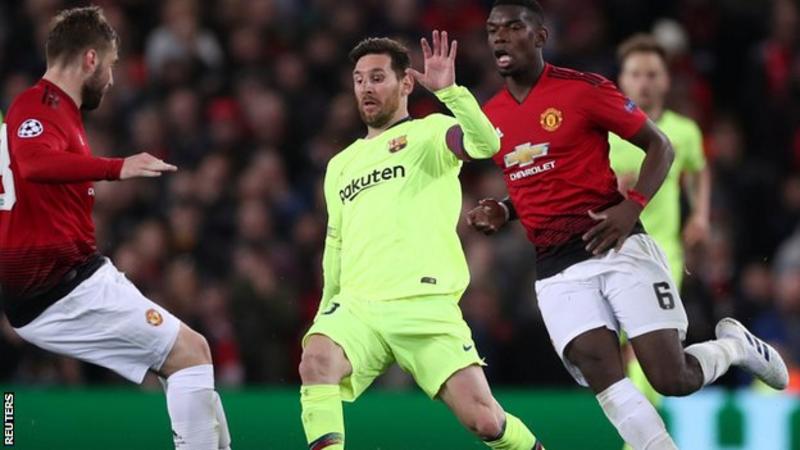 The Catalans are unbeaten at home in the competition for six years and - after the miracle of Paris - surely lightning cannot realistically strike twice. Even for a club that exists on making the Impossible possible. Never count us out, after all we are Manchester United and a tie is never over at 0-1, but the odds will be stacked against us. But then, the Reds often produce their best with backs stacked firmly against the wall. Chances will be talked up and spirits and omens summoned from far and wide, but logic and realism dictates that there is to be no escape this time. But Solskjaer and the players must believe, stranger things have happened and - with Barca having suffered three successive quarter final defeats - there could be some questions about their mentality. Knocking out the 5/2 favourites for the cup with the big ears on their own ground would be a better achievement than sending packing a flawed PSG side with a history of falling short.
As United return to a ground forever synonymous with our greatest miracle of all 20 years on, we will need an arguably even bigger one here. It is a romantic narrative but Barcelona deal in reality. With United 1-0 down, it would be truly astonishing if our team came through next Tuesday's quarter-final second leg to reach the last four where, in all likelihood, Liverpool would await. But, simply by getting this far, we've confounded all expectations and I was immensely proud of United's courage, spirit and sheer willpower against a Barcelona side that, on paper and in reality, are streets ahead. It says it all when the over-riding feeling is one of an opportunity missed rather than any tangible angst or fear. You're never going to get a bucketload of chances against opposition of this calibre, but you have to make the most of what you can get and that's what cost us.
Lionel Messi was relatively quiet, some of Barca's passing was strangely lacklustre and yet the suspicion remains that this was Barcelona playing within themselves, while United mustered the best we could.
Several of our players played above their ability and, on a night when a cool head was needed, Sir Scott of McSauce was top class as he eclipsed his £89m team mate Paul Pogba, dominated his illustrious opposite numbers and never looked out of place. So much so that along with Barcelona's Gerard Pique, he was the best player on the pitch. The fact that centre-back Pique was the visitors standout star tells you everything you need to know.
£52m man Fred finally came to the party with his best game by far in a United shirt, and caught the eye with his passing range, work rate, industry and an excellent all round showing both defensively and in attack. Victor Lindelof and Chris Smalling impressed and Mr Consistent Luke Shaw did well again.
The players must overturn form, logic and the history books in the Nou Camp. United may have done it once - it is very hard but certainly not impossible to see them doing it again.