So it's official. Manchester United have finally got their man after agreeing an eye-popping 80m fee with Leicester for Harry Maguire.
Ole Gunnar Solskjaer had made the signing of a centre-back his top priority this summer and after what has seemed like an eternity, despite Leicester digging their heels in, Maguire is on his way to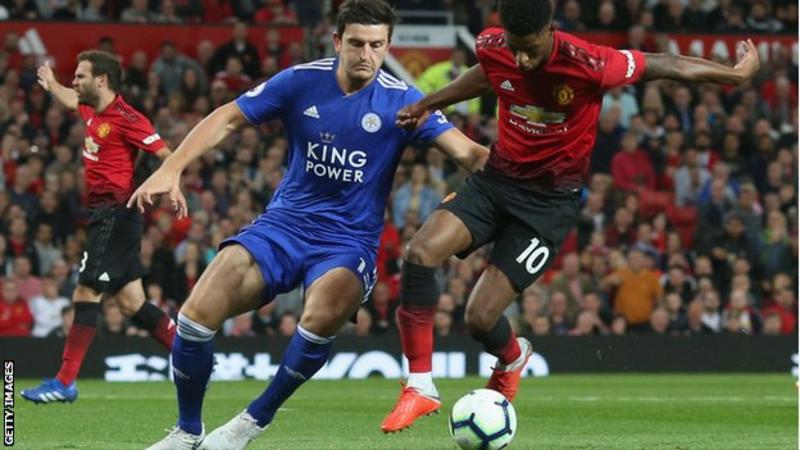 Old Trafford. So badly was the 26-year-old needed, United have made him the world's most expensive defender, eclipsing the £75m paid by Liverpool for Virgil van Dijk back in 2018.
If Maguire goes on to have even half the impact of his centre-back cohort down the east Lancs road, then it's money well spent. He may be not worth even half the fee we have paid, but anything to keep Chris Smalling, Phil Jones and Marcos Rojo as far away from the team as possible is fine by me. A one legged Maguire would be a significant upgrade on the defenders we already have at the club - Victor Lindelof aside. United have been in need of a dominant defensive force since Nemanja Vidic left for pastures new five years ago. Having watched the Chuckle Brothers - Old Trafford's survivors extraordinaire - stealing a living through our fingers - for the best part of a decade, Maguire will certainly provide that. Calm, composed, strong in the air (no surprise with a head that size!) and a ball-playing centre back, he will complement the grit and guile of Lindelof perfectly. These two have to be our first-choice pairing it is as simple as that. Axel Tuanzebe has done well in pre-season and can provide the cover if needed as third choice.
Finally, after what seems like an eternity, United have a centre back pairing to trust and have confidence in. With the addition of two excellent young English full-backs on either side in Aaron Wan - Bissaka and Luke Shaw, the Reds backline looks in its rudest health for many a year. I'm a big fan of Eric Bailly, he is our best defender, but you can't rely on a player made of balsa wood.
Matthijs de Ligt was a non starter after our previous target went to Juve, and - although we could've had Toby Alderweireld - no doubt considerably superior to Maguire - you can see why Solskjaer plumped for the latter. We were priced out of a move for Napoli's Kalidou Koulibaly. Alderweireld would have been available for a paltry £25m, peanuts for a player considered one of the finest exponents of his craft. But he's 30, injury prone and would only be a short-term option, albeit a very good one. Maguire, on the other hand, is still only 26, appears a better fit long term and is also in keeping with Solskjaer's transfer raison d'etre of bringing the best of British to Old Trafford.
Maguire's aerial prowess also makes him stand out and he is considered one of the most consistent defenders in the league.
On average, he won an aerial battle once every 22 minutes for Leicester last term, better than both Lindelof and Jones (37 and 27 minutes respectively) and significantly better than Bailly (49 minutes). Smalling, though, won aerial duels slightly more regularly, once every 20 minutes last term, as per BBC. https://www.bbc.co.uk/sport/football/49208153
The rise and rise of Maguire - from Sheffield United to Leicester via Hull and England - to one of the biggest clubs in the world for a gargantuan transfer fee - is undoubtedly a great story. But his move to Old Trafford brings a kind of scrutiny that will be alien to the player. For that price tag, he will be expected to transform our defence in the manner Van Dijk has done for the Scousers. Not just plugging the cataclysmic chasm and the most glaring leaks, but doing so with a sense of calm and authority.
For a young man from England's Steel City who went with his mates to Euro 2016 to cheer on his country, his life has changed beyond all recognition.
The Slabhead Cometh.