22 January 2020. Manchester United 0-2 Burnley, the Clarets first win in these parts for 57 years and a night when United hit their post-Sir Alex nadir.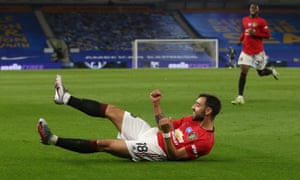 It was a night when United's chickens came home to roost, as years of under-investment, penny pinching and ineptitude came crashing to earth amidst a rising cacophony of discontent. Fury was vented in the stands, with much of the spleen being directed to United's American owners the Glazers, even in absentia, and CEO Ed Woodward. Old Trafford was toxic and Ole Gunnar Solskjaer - for seemingly the umpteenth time - seemed a man on the very edge of the precipice.
Six months on, you'd have got long odds on the season running deep into summer, but also of that dreadful night being the last time Manchester United tasted the bitter pill of defeat. 15 games on, and the Red Arrows are revitalised, a team enjoying a renaissance and a revival as the shadows shorten.
A team top of the Premier League form table and fighting for third spot and two cup wins, a club transformed by the arrival of a man from a small Iberian nation with a rich football heritage and two of Europe's biggest clubs.
United needed a spark, someone to light the touch paper as the conductor of an unharmonious orchestra that was terribly out of tune. A playmaker, someone to provide United's discombobulated, square pegs in round holes squad with the X Factor and a sprinkling of stardust. Enter, Bruno Miguel Borges Fernandes. A man from Portugal and a man on a rescue mission. To get that orchestra united again, to get the merry band of men all singing from the same hymnsheet.
I've never seen an individual have such a transformative effect on an entire football club. The doom and gloom has lifted completely and no one has won more matches in the English game than we have since Fernandes arrived from Sporting.
A vibrant, free-flowing style is coming to the fore under Solskjaer - with Fernandes at its heart. I really am running out of superlatives for this man. Notably jaded and below par at Norwich, Fernandes proved that was only an aberration as he ran the show at The Amex, leaving Brighton in the sea and on the rocks with a devastating individual display. He passed them into submission, added two goal of the season contenders to his growing collection, and left the Seagulls dancing to his tune. A born winner, a true leader and the string-pulling heartbeat of a side growing before our eyes, Fernandes clearly demands 100% from everyone around him but in a way that just makes you love him. He oozes class and charisma, and even if he'd only played ten minutes he'd have been my man of the match. He could have had a hat-trick, he battered Brighton, served them with chips and left the Seagulls feeling blue. He was absolutely magnificent and can you imagine where we'd be if we'd signed him the summer and not January. Our best signing since Ronaldo, Fernandes would walk into any team in Europe.
Linking well with Paul Pogba, our Portuguese magnifico also did his bit defensively and never stopped running. The architect, the alchemist turning United's silver plating into gold. There had been
a feeling that Fernandes might need a break at some point, having already played 28 games for Portugal and Sporting Lisbon before his much-feted arrival in M16. Not that you'd know it here, as he swept home an excellent opener and then capped a stunning breakaway move with a dipping volley as United went from one end of the field to the other in eleven seconds. Bruno has been simply majestic, as one glance at his stats will tell you.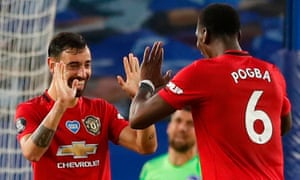 In the 12 games in which Fernandes has featured for United, we've won eight, drawn four, scored 28 and only conceded four. Since his debut in February, Fernandes has been directly involved in more goals in all competitions than any other player in the Premier League, with six goals and four assists.
It's more than that, though. It's the mentality and attitude he brings, an elite mindset in which nothing but the best is good enough. That alone makes him the archetypal Manchester United player.