Cast your mind back to the 22nd January. The country was a very different place and we lived in much happier times. We could travel and see our loved ones at will, you could pop down to your local without a care and supermarket trips did not require this thing called a face mask.
For Manchester United and Ole Gunnar Solskjaer, however, life was a world of pain. That very evening, Burnley won at Old Trafford for the first time in 57 years, with The Times opting for the familiar headline: "Rebellion in the Air." It was a night that the already strained relationship between us fans and United's boardroom powers that be reached boiling point. Solskjaer - already a man under immense pressure - looked to have reached the end of the road. Even the most ardent of pro-Ole supporters had started to lose faith in the former Norway and United legend.
Ed Woodward, the hapless CEO, was the man on the receiving end of much of the bile. He cannot have failed to notice it, with the national newspapers lining the route from Old Trafford's reception area to his office.
That very same night, Leicester City beat West Ham 4-1, for their 15th win from 24 league games. The Foxes were in third, 14 points clear of Solskjaer's United and 1-3 to make the top four. United were 11-2 shots with the same bookies.
Yet six months on, at the end of an exhausting and elongated season, the tables have turned, quite literally, and United have made not only the top four, but third place.
I don't want third (find me a United fan that does) - we all know Manchester United's rightful Premier League place is two places higher at the top of the tree. But its a huge improvement on last season, having only managed sixth in 2018-19. Jumping three places in a single campaign is significant progress and if we do that again next season we'll win the league! Joking aside, its only the third time in seven years United have qualified for the Champions League through the league - having finished 7th, 4th, 5th, 6th, 2nd, 6th again and now 3rd. It is a watershed moment for Solskjaer and his young Reds side, the moment his rebuild well and truly kicked into life, an achievement that seemed so unlikely for so long. Third place may be the minimum expectation for a club of United's size and stature, but it will allow transfer plans to be put into place and makes the club a more attractive proposition for the likes of Jadon Sancho.
Unbeaten in the league since that fateful Burnley night, Manchester United are back in the Champions League. That simple fact will be all that matters for Solskjaer, his staff and our players after a gruelling, 11-month Premier League season in which we came to within two points of the relegation zone but yet finished as the third best side in the land.
Of course, it's a team game and the entire squad - with Solskjaer of course - deserve credit for taking United into the top three. But there is one man to have stood out above all others, a kindred spirit with a touch of class, a ringleader, a string-pulling creator in chief who has become United's 21st-century Eric Cantona. Enter, Bruno Fernandes. Since his arrival from Sporting Lisbon for £47.7m, Manchester United are unbeaten and top of the form table. Fernandes has lifted the club, with ten goals and twelve assists in 20 appearances. It is telling he has only lost once in a United shirt - that defeat to Chelsea in the semi final last weekend. Fernandes has raised standards, made others better and has provided leadership previously conspicuous by its absence. Paul Pogba will almost certainly stay now thanks to the Portuguese magnifico. Even when Fernandes is not at his brilliant best, he has an impact and makes a difference. His performance at Leicester was probably the worst so far, but yet he was involved in the move that led to the opener and scored the resultant penalty.
After Fernandes debut on February 1 against Wolves, United still had that 14-point deficit to third-placed Leicester. But fast forward to his decisive role in the final day flourish over the Foxes and you can see the extent of his impact. The playmaker has provided the missing link for this United side, building a bridge between midfield and a talented array of attacking armoury with his talent and forward-thinking style. He's arrogant but in a way that just makes you love him.
Marcus Rashford's return from injury and the emergence of Mason Greenwood have also been key. There were wobbles against Southampton and West Ham, but overall United have been physically and psychologically stronger. Since that Burnley defeat, United went behind seven times but only lost once, compared to conceding the first goal on 13 occasions and losing nine times before then. That night will be looked back upon as the turning point in United's season.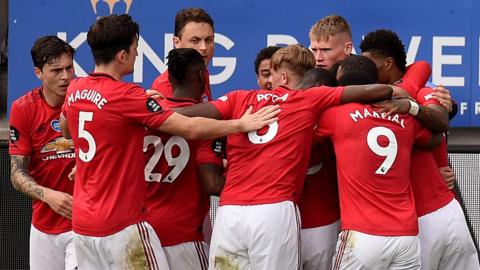 It may be a cliche, but it would be fair to say that United are back where we belong. Not because we should have a divine right to mix it with the very best, but because a club of our resources and clout should be dining at European football's top table season in season out.
But we have been in this position before. This is not the first time since Sir Alex we have been in this position, not the first time that Champions League qualification has been heralded as a turning point. It should be the last time a turning point is needed, but that would require lessons to be learned from past mistakes.
In each of the Reds last three Champions League seasons - 2015-16, 2017-18 and 2018-19 - players were signed for exorbitant sums to build a squad befitting of the competition, but few proved a success.
From Memphis Depay, Morgan Schneiderlin and Bastian Schweinsteiger to Alexis and Romelu Lukaku, all would be cast off and replaced with two years. Diogo Dalot has fallen out of favour and Fred has struggled to recapture his pre-lockdown form with Nemanja Matic and Paul Pogba Solskjaer's preferred double midfield pivot.
For all the talk of progress - and even the most anti-ABU can't deny that something special is building at Old Trafford - United's final points tally of 66 is the same as it was last season. Third place now, sixth then. On average, 66 points usually gets you fifth spot. It is typically a Europa League tally rather than a Champions League one. It is a number in keeping with many of United's recent seasons - since Ferguson's retirement our points tallies have been: 64, 70, 66, 69, 81, 66 and 66 again. Other than the anomaly of Jose Mourinho's 81-point second place, all of those normally wind up in a finish between fourth and sixth. So despite the obvious trajectory, there is work to do and Solskjaer will look to avoid such a close race for the top four next season. We've closed the gap on City from 32 to 15, and bridging that further will be one of the key objectives in 2020-21. To do that, he'll need sensible, future-proof squad building, similar to what he's done already but unlike what we've seen in the past.
United may be back where they belong, but there is much work to do over the next few weeks and months if we are to stay there.
This summer's attempts to capitalise on Champions League qualification need to be better than those that have preceded it. Woodward and United's de facto transfer guru Matt Judge have important decisions to get right.