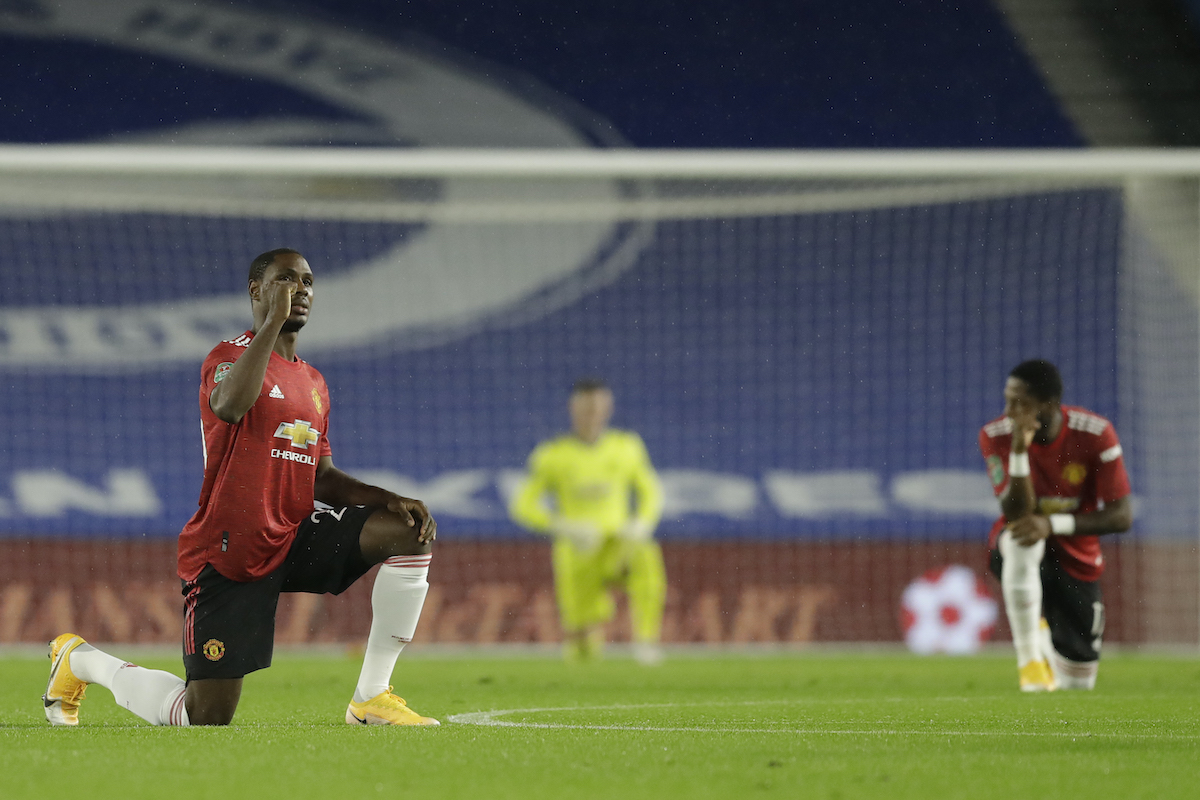 Now, admit it, we've all been there. We've all had that dream where we run out at Old Trafford in the iconic red of United in front of 76,000 fans and score the winner at the Stretford End. For us mere mortals, it will be the closest we will ever get to treading the hallowed turf - such a scenario only ever plays out in the fantasy of our heads. Only ever a dream.
Yet for one man, that fantasy was realised. A man written off as an outcast, a veteran journeyman plucked from the backwaters of the Chinese Super League as a short term, stop gap signing for one of the world's biggest clubs. As Odion Ighalo returns to Shanghai after his loan at United comes to an end, he is living proof that dreams do, indeed, come true.
Ighalo was written off as the epitome of Manchester United's erratic dealings in the transfer market - with a striker needed, surely there were better options than this bloke, or so the narrative seemed to say. Having searched in desperation for an emergency centre-forward, the Reds final, eleventh hour throw of the dice, looked a case of panicked desperation. Bruno Fernandes had arrived the day before and elevated expectation to such an extent that there was a sense of understandable antipathy and anti-climax surrounding the signing of a player deemed to be not good enough. After all, he had let go by Watford. Watford....
Ighalo had gone 18 games without scoring on his last sojourn in the Premier League, and failed to find the net in over 600 minutes during his final months on these shores. So how on earth would he be good enough for the might of Manchester United? Fans, critics and pundits alike were awash with criticism. But in the space of six short weeks, the only person laughing was the man himself.
Let's revisit the final hours of transfer deadline day, 2020. A time before Covid changed our lives beyond recognition almost overnight. United needed a striker with Marcus Rashford injured and down to the bare bones up front. Anthony Martial was the only player between the Reds and a full on striker-less crisis. Ighalo, a boyhood fan growing up in Nigeria, took a pay cut to make his dream move happen, signing on loan from Shanghai for the remainder of the 2019-20 season. The move would later be extended until January 2021, with his time at the club officially coming to an end on Wednesday.
Although Ighalo found game time hard to come by, especially after the arrival of Edinson Cavani this term, he became a cult hero at Old Trafford. Ighalo dispelled the doubters and silenced the sceptics with his infectious enthusiasm, selfless work rate and his fair share of important goals. The first Nigerian to ply his trade for the club, and the seventh African, Ighalo became the first player in 95 years to score on each of his first four starts for the club with a brace at Derby in the FA Cup, the opener at Norwich in the quarter-final and strikes in wins over LASK and Club Brugge in the Europa League. Far from merely a novelty wildcard, Ighalo proved a popular man in his brief time at Old Trafford. 23 appearances and five goals represents a decent return but it's a shame he was only able to play in front of our home fans three times before the pandemic struck and forced football to go behind closed doors.
When Rashford returned to full fitness post-lockdown, Ighalo's role was limited to sporadic cameos in league and cup, mainly to allow Rashford and Martial a rest and as a rotation option amidst a frantic fixture schedule. He provided cover to United in our hour of need when Ole Gunnar Solskjaer was reliant upon him, and played his part in our side's run to third place and three semi-finals, albeit without reaching a final. If anything, he leaves United with his reputation enhanced. He even had a terrace chant in his honour.
There are some warm and cuddly Ighalo moments - from his visceral, unadulterated joy at scoring on his full home debut in his first start against Brugge, to his hold up and supreme touch play as a late sub against City in the derby. Ighalo was brought on to get the Reds out as we clung grimly to the slenderest of leads in the wake of a sky blue onslaught. The image of him caressing the ball having pulled it out the sky to turn, back-heel the ball and set up Scott McTominay's match-winning moment is one that summed up his year in the spotlight at Old Trafford.

So too the scenes as the elated Nigerian was mobbed by exultant team-mate as he wheeled away in delight in that aforementioned European tie with the Belgians. Ighalo deserved credit for the job he did in his short time with us. With United in the midst of a crippling injury crisis and down to one striker, he answered our SOS call.
Nothing can ever take away the fact that Ighalo lived the dream that every United fan plays out in our heads - the one where we imagine ourselves on the grandest stage of all, plying our trade at Old Trafford in the iconic red. For the boyhood United fan from the Nigerian capital, the past year has capped a truly meteoric rise to stardom. Thanks for the memories, Odion Jude Ighalo. Old Trafford really was your Theatre of Dreams. You'll be welcome back there any time.