Having misfired against Sheffield United and drawn a blank at Arsenal, Manchester United were perhaps due to dish out a thrashing.
The Reds strikers had come in for criticism after Anthony Martial and Marcus Rashford endured a horror show in our shock defeat to the basement boys before Edinson Cavani's gilt-edged misses saw two more points dropped in the soporific stalemate in north London.
It was almost as if Ole Gunnar Solskjaer's United - and those three players in particular - had been saving up their goals quota and keeping the power dry, ready to unleash a deluge on whichever unsuspecting opponent dared to stand in their way. Spare a thought for poor old Southampton - a team whom usually hit their tenacious and energetic zenith against United. Ralph Hassenhuttl and his south coast side knew little of the impending carnage as they arrived in M16 on a cold and wet midweek night on the banks of the Irwell. By the end of a record-smashing night, even the most ardent Red would have struggled not to feel the smallest drop of empathy for the drenched and demoralised visitors.
We had seen enough from the Saints to know they usually give us palpitations when it comes to meetings with United. As if Michael Obafemi's 96th-minute leveller in the corresponding fixture did not serve notice to their danger, United had required climb-off-the-canvas heroics from Cavani at St Mary's in November to snatch victory from the jaws of defeat. But this time they were merely lambs to the slaughter as Alex Jankewitz's red card, with the game only 74 seconds old, opened the floodgates in spectacular style. Rashford needed a goal and got one. The mercurial Martial needed a goal, and got two, despite starting on the bench. Cavani continued as Southampton's scourge and Bruno Fernandes ended his driest run in front of goal for the Reds with two assists and a penalty. As Solskjaer himself alluded to afterwards, the team spectacularly rediscovered their "mojo" - and how! For Hassenhuttl, the likeable Austrian was left to lick his wounds amidst the unwanted history of a second 0-9 defeat in as many seasons.
With the 2020-21 season, a campaign like no other, beyond the halfway point, too many games had been won narrowly. Too often, United have survived and got through by the skin of their teeth, flying by the seat of their pants to a succession of nervy, edgy, single-goal victories often secured through a combination of luck, individual moments and sheer bloody mindedness. It had never looked to be a sustainable formula and came back to bite us, hard, against Sheffield. I expected this to be no different, particularly given our penchant for making life difficult both for ourselves and for anyone of a nervous disposition. Since Christmas alone, there had been the 1-0s over Wolves and Burnley (the latter sending us top of the table at Turf Moor) and a pair of 2-1 victories over Villa and Fulham, again sealed through a piece of magic from Paul Pogba. Not to mention the FA Cup KO of Liverpool, also by a single goal, and the goalless draws at Anfield and the Emirates, a gritty if not always easy-on-the-eye sequence that had propelled us into contention and saw Solskjaer's side unexpectedly sit astride the summit.
Those results were all well and good and grinding out wins is the raison d'etre of any potential champion team. But a side with eyes on the title occasionally needs to make a statement and throw down the gauntlet. You need to be ruthless, relentless, hungry and brutally unforgiving. We hadn't seen that at all from the Reds so far this term but, against Southampton, Manchester United became that team. It was perhaps only a matter of time, a question of when and not if, United would have a match where everything clicked, and it all came together against the beleaguered Saints. We were, as the old adage says, due one. Everything United hit found its mark in a masterclass of playing against ten men - we moved the ball with power, pace and precision, stretched the Saints and left them chasing shadows. This was a performance we had been craving - United were rampant, red hot and ruthless and not only sent out that message but also put a sizeable dent in City's goal difference. After weeks of watching from behind the nearest sofa as United put us through the entire gamut of emotions, it was nice to enjoy a night where the result was never really in doubt.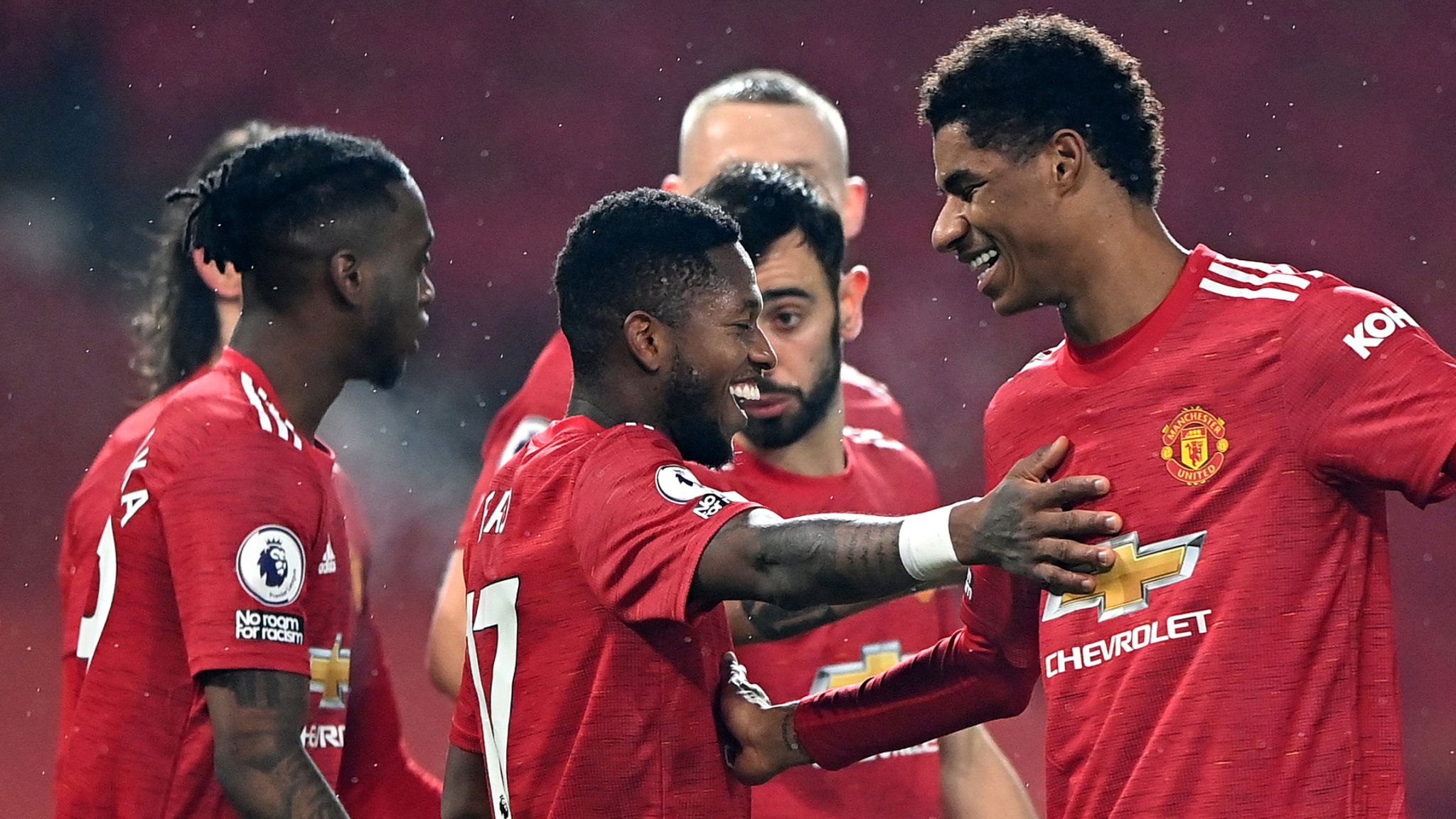 Prior to Tuesday night's obliteration, only Leeds United had left Old Trafford on the end of a rampage. Scott McTominay had put us into a 2-0 lead inside three minutes and we never looked back, the final 6-2 scoreline representing our biggest return for years and the satisfaction of dishing out a right ol' shellacking at the expense of one of our most hated rivals. A Leeds side with a soft underbelly and one that sees defending as an occupational hazard offered the caveat in the Reds only comfortable league win of the season. It was a result many of us thought would surely be our biggest of the campaign, understandably failing to foresee the carnage and chaos unleashed on the sorry and soporific Saints on Tuesday, 2 February 2021 - a date now forever enshrined in history as one where Manchester United found their shooting boots and equalled their own record for the joint biggest victory in the Premier League era.