If ever there can be such a thing as a 1-0 thrashing, our win over West Ham was surely it. Ole Gunnar Solskjaer's side should have won by more and have surely now extinguished any lingering doubts over the certainty of a top four finish.
There were a number of impressive individual performances but Mason Greenwood and Luke Shaw, in particular, stood out as the pick of the bunch. Shaw has had a phenomenal season and only continued his stunning upward trajectory against the Hammers. Shaw has been through the wringer at Old Trafford but is surely now the best left-back in the country by a considerable distance. Solskjaer and the player himself deserve all the credit in the world for Shaw's remarkable renaissance.
Signed by Louis van Gaal as the then most expensive teenager in world football, he touted as a generational talent for the future. Since then, it has been a consistent hard luck story for the player - there have been crippling injury lay-offs, issues with his weight, frequent and very public fall outs with Jose Mourinho and questions surrounding his temperament and attitude. To some, all this made Shaw the epitome of the post Sir-Alex Manchester United - huge expectations, but ultimately an expensive, lazy flop and not up to standard.
His was a career drifting wastefully towards the file marked 'Trash' when frequently singled out as the victim of Mourinho's confidence-shredding missions. But now, seven years on, Shaw is in the best form of his career. His importance only grows whenever he's left out of the side and the best left-back in England is now the complete player. Supreme in defence, he offers width and danger in attack, linking the player, driving forward and offering a constant outlet for his team-mates. The raison d'etre of the modern full-back requires you to be able to both defend and attack in equal measure.
Both these aspects of Shaw's game have improved beyond all recognition - as his superb solo goal in the derby testified - and he is by far our most improved player. Solskjaer deserved huge credit for Shaw's reinvention and the autumn arrival of Alex Telles has provided competition, only serving to lift Shaw to an even loftier level. After years of Ashley Young, Marcos Rojo and Matteo Darmian as makeshift full-backs and for the first time since Evra, United at last have a proper, world class full-back worthy of the name.
Bruno Fernandes and his huge, burden carrying shoulders aside, have United had a more reliable, and consistent performer this season than our no.23? He was the best player on the pitch again against West Ham after yet another dominant and dynamic showing and is seemingly now a contender for man of the match week in week out. His form looks certain to get him a first England call-up in almost three years - if not, then Gareth Southgate should be arrested for crimes against football. As the national team prepare to open their World Cup qualifying campaign against the might of San Marino, Albania and Poland, if Shaw does not get the nod then it's an absolute disgrace.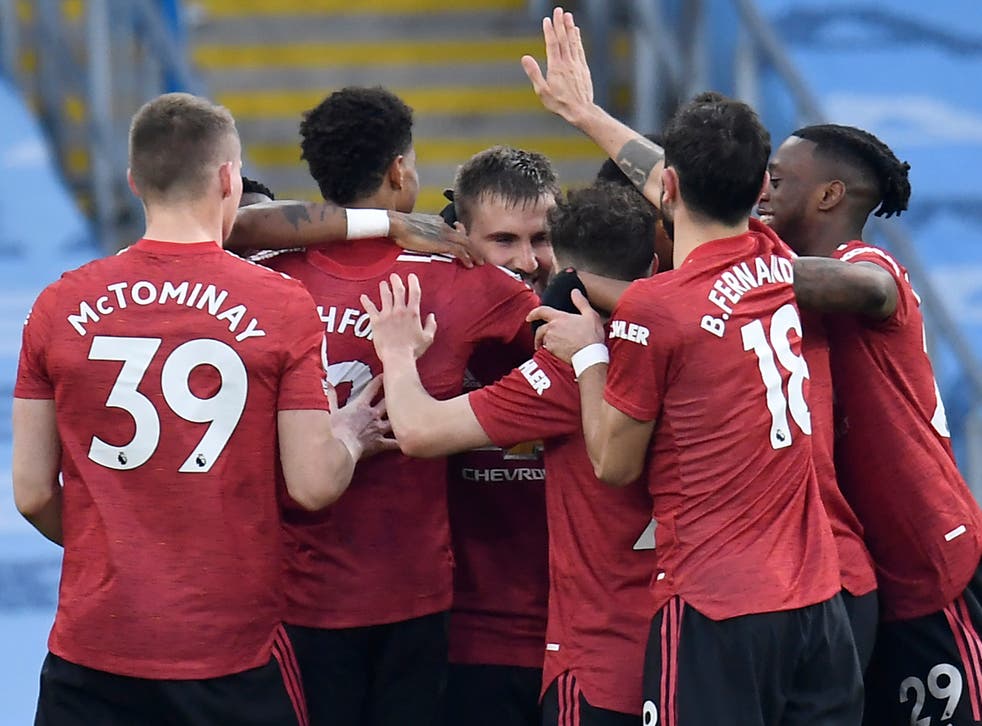 Last time Shaw played for England was against Spain in 2018 when he played as a wing-back in a side featuring Dele Alli and Jesse Lingard. Ben Chilwell aside, England don't have a natural, out and out left-back so Southgate surely cannot ignore how good Shaw has been this season with the squad for the delayed Euro 2020 firmly in the forefront of the mind of the England manager.

Shaw - United's Player of the Month for February - won the prestigious Sir Matt Busby Player of the Year award in 2018-19 and surely won't be far away this time around when the top gong is handed out in May at the culmination of the campaign. Shaw made his United best of 40 appearances during that campaign but is comfortably on course to eclipse that tally in 2020-21, having played in 34 of our 45 matches across all competitions.
Shaw has had so much to cope with and it's been a far from easy journey at Old Trafford for him. But now, seven years on from his arrival, the green shoots of recovery have finally begun to spring through the surface. Manchester United's Shaw-flank redemption is in full swing.