As I write this, the dust has just about settled on the epitaph of Manchester United's 2020-21 season.
It was a season of both progress and promise for Ole Gunnar Solskjaer and his exciting, emerging young United side. A baptismal campaign for Old Trafford's next generation - spearheaded by the old stager Edinson Cavani, a zest of youth - Mason Greenwood, Amad, Marcus Rashford and Scott McTominay - to name but four and a sprinkling of stellar, world class talents.
Despite the bitter disappointment of football's cruellest fate - losing a cup final on penalties - the end of the season is a good time to take stock and reflect on the campaign just gone.
It was of course, a campaign like no other: a condensed eight month season, stadiums locked and empty until the last two gameweeks, and a match every three or four days. It was football at a density and a volume we had never seen before.
As the curtain comes down on Solskjaer's second full season in the hotseat, there is much to reflect upon. The taste of defeat might be bitter, raw and still difficult to take, but the team can channel their anguish and come back stronger next season. I hope the players are hurting - they must take the mindset of ensuring they're never in the position of being runners up again and - next time - they will be the ones lifting the trophy rather than just forlornly walking past it.
A fourth successive season without silverware will be the over-riding memory of a season in the Red, and as such, it must be considered a disappointment. Even had we won the Europa League, you would say it's still only a consolation prize having faded from contention when it comes to the major prizes everyone wants - the league and the Champions League. Would we have celebrated victory on Wednesday? Of course we would, and it could have been a valuable staging post for this side to instil the trophy-winning habit and provide a launchpad for greater things to come. But, ultimately, it is not where you want to be. Having finally broken the semi-final jinx after four consecutive losses at that stage, a runners up medal is hardly reason to quell the doubters. Fans have still been left disenchanted at the lack of trophies and, although a team can progress year on year (which we are doing) the true measure of that upward trajectory is truly measured by the only currency that matters: prizes, cups and silverware.
In relation to the league, Solskjaer inherited a team that had endured its worst 17-game start since the pre-Premier League era - 26 points from 51 available. Since then, there has been stability, consistent top four finishes, a continual improvement on league places and a gap to the eventual winners that's closing by the year.
At the turn of the year, we dared to dream, for a few short weeks at least. A string of gritty, character building single goals wins - in many ways the recurring theme of the campaign - fired the Reds to the pinnacle of the Premier League. The hashtag #21iscoming suddenly seemed more than just a pipedream - for the first time in the post Sir Alex Ferguson era, United were top of the table at the turn of the year. Alas, it was not to be as City's consistency, strength in depth and metronomic form proved the difference and they pulled away to a fifth title in nine years but it was certainly fun while it lasted.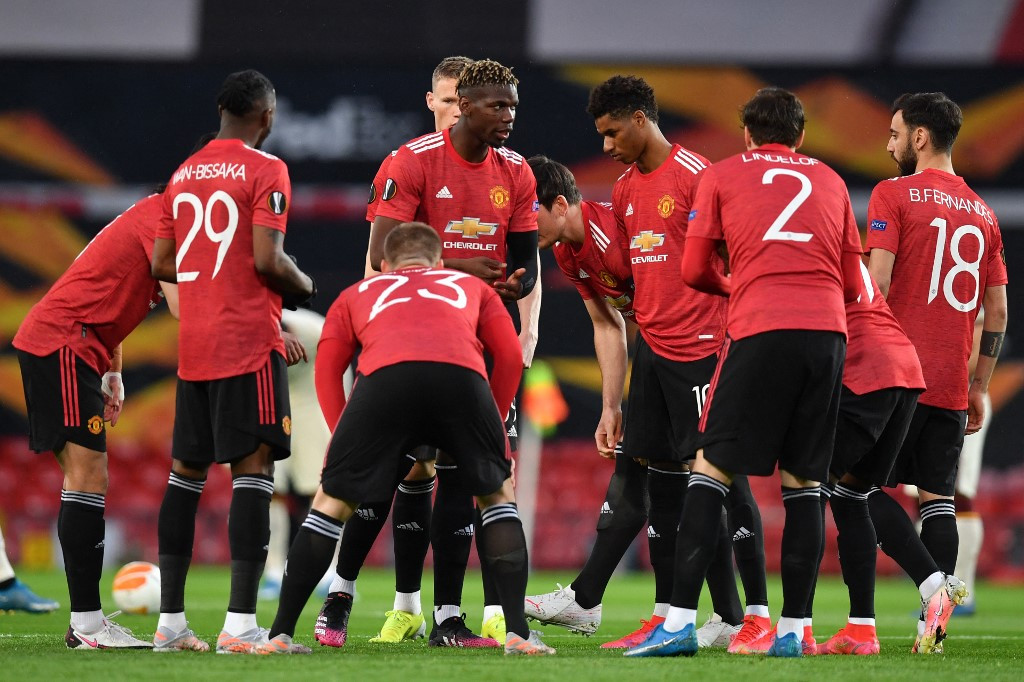 As a footnote, no team has doubled us under Ole and only Liverpool and City have ever finished above Solskjaer's United. Even Jose Mourinho, the serial title winner, was only able to equal this effort.
Not only has there been progression both in securing a runners up spot and in closing the gap, but - under Solskjaer - United managed something not even Sir Alex Ferguson managed to do. The Reds became the fourth side (Arsenal twice and Preston), to remain unbeaten away from home in an entire league season - we've not lost away from home since before the pandemic, in January 2020. Second in the league with 74 points set against third place and 66 points last time out. Champions League qualification was only secured on the last day of the season in 2019-20 but this time it has never looked in doubt. Progress? Certainly. Success? Absolutely not - any season without a trophy cannot be considered a successful one when you are Manchester United. Solskjaer will know that - as he himself alluded to on Wednesday night. We and you can be sure he will also know his managerial tenure cannot truly be considered as such until he wins that elusive first trophy.
United have had an impressive recent record in the cups over the last few years, consistently reaching the latter stages. It proved a similar story this time around, only losing to the eventual winners in each one: the Europa League (Villarreal), League Cup (Manchester City) and FA Cup (Leicester City) in the final, semis and quarter finals respectively.
There have been some magnificent individual performances this season. Luke Shaw has gone from unwanted outcast to the best left-back in the country by a considerable distance. Shaw has had the season of his life and his resurgence has been the perfect example of Ole's excellent man management. Marcus Rashford has also caught the eye with 21 goals from left midfield despite playing with injury, and Bruno Fernandes has again been the string-pulling supremo with 28 goals and 18 assists to finish as our top scorer and winner of the Sir Matt Busby Player of the Year for a second time. Scott McTominay has improved on last term's showing with a stellar season, with the Lancaster-born Scot quickly becoming one of Solskjaer's key men - adding goals to his game and epitomised by his totemic, man of the match performance in the Gdansk final. Dean Henderson has shone when given the chance and Mason Greenwood struggled but then sparkled as he hit a run of stunning late-season form.
Not only that, but there have been breakthrough campaigns for the latest fresh-faced Reds to step off the Carrington conveyor belt - Anthony Elanga, Hannibal Mejbri, Will Fish and Shola Shoretire - showing United's age old tradition of giving youth its chance is alive and well. 16 Academy graduates have now made their senior first team bows under the tutelage of Solskjaer.
Despite comfortably outdoing them both, there seems an obsession to judge Solskjaer against Frank Lampard and Mikel Arteta. The comparisons may seem obvious - all three men are part of a growing trend of top, high profile clubs appointing legendary former players as their manager but that's as far as it goes. Lampard was out on his ear after a year and a half at Chelsea, and Arteta failed to take Arsenal even into the new Conference League. What an effort from him to go from 8th to 8th. Yet Solskjaer is the one to continually be targeted as a failure and a serial under-achiever.
Solskjaer has proved in 2020-21 why he deserves at least one more season in the job, it's a rebuilding job, a process, and he should be backed in the summer. He has achieved so much with his hands tied behind his back, gets no support from the media, fans and ex professional players but yet has made a mockery of all his doubters. With this backing and sign of support from the corridors of power at Old Trafford, the onus and the pressure will certainly be on Solskjaer to turn promise into prizes and I would be happy for him to get another season in trying to do so.