In many ways, perhaps Jadon Sancho came to epitomise the flaws of Manchester United under Ole Gunnar Solskjaer.
Touted as the answer to our issues on the flank, United had been chasing the highly-rated, sought after wideman for the better part of two years, and - then under the tutelage of Ole Gunnar Solskjaer - finally got their man for £75m in the summer. We knew Sancho would come with a price but his eventual fee was some way below the 100m+ Dortmund had wanted the previous year, and here was one of the finest young players on the planet - a player to adorn the iconic Red of United for the next decade.
So in that context, Sancho came at relatively good value. But when he did finally pitch up in M16 as one of the most expensive players in club history, there seemed no plan on how best to actually use him. Solskjaer spent two years wanting to bring Sancho to the club but then, when it actually happened, didn't seem to actually trust him or play him for more than 20 minutes.
Ralf Rangnick's arrival as interim manager co-incided with the best form of Sancho's fledgling United career so far. From the moment Sancho slammed in his first Reds goal - at Villarreal in our first post-Solskjaer match and with Michael Carrick now in charge - there has been a purpose, a decisiveness and a notable step up in consistency, contribution and confidence from a man who lit up the Bundesliga as one of English football's brightest young talents. We saw flashes of what he could do early on but everything's coming together now. He, perhaps more than anyone, has benefited the most from Solskjaer's sacking.
Sancho arrived at Old Trafford with a hefty price tag and even loftier expectations, and understandably struggled to make an impact in his first few months at the club - so much so, he was dropped from the England squad by manager Gareth Southgate at the end of 2021.
He was already being written off as (yet another) expensive flop but it takes time and patience for any new signing to settle in, let alone one coming to such a big club in a new league with an entirely new system, style and identity. Not forgetting the state of United when came in - the club was in a flux, an incoherent rabble under a manager with limited tactical acumen with noses pushed further out of joint by the arrival of Cristiano Ronaldo.
Expectations were far too high, especially when the counter argument for 100m man Jack Grealish and his similar struggles at City was he needed time to bed in. There was no pressure on Sancho in a free-spirited Dortmund side, but he inevitably felt the heat when thrown into the Premier League pressure cooker, especially for such a large fee.
Sancho has been the beneficiary of circumstance both in Solskjaer's subsequent departure and the sudden absentia of Mason Greenwood which has enabled our no.25 to make a first-team place his own. Recent strikes against Middlesbrough and Southampton in consecutive home games - his first two goals at Old Trafford - added to earlier finishes in that European tie in Spain and his one-on-one finish at Stamford Bridge. He crossed for Bruno Fernandes to nod in at Leeds and then teed up Fred for our third in the second half: two assists in the same game to embellish his already impressively increasing numbers after a very eye-catching showing against Brighton.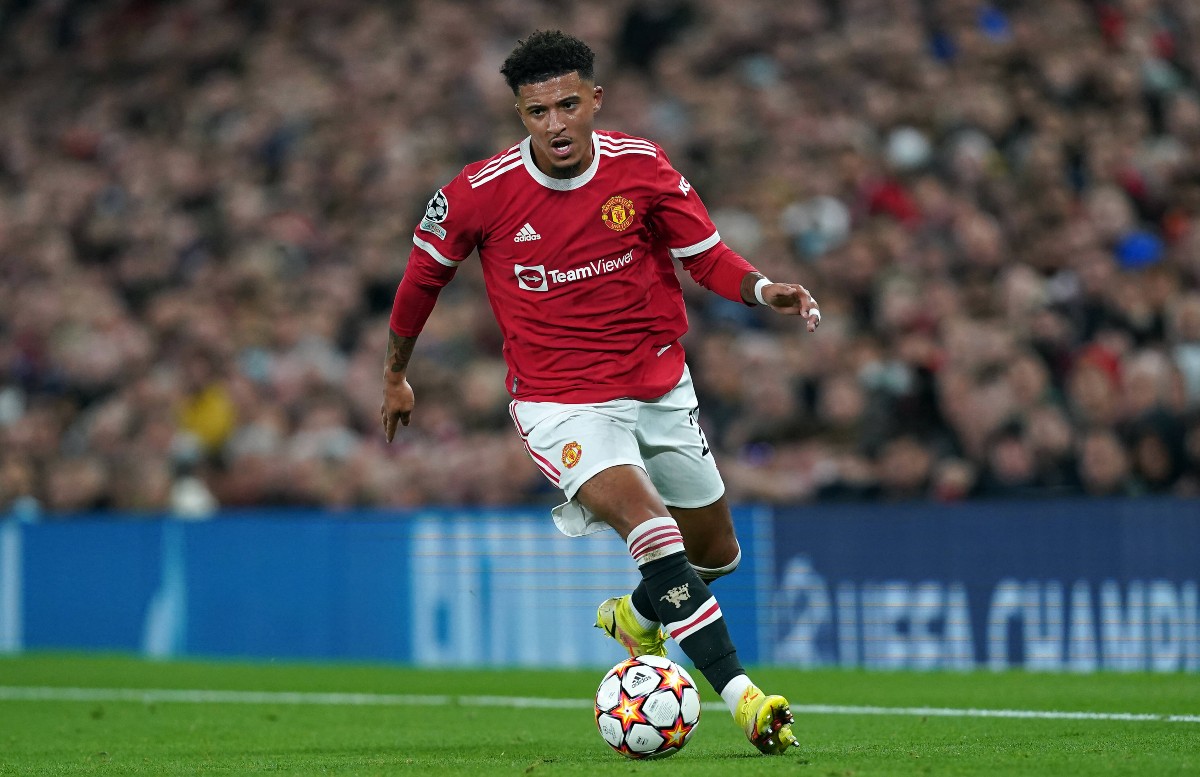 He's still got a fair way to go to hit the metronomic heights we saw in the Bundesliga but the signs are good. In a game played in a deluge of biblical proportions, Sancho lit up Elland Road as his two assists capped another man of the match showing.
United may have picked up two wins in a row to significantly alter the course of a rapidly sinking season, but the picture even a week ago was very different. Rangnick's Reds had stuttered to a trio of 1-1 draws with each of them coming in exactly the same fashion. But whilst every player regressed and seemed to play within themselves, Sancho was the one exception - the one shining light amidst the doom and gloom. The one player who looked like he was growing whilst all around him wilted to the fringes.
Sancho was signed primarily to fill the void on the right wing but his best performances have come on the left, dovetailing superbly with the rejuvenated Luke Shaw in Rangnick's preferred 4-3-3. He's equally adept on the right, too, as can Marcus Rashford and Anthony Elanga so the wingers can interchange making the attack a lot more fluid and unpredictable. With freedom to switch, the supremely talented 21-year-old has scored half his goals since the winter break and it's clear he's getting better by the week. Sancho has come alive, adding an end product to his dazzling pace and trickery which make him such an exciting player to watch - indeed, he is now showing exactly why United wanted him so much.