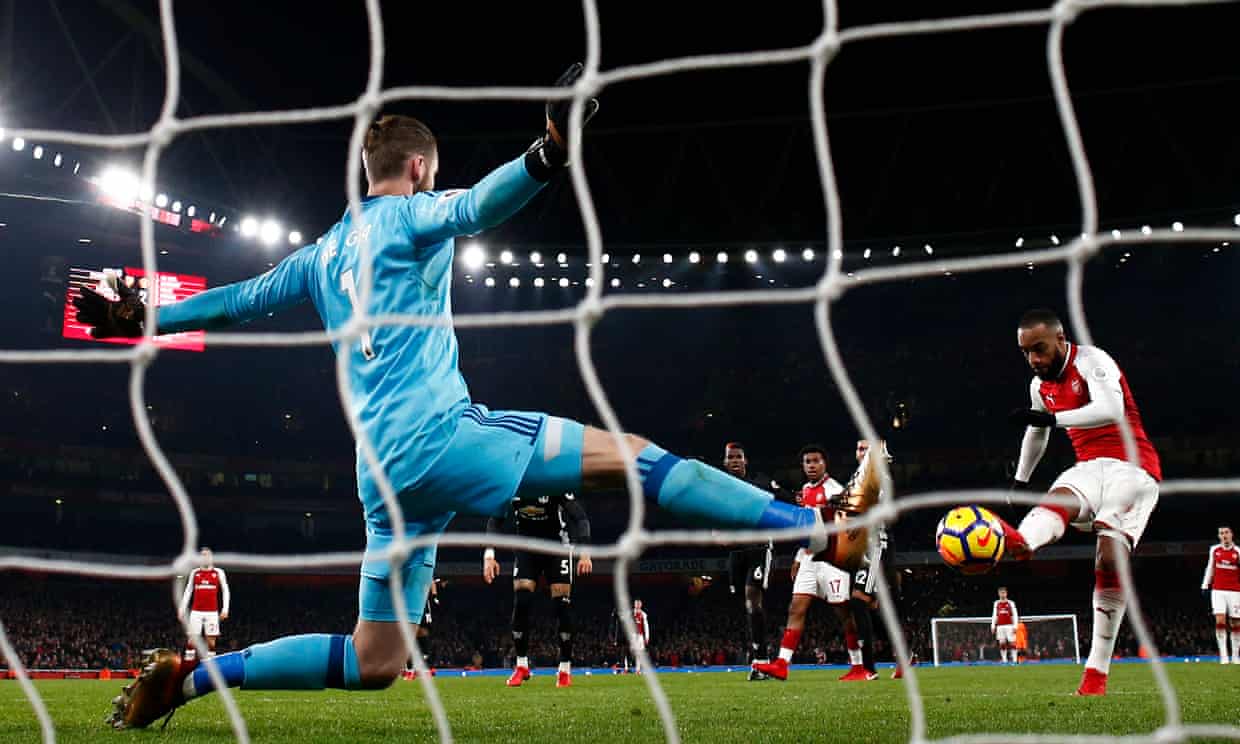 David de Gea's performance in the 3-1 win over Arsenal must surely be one of the most phenomenal goalkeeping displays ever witnessed. There can be absolutely no doubt at all that Dave now stands alone as the best keeper on the planet, by a country mile.
He became the first player to win United's Player of the Year award for three successive seasons (2013/14, 2014/15, 2015/16), a feat that elevated him from promising rookie to up there as among the best and exactly why Real Madrid persistently made Dave their number one transfer target (thank goodness for that dodgy fax machine...).
Often touted as being up there as the best among his peers, De Gea is mentioned in the same breath as other world-class keepers such as Manuel Neuer, Gigi Buffon and Iker Casillas. In this fixture against Arsenal, he was all of those three keepers rolled into one, with a dollop of David Seaman and Gordon Banks thrown in for good measure. If there were any doubts that De Gea isn't now the best in the world, those doubts were well and truly dispelled for good at the Emirates. It was a stunning goalkeeping clinic that cemented his status as a keeper who's a class apart and in a league of his own.
Arsenal should have won this game - and they should have done so with a bit to spare. A scoreline of 6-3 would not have flattered them, with United indebted to the breath-taking and scarcely believable brilliance of De Gea.
They had 33 shots on goal, compared to United's eight - and 15 on target to our four - yet they only scored once. DDG made 14 saves during the game, the joint most by any goalkeeper in a single Premier League game - a record shared with Newcastle's Tim Krul and Vito Mannone of Sunderland (vs Spurs in November 2013 and Chelsea in April 2014 respectively).
For an hour at the Emirates, DDG was a one man spider's web, leaping and tumbling and spreading his limbs with startling ability and agility to keep a rampant Arsenal at bay.
They weren't just straight-at-him saves either, this was goalkeeping that seemed to defy physics, goalkeeping that defied any reasonable sense of logic and normality. There was the phenomenal reflex save from his own player Romelu Lukaku, then the lightning quick reactions from Alexandre Lacazette's snapshot from point-blank range.
He beat away Hector Bellerin's dipping drive, tipped wide from Mesut Ozil and blocked bravely at the feet of Sead Kolasinac. Arsenal kept coming, but De Gea continually kept them out.
The best of the lot, though, came with United 2-1 up and hanging on, ten minutes into the second half.
It was a simply mind-boggling double stop, as De Gea plunged low with whipper-crack speed to get a hand to Lacazette's 20-yarder, before he sprung up and turned away Alexis Sanchez's follow up with his foot.
This was a classic United counter-attacking win, but the plaudits must go to De Gea who was chosen as our MOTM by a landslide with 90% of the votes.

Such has been the level of his influence in the turbulent post-Ferguson years, that DDG is well on the way to becoming a United legend in the mould of a Peter Schmeichel or an Edwin van der Sar - and he's still only 27.
If he continues at his current trajectory, there's every chance he could go on to emulate those two and become our greatest ever player between the sticks.