As with this corresponding tie from last season, few gave United a chance of victory but Jose Mourinho pulled off another tactical masterstroke when it mattered. His counterpart Antonio Conte took off star man Eden Hazard with 17 minutes to go and the tie finely poised. It sent out the message that he had settled for the draw and added further fuel to the fire that the Italian is a man whose Stamford Bridge days are numbered. His jack-in-the-box antics may remain, but Conte looks a shadow of the manager who steered his team to title dominance in his first Premier League season last term.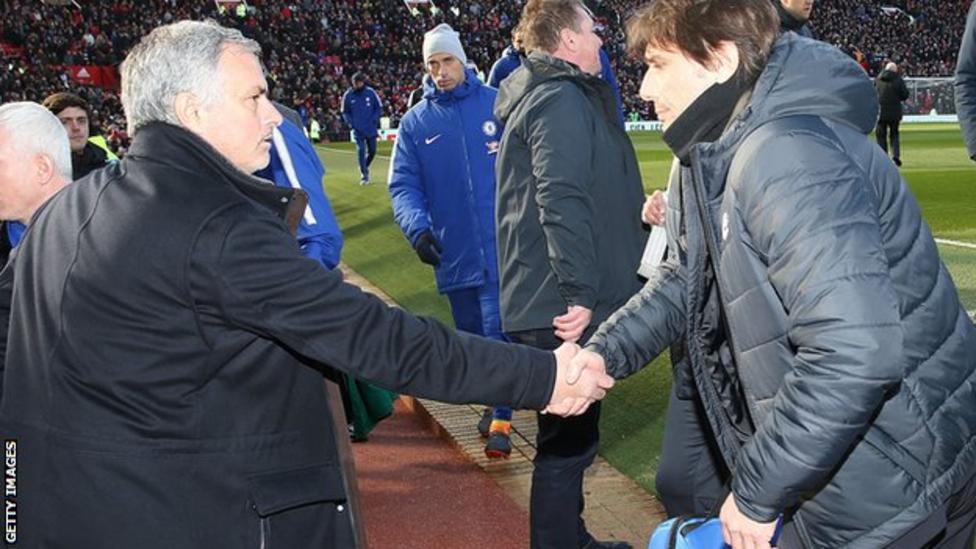 Jose got the better of his rival again but the pair seemed amicable
Jose, though, showed why his tactical acumen remains renowned throughout world football. Eyebrows were raised in this fixture in April when he named a United side without talismanic striker Zlatan Ibrahimovic. But the Reds, deployed in a 3-5-2 formation that day, stunned the champions elect with a display of pace, power and tactical brilliance in what was then our best performance under the Portuguese. There have been many since, and this was another memorable day at the office. United were not quite as good this time as we were then, but then we didn't need to be.
Chelsea have not been the all-conquering force that stormed to the title either. Jose got his tactics absolutely spot on, but in contrast Conte's were questionable at the very least.
Apart from his role in Romelu Lukaku's equaliser, Anthony Martial had endured a frustrating day at the office. The Frenchman is a match winner when on top form, but he got little joy out of Cesar Azpilicueta, widely regarded as one of the league's best defenders. Martial was doubled up on and had one of his quietest days for a while. When Mourinho replaced him with Jesse Lingard - who was unlucky not to have started the tie - shortly after the hour mark, the intent was clear. The substitution of Lingard for Martial proved another Mourinho masterstroke.
Having played such a pivotal part in that 2-0 win in tandem with young colleague Marcus Rashford, Lingard's contribution again proved decisive. He headed the winner - his 13th goal of his best United season so far - but more than that his overall impact helped the Reds to turn the tide. His pace, movement and intelligence to drift into space gave United an extra dimension, one that Chelsea could not cope with having shackled Martial successfully. Lingard may not be everyone's cup of tea, but there can be no doubt over his ability as a player in the form of his life. He's got to be first choice for England in Russia.
All the talk in the build-up to this tie surrounded the situation with Paul Pogba, the Frenchman having been left out of Wednesday's Champions League match amid speculation on his future. He started against Chelsea and showed glimpses of his best form, but it was Nemanja Matic and Scott McTominay alongside him who caught the eye in United's 4-3-3 system. Matic looked back to his metronomic level against his former side, and the two eventually got the better of Chelsea's star duo Willian and Eden Hazard after the visitors had dictated things early on. Matic and McTominay - in a coming of age performance - seized control of the midfield battle that so often proves crucial, just as we saw in this fixture last year with Ander Herrera's magnificent, lung-busting performance. Between them, the pair did not allow Chelsea to gain any momentum, engaging their opposite numbers high up the pitch. That allowed us to push 20 yards further forward and go from a losing position to a winning one.
This was a day in which Jose usurped his counterpart Conte again - and it was one that showed he's still a man who can mix it with the best.