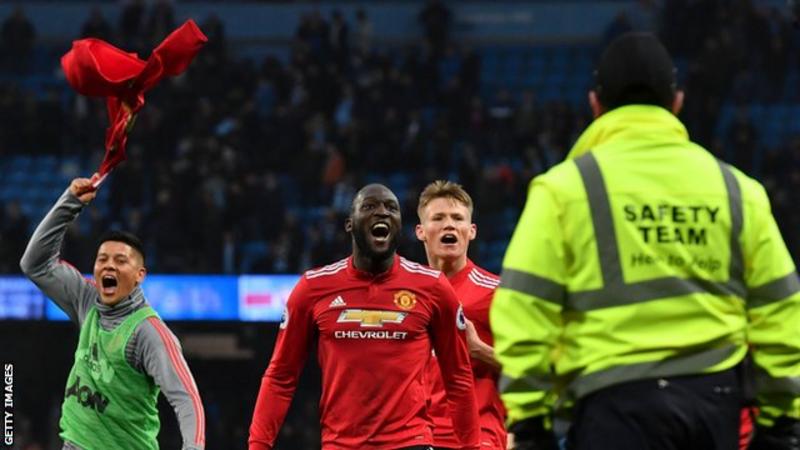 Punch-drunk, battered and outclassed, United were reeling and on the ropes with a jubilant Etihad rocking to the beat of a two-goal City lead that looked unassailable. The stadium stood to applaud their champions-elect with their coronation countdown a mere 45 minutes away.
The epitome of our struggles was £89m man Paul Pogba - a player whose fractured relationship with Jose had again come under the microscope in the wake of opposite number Pep Guardiola's sensational claim that he was offered the player in January. The leggy, mercurial Frenchman did not look like a player in the thoughts of Guardiola, in a first half in which United were carved open at will.
City went into this derby with a 16-point lead so their triumph is a formality, but they and their fans wanted it now, a show of power and glory to run our noses in it and to never let us live down the fact that they won the league on derby day. It seemed nothing could deny City their wish as they led 2-0 with goals from Vincent Kompany and Ilkay Gundogan and even the most ardent United fan could not have predicted what was to follow. No one could have foreseen the dramatic reversal of fortunes, an unlikely turn of events that saw City's dreams broken into tatters at their feet as Jose's United revelled in their role of gatecrashing party poopers.
And yet for all their glittering brilliance, a fraility has suddenly appeared in a City side that appeared to have none. It was in evidence in Liverpool's 19-minute blitz in the Champions League in midweek, and a weakness which was exploited brutally and clincally once more by a United side inspired by the efforts of the revitalised Pogba and magnificent Alexis Sanchez.
Where United's first half horror show was in keeping with the performance of Pogba, so the second co-incided with the Frenchman's best 45 in Red. As United improbably and inexorably climbed off the canvas, Pogba was at the heart of a turnaround that was in keeping with some of the greatest in the history of this great club. His header created a feeling of mild anxiety, and the equaliser two minutes later one of panic, disbelief and desperation. Sanchez, who by his own admission has struggled to adapt since his signing in January, was simply immense and belatedly came to the party - the Chilean created two of the goals and was at the heart of everything we did going forward. This was by far his best performance in the Red of United, a shirt in which he is finally beginning to look the part in.
This was a tie that epitomised everything we love in our club, and the beautiful game: frenetic, exciting, unpredictable and thrill-a-minute - for all the talk of 'boring' United, we've been involved in four of the best Premier League ties of the season - 3-1 at Arsenal, and the three comeback wins over Chelsea, Palace and again here. City still hold a 13-point with six games left and this merely delayed the inevitable, yet it was their supporters with heads in hands whilst for us it was one to celebrate wildly having trailed in their slipstream all season.
It was symbolic of a day that we'll never forget - a day that was brilliantly chaotic and defied all reasonable logic.