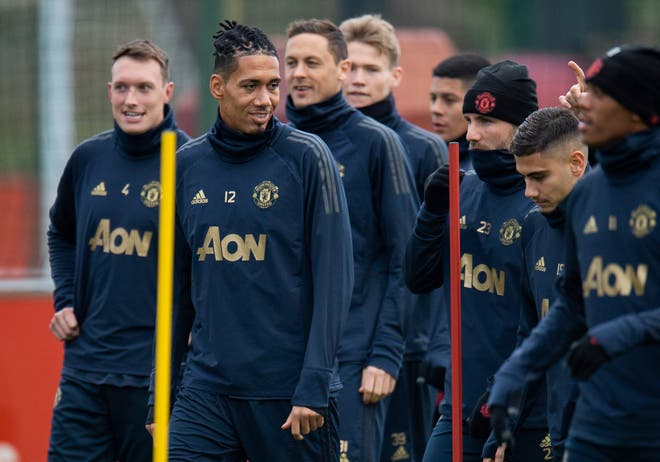 Turin, northern Italy: famous for its history, music, art galleries, chocolate and for being the home of the most successful club side ever in Italian football. It's here that United - in the unusual position of the plucky underdog - face our stiffest Champions League examination since the knockout tie with the then-all conquering Real Madrid team in 2013. Not since Sir Alex Ferguson stepped down have United had the opportunity to test ourselves away from home in Europe against one of the best. Pound for pound, player for player, and on a run of 19 matches without defeat in all competitions stretching back to April, are there any finer exponents of football anywhere on the planet right now than Juventus? An agile, strong, organised, streetwise, tactically astute team from goalkeeper Wojciech Szczesny, miserly centre backs, a grit and guile midfield combination to a devastating front three of Messrs Ronaldo, Mandzukic and Dybala, Juve are the blueprint for any side with European aspirations of their own. From what I've seen so far, they have every chance of going all the way to Madrid and the final in May.
Few will give United more than a puncher's chance of unseating a Juventus side who have lost just twice in seven years of Champions League competition at their new Allianz Stadium. And even if United are coming off two spirited wins over Everton and Bournemouth, even if Juventus did occasionally look sketchy in seeing off Cagliari 3-1 on Saturday, even if Max Allegri has doubts over Pjanic, Douglas Costa and Blaise Matuidi, the smart money remains on the side who are already six points clear at the top of Serie A, and for whom the domestic arena seems to hold few remaining threats. In an attempt to crown this glittering era in the Old Lady's history, one title - the biggest trophy of them all - has remained agonisingly beyond them. Despite two Champions League finals in the last four years, Juve have not won the cup with the big ears since 1996. Proof if it were needed that domestic dominance does not always - rarely in fact - sit hand in hand with European supermacy.
You do not fork out close to £200 million for a 33-year-old striker - even one as talismanically gifted as Cristiano Ronaldo - purely to secure an eighth successive Scudetto. That tells you everything you need to know about where Juve's ambitions lie.
Off the pitch as well as on it, Juventus are everything manager Jose Mourinho - and us - want United to be. In our long running, protracted search for a much needed director of football, it's no secret that we've been pursuing sporting director Fabio Paratici and outgoing chief executive Beppe Marotta - both men have been vital behind the scenes cogs in Juve's serial winning machine under boss Allegri. Unlike in the Old Trafford corridors of power, Juve carry a strong and clear line of authority: from chairman Andrea Agnelli and his deputy Pavel Nedved, to Paratici and Marotta, their business model is superb, they have football men on their board and Allegri is sure to come into the frame when the time comes for Jose to jog on.
And so, with United's Champions League progress still in the balance, these two giants of the game meet in familiar stance: Juventus gazing at the stars, United - European fate at a crossroads -
gazing at Juventus. "Enjoy it," were Sir Alex Ferguson's last words before sending them out to battle in Turin two decades ago. Ferguson knew that if you dream big, someday you could win it all. Mourinho knows that if you dream small, you'll never be disappointed.