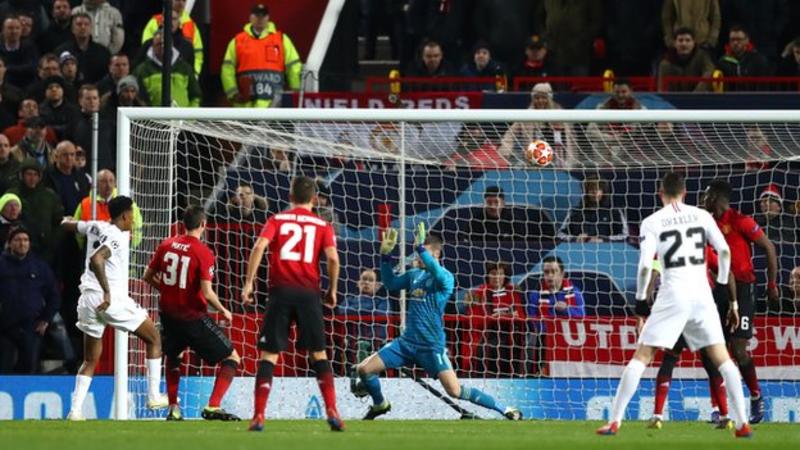 It had to happen at some point and, on Tuesday night, it came. It was perhaps a mark of how far Man Utd have come in a few short months that there was optimism - even genuine belief - around Old Trafford ahead of the visit of the mighty Parisians from the French capital.
At full time, it was a mark of how far we still have to go to reach the level set by the likes of PSG. This was similar to the Juventus game earlier in the campaign - the Reds could not be faulted on character or effort, but they simply did not have enough to trouble one of European football's genuine heavyweights. PSG brutally exposed our shortcomings through the width and delivery of Angel Di Maria, the calm composure of the marauding Marco Verratti, and the irresistible pace and power of Kylian Mbappe.
It was all a sharp contrast to when the last-16 draw was made and the cloud of Jose Mourinho's final days in charge loomed over a United side viewed as the plum Premier League pick for Europe's elite.
The loss marks the first blot on Ole's Old Trafford copybook - but it should not define the season, or indeed determine whether the Norwegian should be appointed as Mourinho's long term successor. It would churlish to judge Solskjaer on a tie with a side who are clearly a cut above us. This was a reality check, one that will stand United in good stead as we go forward with the twin ambitions of securing a return to this competition next season, and trying to make a mark on the FA Cup.
The latter presents another tricky test in the form of a trip to a wounded Chelsea on United's bogey ground of Stamford Bridge next Monday. Perhaps the biggest examination of United credentials so far will be how we respond to a first defeat under his temporary tutelage.
PSG are fuelled by fierce ambition and Qatari billions and yet even they are struggling to establish themselves among the big Champions League hitters - but on this evidence they are still far in advance of United.
It was no reflection on Solskjaer that United lost, and nor should it be. We were simply the victims of a better team that still possessed an outstanding attack in the shape of Di Maria and Mbappe, even in the absence of Neymar and Edinson Cavani. The visitors had more skill, more guile and more nous.
Football has the capacity to produce miraculous comebacks but it stretches the imagination to think this United side, deservedly back in the top four at home but miles off the pace in Europe, can claw this back. It's done and dusted - and any faint lingering of hope we may have had ended with the flash of Daniele Orsati's red card towards Paul Pogba in the closing minutes.
The gap - nay, the chasm - between United and PSG only underscored the importance of Ed Woodward and his merry band of men finally getting a big decision right when it comes to choosing their next manager and the path forward.
Optimism has rightly risen amid Solskjaer's renewal of United, but this was a graphic illustration of just how far away they are from where they want to be.
Is appointing Solskjaer a gamble or a question of Woodward and the board holding their nerve and moving away from the star-struck recruitment policy that led to Louis van Gaal and later Mourinho?
Whatever it is, the manner in which they were outclassed and dismissed by PSG only emphasised the fact that this time they cannot afford to take another wrong turn or they risk falling even further behind Europe's best.