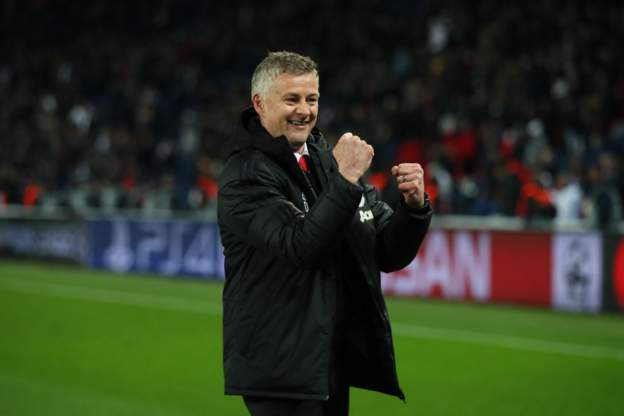 In October 2018, shortly after an erroneous story appeared stating Jose Mourinho would be sacked that weekend regardless of the result against Newcastle, Zinedine Zidane was favourite to become United's next boss.
Thirteen names appeared on the bookmakers' list of potential candidates. Brendan Rodgers and Roberto Martinez figured prominently. Ole Gunnar Solskjaer was not listed.
Five months later, on the day United were beaten at Wolves in the FA Cup quarter finals, Zidane was still third favourite. Given the Frenchman had just been given a three-year contract by Real Madrid, it said everything about how certain Solskjaer was to get the job.
To reach that position took a while.
After Mourinho's sacking, United wanted someone who understood the ethos of the club. Someone who knew the importance of attacking football, the development of young players and a collective spirit. That person also needed managerial experience.
Solskjaer had all this. In addition, he had experience of managing at United thanks to two and a half years spent in charge of the reserve team from 2008. Executive vice-chairman Ed Woodward made the call.
With Ole appointed as interim boss, at the very least, Woodward knew getting through to the end of the season would not be a problem.
None of us could have envisaged what would happen next.
Eight successive wins, including victories in the league at Spurs and the FA Cup at Arsenal. The run had been bettered only once since Ferguson retired. The feel-good factor was back at Old Trafford, and suddenly Solskjaer was being talked about as a potential successor to Mourinho.
Battling back from two goals down to snatch a home draw against Burnley was seen as a positive, despite the winning run coming to an end.
The doubts about Solskjaer did not come until we were well beaten by classy Paris Saint-Germain in the first leg of their Champions League last-16 tie on 12 February.
What followed got him the job.
There was an FA Cup victory at Chelsea and a home draw with leaders Liverpool - a game in which United lost three players to injury in the first half, while Rashford limped his way through the final three-quarters.
That result came on the same weekend Tottenham lost at Burnley, which triggered a furious post-match outburst by Mauricio Pochettino at referee Mike Dean that earned him a two-match touchline ban and gave away his true feelings at the cost of a defeat that began a run of one point from four games.
Solskjaer was no longer Mourinho's potential successor. He was the likely one. When he and United made Mission Impossible Mission Accomplished in Paris, any lingering doubts were gone. In the eyes of many, it was the best night of the post- Ferguson era and the dye was cast.
It was not only Solskjaer, it was also what he had assembled behind him. United men in Mike Phelan and Michael Carrick, plus Kieran McKenna, who had moved north from Tottenham to coach the club's age-group teams but had made a successful transition to the seniors.
David Moyes was lambasted for sweeping out Ferguson's backroom team in 2013. The idea Woodward would sanction the same thing again, which would have to happen if Pochettino got the job, was ridiculous.
There is more. Woodward has his critics but is a very successful and astute man. While he retains the complete faith of United's owners, presiding over a fourth failed managerial tenure would be a personal embarrassment.
Even if the decision to appoint Solskjaer backfires, the damage to him will be minimal because it is an appointment the majority of United's vast fanbase demanded.
If he appointed Pochettino and the Argentine failed, the responsibility would land squarely at Woodward's door.
Even Solskjaer must be stunned at the speed with which he has gone from interested observer on the travails of Manchester United to the man in the manager's hot seat.
By doing what comes naturally, he has brought a sense of calm to United after the chaos of Jose Mourinho's latter days.
Solskjaer has shown tactical acumen, he has made key decisions - shown faith in Paul Pogba, eased Alexis Sanchez to the fringes, sold Marouane Fellaini - and ended the internal conflict Mourinho seemed to revel in. Most importantly, he has got results.
It has given Solskjaer a proper shot at his dream job. Yet, in abandoning their stated aim to wait until the summer, United have left unanswered some fairly key questions.
Firstly, can Solskjaer finish this season's job? Can he, either through a top-four finish or winning this season's competition, steer United back into the Champions League, something that looked impossible when he took over and they were 11 points adrift?
What has happened to the technical director idea that the club were so keen to push in the wake of Mourinho's dismissal, without which many people - including Louis van Gaal - feel any United manager, including Solskjaer, will struggle?
Will big-name players want to sign for Solskjaer, as they did for Van Gaal and Mourinho?
These questions will be answered in the fullness of time and are key to Manchester United becoming a force in the English game again.
For now, Solskjaer deserves huge congratulations at landing himself a job virtually everyone felt would be Pochettino's in the immediate aftermath of Mourinho's exit.
Solskjaer's dream has become reality. His appointment is the correct decision. But he is not the only one with the responsibility for ensuring this does not turn into another managerial nightmare.