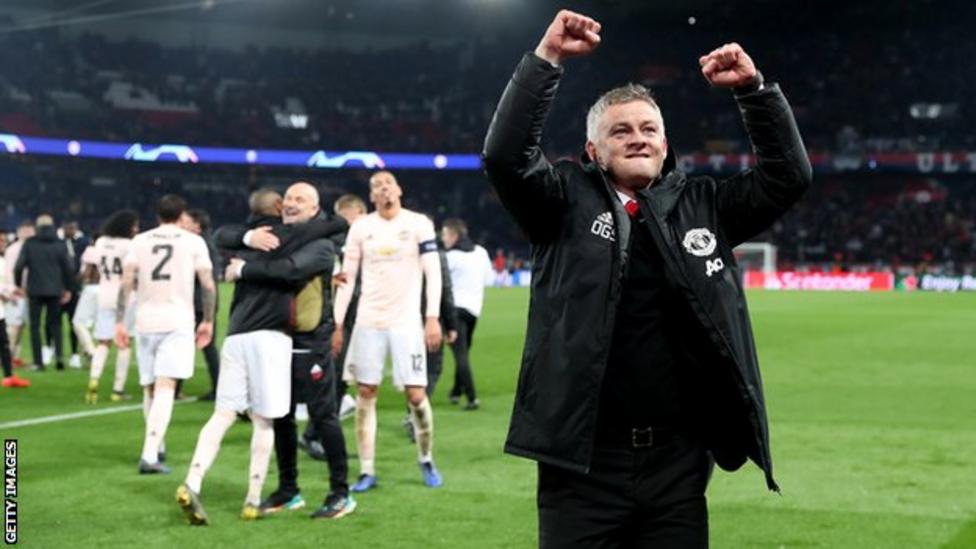 So this was the night Ole Gunnar Solskjaer was confirmed as the Manchester United manager. Ole is now, most definitely, at the wheel for good.
And to do it in a manner befitting his mentor Sir Alex Ferguson was almost too good to be true.
But that's what this remarkable, infectiously positive man can do.
Co-owner Avram Glazer will fly back to Florida with tales of a club transformed by the man who delivered them their greatest moment when he was a player.
Real Madrid are privy to try to prise Mauricio Pochettino away from Tottenham – United have found their ideal candidate to lead them back to summit of European football. And after an absolute thrill ride in Paris that simply beggared belief and logic, who would bet against him doing it before his caretaker reign is even up?
The result came 20 years on from United's most memorable triumph when they claimed the treble of Premier League, FA Cup and Champions League, the latter after Solskjaer's own injury-time winner in the final against Bayern Munich.
The Norwegian has overseen a remarkable turnaround which has seen the side become the country's most in-form team, including away wins at Tottenham, Arsenal, Chelsea and now PSG.
The former United striker has not only brought back the smiles to a side that was so abject before Christmas, but done so with outstanding tactical awareness and without the services of 10 first-team players.
With Ole at the wheel, anything seems possible.
To put this 3-1 win into perspective, it must be remembered the circumstances in which United headed into this Champions League round of 16 second leg against Paris Saint Germain.
Wembley 68', Barcelona 99', Barcelona and Moscow 2008. Added to that exclusive list now is Paris in 2019. Manchester United have had no shortage of historic, magical, never-to-be-forgotten European nights but this one is right up there.
The odds were stacked against United in Paris, but they became the first team in Champions League and European Cup history, at the 107th time of asking, to overcome a 2-0 or greater home first-leg deficit. If he was to do it, he'd have to do so without 10 first team players.
Included in his travelling squad were five academy starlets – one, Mason Greenwood, who only turned 17 in October.
By the end of the match, United had four home-grown talents on the pitch – two of them teenagers.
Marcus Rashford, with nerves of steel, struck the decisive goal – a last minute penalty with the weight of the world on his shoulders.
An Englishman from 12 yards – we've heard this story before. But the 21-year-old is one of those players so dramatically rejuvenated by Solskjaer's uplifting brand of management.
So too Romelu Lukaku – that flat track bully who struck twice against one of the favourites to lift this trophy to set up the most improbable of wins.
But this win was Solskjaer all over... dare we even begin to dream. Are we seeing shades of Roberto Di Matteo, the Chelsea legend who rode to the rescue of the Stamford Bridge side in 2012 and led them to an improbable Champions League triumph as caretaker manager.
That's now 14 wins from his 17 games in charge – his only defeat coming in the first leg to PSG, which he so dramatically expunged in front of the French champions' stunned fans.
United's, meanwhile, were singing long after the rest of the stadium had emptied – refusing to be drowned out by the Paris downpour.
When Ed Woodward made his SOS to Solskjaer, he could never have dreamed of it becoming his masterstroke as executive vice chairman.
He has the unwavering support of the Glazers due to his genius methods in maximising United's commercial potential. But even the American businessmen cannot fail to have been caught up in the romance of Solskjaer's triumphant return to Old Trafford.
Avram's presence in Paris is evidence enough of that.
He has been a rare attendee of United games, but has now watched four in less than two months of Solskjaer's reign. That say a lot.
The man brought in to put a smile on the face of players and fans, while Woodward went about the business of luring Pochettino away from Spurs, has certainly lived up to his end of the bargain.
You would be hard pressed to find a single United fan who would swap the Norwegian for anyone right now.
Woodward cannot fail to ignore that.
Solskjaer has passed every test put before him and more.
The job is his – all that's left is to announce it.