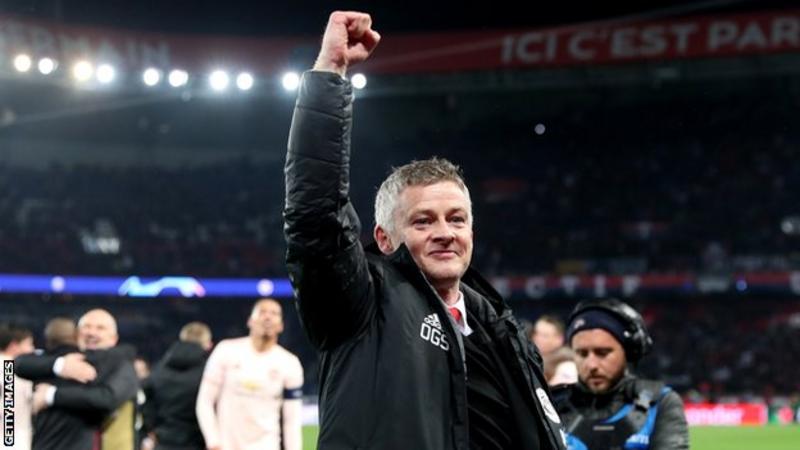 The worst kept secret in football became official this morning with Ole Gunnar Solskjaer appointed as Manchester United's 21st permanent manager.
Ole was named as the club's next full-time boss on a three-year contract after overseeing a stunning reversal of fortunes since replacing predecessor Jose Mourinho in December.
When Solskjaer took charge, United were sixth in the Premier League and 11 points off the top four.
But we have lost only once in 13 league games since - at Arsenal this month - and are now two points behind the London club, who occupy the final Champions League qualifying spot.
Solskjaer is the first United manager to win his first six league games, beating a record held by Sir Matt Busby. Clamour to announce him on a full-time basis has markedly risen along with his stock after a remarkable run - including that never-to-be-forgotten night in the Parc des Princes.
Any caretaker who delivered the results he has since replacing Mourinho would feel they had a pretty decent claim on the job, even without the back story.
Solskjaer was manager of Molde when he returned to United on a temporary deal.
The Norwegian club, whose season had finished, said Solskjaer agreed agree a new deal with them in December and they were only "lending" their manager to United.
However, that story has since been removed from the club's website and this month Solskjaer said his deal with Molde had expired.
United are expected to make a "gesture of goodwill" to Molde in the form of a payment and a possible future friendly fixture.
Solskjaer has won 14 out of 18 games to take United from a season that was going nowhere into the Champions League quarter finals and the fight for the league's top four. No team has won more Premier League games in Ole's time at the wheel. Simply by being who he is and doing what he has, Ole has made our club United again.
A thumping 5-1 victory in Solskjaer's first match at Cardiff - where he was relegated from the Premier League during an eight-month spell as manager in 2014 - immediately raised morale.
That was swiftly followed by victories at Tottenham, Arsenal and Chelsea with a return to a style of play synonymous with the halycon days of yesteryear of which Ole was such a significant part of. He knows the club, our history and how things should be done - for once Ed Woodward has made the right decision after a strong of managerial appointments that simply proved a poor fit. It's not always about going for the big name, throwing money around and gambling on instant success. Solskjaer may be relatively unheralded compared to his immediate and more illustrious predecessors, but, in Ole, Manchester United have found their man.
Beyond simply results, though, Ole has given us our club back and transformed the toxic, moribund mood of Mourinho's latter days to make the club a happy, winning place to be once more. Mauricio Pochettino was widely regarded as the next Reds manager-in-waiting and the apple of the club's eye, but there can be absolutely no doubt that Ole is the man for this job. Mike Phelan has been just as important and United now need to sign him up permanently, get in a Director of Football and give Solskjaer the financial backing he needs and deserves.
Ole's at the wheel! Congratulations.