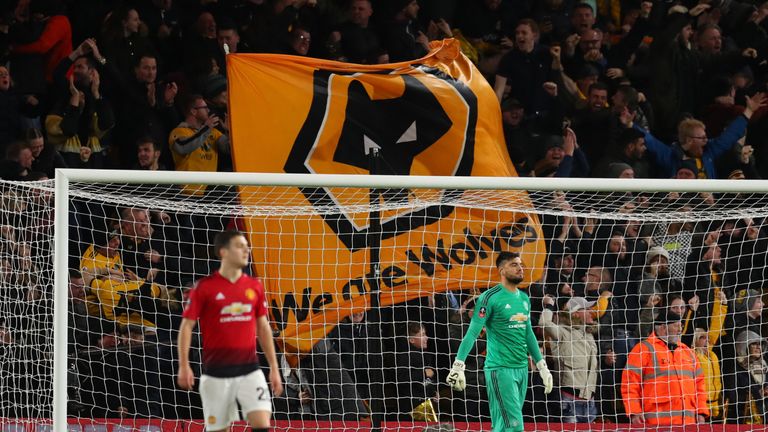 If ever there's such a thing as an international break coming at the "right time", then it is now for Ole Gunnar Solskjaer and Manchester United.
After Arsenal handed our interim manager his first defeat - albeit United were unlucky - there was no luck involved here. We were decisively and damningly outplayed both technically and tactically as United's hopes of a third successive trip to Wembley were deservedly dashed by Nuno Espiritio's brilliantly
belligerent Wolves. Granted, Wolves are no mugs, they're in the midst of a superbly impressive season and are leading the way as the league's "best of the rest" but this defeat hurt.
Although third on the list of priorities for the club, this season's FA Cup is the most open it has been for years - and having knocked out both Arsenal and Chelsea in previous rounds - United's path to a 13th title looked favourable. It looked our best chance of stopping quadruple-chasing City in their tracks, instead United became another top six name to fall by the wayside. Remarkably, upon their first semi final in 21 years, the men from Molineux and United's vanquishers in the old Gold are the second highest ranked side left.
There's now a two week hiatus as domestic matters give way to the first international fixtures of 2019, and it comes at the perfect time after a bad week with two bumps in the road. The Reds can recharge batteries, take stock, words can be said and Solskjaer will throw himself into preventing this blip becoming a fully blown crisis.
Solskjaer and United have deservedly been showered in praise for their dramatic rejuvenation since Jose Mourinho was sacked in December, the highlight of which was the stunning Champions League turnaround against Paris St-Germain in France earlier this month.
This, though, was a performance that rolled back the months to the Mourinho era and was arguably worse than some of the displays turned in under the Portuguese. United were ponderous, laboured, did not look bothered and lost their heads - epitomised by Victor Lindelof's overzealous challenge on
second goalscorer Diogo Jota. Although his red card was later overturned on VAR and downgraded to a yellow, it summed everything up. As Wolves gradually took control and mauled a United side that looked lambs to the slaughter, Solskjaer did not respond. His bench options were admittedly limited, but he kept faith with a system that clearly wasn't working. Ole has barely put a foot wrong in his three months in the job, but he and the team failed to answer almost every question thrown at them by a Wolves side that simply wanted this cup tie more.
Paul Pogba was restored as captain as another Mourinho move was wiped away but he was poor - although he was not alone there. The excellent Sergio Romero aside, no United player covered himself in glory. Marcus Rashford has not been right since he bravely soldiered on through injury against Liverpool, and it appears as though that may have done him more harm than good. Nemanja Matic looked the pedestrian passenger that he was in the nadir of Mourinho's tenure, and Anthony Martial was anonymous. Ander Herrera and Jesse Lingard - between them the influential heartbeat of Ole's Reds identikit - struggled.
United barely threatened Wolves keeper John Ruddy and, slowly but surely, their performance crumbled to almost shambolic levels in the second half as Wolves were all over us and ran us ragged.
Solskjaer will hope it is just a temporary slump but the fight is now right on for the top four and Champions League opponents Barcelona will not lose a wink of sleep after watching United here.