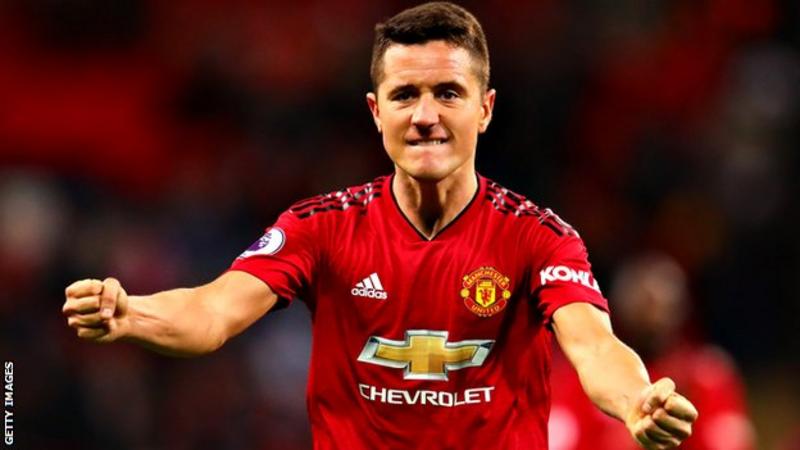 After 189 games in the Red of United, Ander Herrera will run out at Old Trafford as a Manchester United player for the final time tomorrow. Herrera's deal is due to expire, the club have not offered him a new one and he looks set to sign for PSG on a free, having agreed terms with the
Ligue 1
champions after five years as one of our club's best post Sir-Alex signings. Arriving from La Liga in 2014 for £29m as Louis van Gaal's first signing, Herrera was the string-pulling heartbeat of our engine room and developed into a key man in a United side that at times seems to be in a constant state of turbulence.
In an emotional farewell message posted on United's Twitter, Herrera made official what has looked likely for some time, after widespread speculation about his future.
So how will the man from Bilbao be remembered? The answer, certainly from my perspective, is with great affection.
Whilst there have certainly been more skillful, edge-of-
your-seat players to don the iconic Red, Herrera was a rare breed - a foreign import who quickly became a fans favourite for his combative, courageous, hard-working and all action style. He reminded me of a Roy Keane-esque identikit and held a love and affinity for our club that you don't very often see in an overseas player. He hated losing and epitomised everything a Manchester United player should be. As Tony Adams once said: "Play for the name on the front of the shirt and they will remember the name on the back."
Every tackle, every act of bravery, every act of shithousery, every lung bursting rung and every single thing that proves that what Ander Herrera is, is something United currently lack.
Not forgetting that time he spat on the City badge at the swamp.
This United squad is a discombobulated rabble of half arsed players who don't give a shit, but Herrera is one of the few who is both genuinely good enough and does actually care. Letting him leave looks a massive mistake and one that I hope we don't live to regret.
An expert of "the needle", Herrera was adept at boiling the collective piss of opposition players and fans alike simply through his no nonsense attitude and putting his body on the line. His man marking masterclass on Eden Hazard for Chelsea's visit in the April of 2017 will live long in the memory, and capped a wonderful season in which he was our skipper in all but name and ended up as winner of the Sir Matt Busby Player of the Year award. In a United squad where true leaders and out and out captains are conspicuous in absentia, Herrera should have been that man. He will be sorely missed and I'm gutted that he won't be a part of Ole Gunnar Solskjaer's plans to rebuild United. The mess Manchester United are in, the leadership and authority the club lacks, they are letting go of a proper leader. It might be tough to find another one soon.
A player who forever gave his all, Herrera wore his heart on his sleeve, never put in anything less than 100% and developed into one of the finest box to box midfielders in the land. He perhaps never got the credit he deserved from observers, fans and pundits, but he was crucial. During his five seasons under three different managers, Herrera won both domestic cups and was named man of the match in the Europa League final after he covered every blade of grass in that final against Ajax.
When times were dark, he gave his all to light the fire. When it seemed as though no one cared, he did care every single time. Because of that, he became a player every United fan could relate to and connect to. Someone we could identify with. He became a cult hero, a terrace icon, a fans favourite.
Antonio Valencia will also leave United on a free transfer this summer after the club opted not to trigger a one year extension in his contract, while Juan Mata is yet to agree terms on a new deal at Old Trafford.
Ole ole Ander Herrera. Gracias and adios Ander, good luck at PSG and all the best for your future.