What a remarkable week it has been for Ole Gunnar Solskjaer.
Cast your mind back to this time seven days ago. After United's dire draw with Aston Villa, the guillotine was ready and the noose was tightened for the axe to fall on the United boss.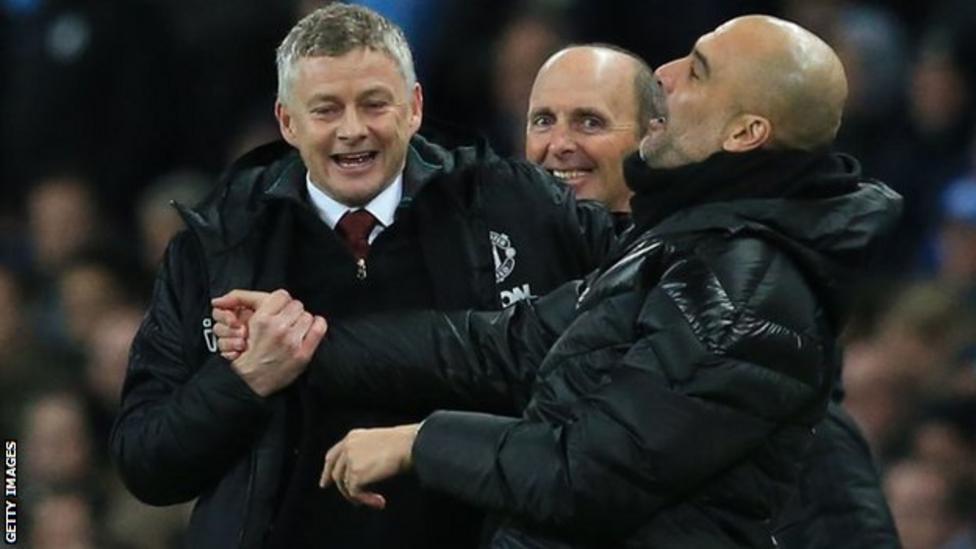 A week that began with headlines that Solskjaer would fear for his job if we lost two mammoth matches against Spurs and City ended with Ole being toasted as the pride of Manchester having defied the odds and won the 179th derby.
Lose both, and that pressure would've only intensified - Solskjaer might even have been gone, following in the footsteps of Marco Silva, Quique Sanchez Flores, Unai Emery and Mauricio Pochettino as the recent managerial fall guys.
There was uncertainty whether Ole would make it to his half century of games as United boss, but his 50th match in charge could instead prove a seminal moment and a turning point.
Ole's at the wheel again and all is rosy in the Old Trafford garden.
Who would've thought that his Manchester United would've beaten José Mourinho's Spurs and Pep Guardiola's Manchester City in the space of three days. Football, bloody hell. Not only that, but deservedly so as well. Solskjaer deserved huge credit for going to Manchester City and setting us up perfectly. We went toe to toe with Guardiola's all conquering juggernaut on their own patch and prevailed. It was a tactical masterpiece built on speed and tenacity. The counter attacking gameplan would work perfectly and Guardiola simply had no answers. We struck a perfect balance between attacking quality and defensive discipline - just like the teams he used to be a part of. The red and blue halves of Manchester came out swinging as if we knew Anthony Joshua had earmarked his bout with Andy Ruiz as the day's cagey affair. City played right into United's hands, leaving our front with three with huge swathes of wonderful lush green grass just begging to be run into.
Up in the directors box, Solskjaer's former manager and mentor Sir Alex Ferguson certainly enjoyed it. Seated alongside him was David Gill, a reminder of United's halycon days of yesteryear. It it those days that the hero of 1999 is attempting to emulate.
The man himself may have dismissed the speculation about his future as just that - speculation - and the feeling inside the club is that despite indifferent results, he and the players are on the right track. These last two results will have only served to underline that feeling.
United believe they moved away from their origins during the Van Gaal and Mourinho eras. They feel, in that extended honeymoon period, when he won 10 of his first 11 games, Solskjaer proved himself capable of the 'cultural reboot' demanded.
It hasn't seemed that way over the past few months. Prior to this week, it had been nine months since United had won back-to-back Premier League games. Who would have thought Solskjaer would end that run by beating Mourinho and Guardiola, two of the best managers in world football. And doing it with an additional handicap. Not bad for a 'PE teacher' from Norway.
"Three days," Solskjaer fired back, when asked what it felt like to beat those two managerial heavyweights in the space of five days. "We had 24 hours less recovery time than both those teams. That is a big advantage."
United have taken 14 points from 18 against the so called "big six" - having picked up wins over Chelsea and Leicester as well as Spurs and City and drawing with Arsenal and Liverpool - we remain the only side to take points off Jurgen Klopp's runaway league leaders. That's title winning form and we also knocked Frank Lampard's Chelsea out of the cup at Stamford Bridge, too, for good measure.
In contrast, we've dropped ten points from the league's lesser lights - with defeats to Palace (1-2), West Ham (0-2), Newcastle (0-1) and Bournemouth (0-1). Only Norwich have been beaten, with dropped points also coming vs Southampton (1-1), Sheff Utd (3-3) and Villa (2-2).
We play Everton, Watford, Newcastle again and Burnley in our next four league games, and winning these two big uns' will count for nothing if we don't get 12 points from these. Now, it's all about momentum and keeping this run going. Off the back of our two best performances for many a year, Solskjaer once again has United treading the right path. So pleased for him.