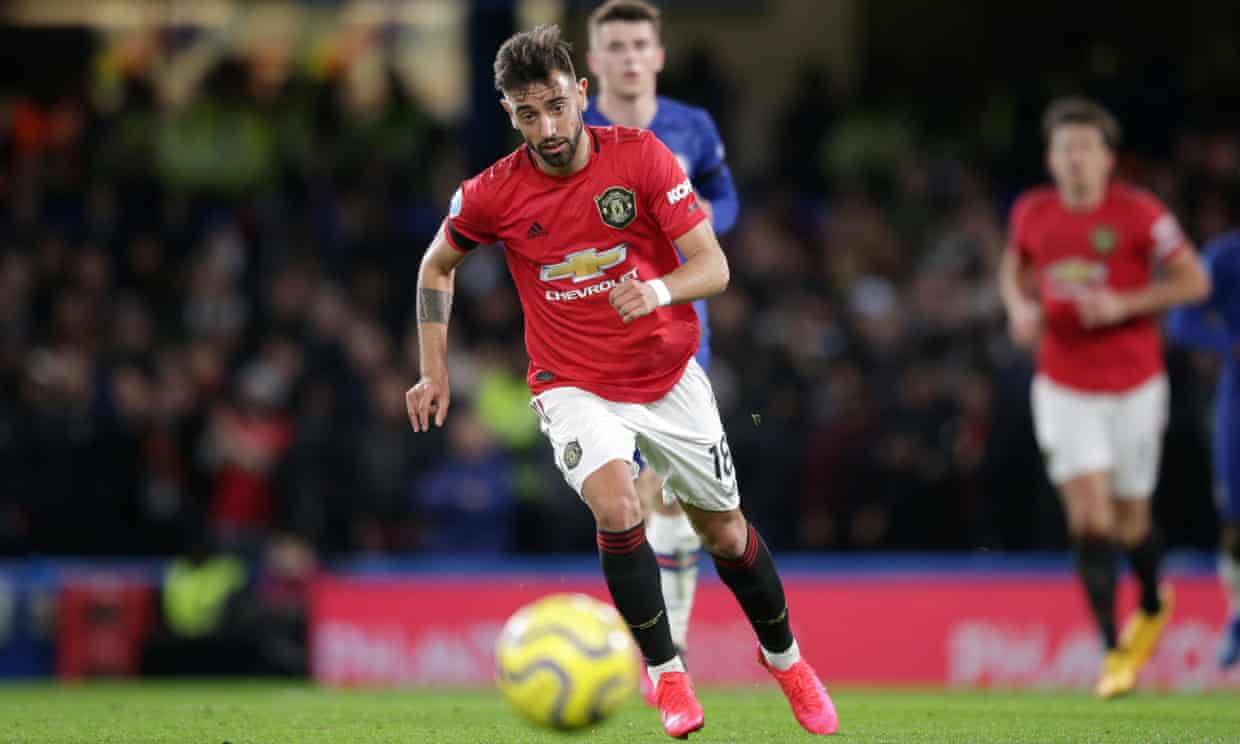 Bruno Fernandes may have only been a Manchester United player for a matter of weeks, but the difference he's made already is frightening.
After an impressive debut against Wolves, in which Fernandes was the best player on the pitch for 65 minutes before he understandably faded, the trip to Stamford Bridge presented a different proposition entirely.
This United side was crying out for a conductor, a creator, a string puller in chief, and Fernandes has not disappointed. He was substituted in stoppage time to allow a rapturous ovation from the vocal United following after a night in which he ran the show, outshone Chelsea's attacking triumvirate and was at the heart of everything we did.
Always wanting the ball, he organised and instructed those around him to make runs, when to drop deep and when to push up, took risks and always looked to play forward. His Reds career might only be two games old and we don't want to hail him as a saviour too early, but goodness, what a player he looks to be.
Falling the width of a goalpost short of his first goal for us, Fernandes atoned for his narrow miss with an orgasmic delivery from a corner that allowed Harry Maguire to score his first league goal for us. After years of watching Antonio Valencia and Ashley Young thud set pieces tamely into the shins of opposition defenders, we finally have someone who can whip a ball in. Not since his compatriot Cristiano Ronaldo left have we had someone to look such a constant danger from set piece situations.
For much of the last decade, Manchester United's midfield has been defined as much by its absence as it has by presence. Through the Fletcher years, the Fellaini years, from Morgan Schneiderlin to Scott McSauce, United's midfield has felt like a jumbled mishmash of discombobulated pieces. If it doesn't do anything, does it exist in the first place? Enter, Bruno Fernandes..
His touch, vision, ability on the ball, decision making in the final third, link up play, understanding of when to drop deep to collect it, and potency from set pieces, solved problems that had haunted United time after time in Paul Pogba's absence.
The Portuguese international arrived to much acclaim and ends United's over-reliance (by necessity rather than choice) on the perennially injured or frustratingly disengaged Frenchman, as well as the simply useless Andreas Pereira and Jesse Lingard.
More than that, though, what makes Fernandes arrival so timely is that he gives exactly what Ole Gunnar Solskjaer wants to try and do with his attacking fulcrum. His press and work rate is reminiscent of a peak Wayne Rooney, combined with the football ability and brain that Juan Mata boasted in his prime. He's no slouch over the ground either.
The modern midfielder draws some comparison to some of the league's best playmakers, fits Solskjaer's system well, and creates plenty of potential direction for the manager. He could fit alongside Pogba and Scott McSauce, play in front of a destroyer or slot in seamlessly alongside another newly signed playmaker - Jack Grealish and/or James Maddison, maybe?..
He can dovetail with Fred as the two players complement each other well by offering balance and threatening the opposition.
It's staggering the difference just one elite passer has made so far - imagine what could be if another is added to this side, regardless of whom that may be.
United's transfer recruitment has been far from flawless in recent years but - in Bruno Fernandes - this is one that Ed Woodward and the scouting team maybe, just maybe, deserve credit for.
Two games is far too small a sample size to be making judgement one way or t'other, but on this early evidence the kinetic Fernandes may just be pointing the way towards a brighter future.