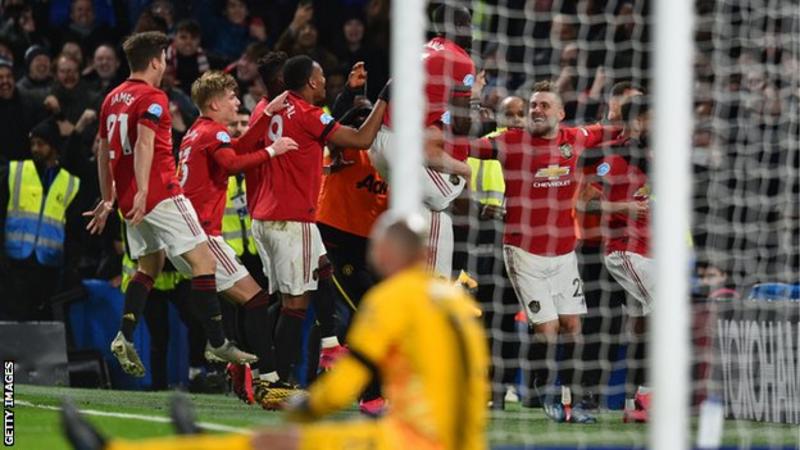 Manchester United arrived at Stamford Bridge in the last chance saloon. Six points behind Chelsea, anything but a victory would have left United not only facing further exile from the Champions League but the possibility of missing out on Europe altogether through the league.
Frank Lampard's side sat fourth, mainly by virtue of the shortcomings of everyone else rather than by his own side's exploits, yet the Chelsea manager had seen his team lose as many games as Ole Gunnar Solskjaer's United.
Solskjaer has been a man under almost constant pressure amid a rising cacophony of discontent this season - yet somehow continues to always pull out a result just when one is most needed.
Chelsea, as you'd expect, dominated the ball without really threatening - David de Gea didn't have a save to make - but United scored twice from three shots on target.
It was a much needed victory after a goalless draw with obdurate Wolves and a 2-0 loss to Burnley and only further illustrated the boom or bust nature of this baffling Reds team, picking up a seventh victory over a top six rival this season.
For all of Liverpool's unpalatably sustained brilliance, this will surely only serve notice that they are about to win probably the poorest quality Premier League for many a year - Chelsea have now lost nine games yet are still in that fourth position. We're three points further back and have lost eight. Burnley, in eleventh, are only seven points adrift.
Fluid and unpredictable, yes, and exciting certainly so, but it doesn't say much for the standard of the league when United, who have been dire for most of the campaign, are arguably now favourites to claim the final Champions League place.
United's current reduced status, and the reason why questions are asked about Solskjaer's ability to revive our fallen giant, is emphasised by the fact we have half of the soon-to-be-champions (gulp!) point tally.
It is a galling, damning statistic but yet, somehow, helped by the failings of everyone else and our own ability to grind out vital results, we find ourselves right in the mix for the top four.
With events across the city throwing the race wide open, fifth place could yet prove precious and lucrative.
It was far from vintage United, but we were well drilled, organised and defended superbly to a man, taking our chances when they came. Solskjaer's side were more ruthless and punished Chelsea for their profligacy, sealed in comfort by the excellence of captain Harry Maguire, returning Eric Bailly and the colossus that is Aaron Wan - Bissaka. It was a win that felt hugely significant.
We'll leave the VAR repercussions for another day, but let's just say we'll take any good fortune we can get. We've not had much to shout about this season so let's enjoy this one.
This is enigmatic United side are the Robin Hood of the Premier League - taking from the rich but constantly giving to the poor. We've won at Manchester City, twice, beaten Spurs, we're the only team to take points off Liverpool and completed out first double over Chelsea since 1987-88.
And yet there has been so much mediocrity - we've lost to Watford, Bournemouth, Newcastle, Burnley, West Ham, Crystal Palace and the weakest Arsenal side in decades.
Solskjaer needed this result and deservedly celebrated at the final whistle as he beat Frank Lampard for the third time in under a year.
With twelve games to go in the league, there will be plenty of twists to come. Fourth place should be considered a success and that's the reality of where we are now as a club. Such is the erratic nature of United's bizarre season, it wouldn't be a surprise to see us drop points to Watford on Sunday.
It really is a funny old game.