If ever a game could be described as a 2-2 thrashing then it would be this one. You don't always get what you deserve in football and Manchester United took that old adage to new heights against Aston Villa.
Quite how Ralf Rangnick's Reds failed to win this thriller at the Villa only they will know. Our best performance of the season looked set to be rewarded with back-to-back victories over Steven Gerrard's side but United's soft centre and lack of nous was exposed by the host's late rally in which Jacob Ramsey and Philippe Coutinho - it had to be him didn't it - pulled level. The fact the ex-Liverpool man was the player to seal the home side a point only added to the sense of incredulity. An absolute travesty.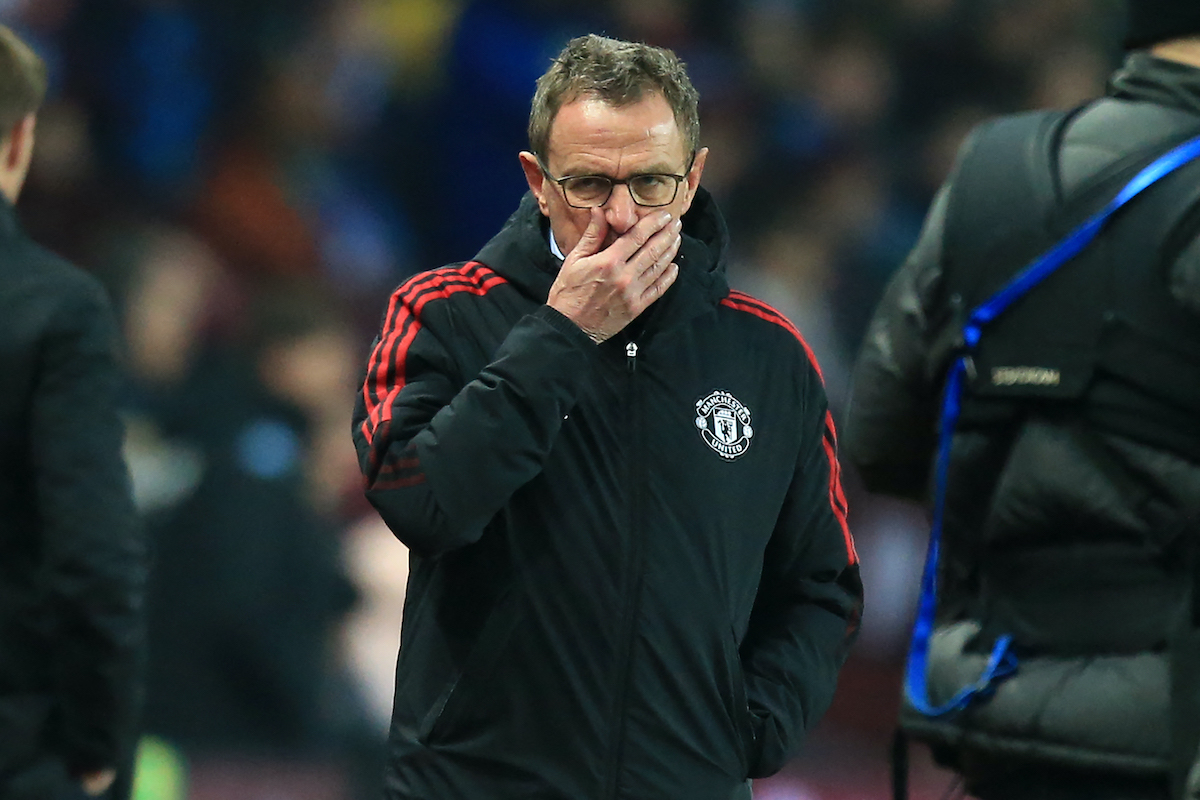 A case can be made United have only played well throughout a full 90 minutes on four occasions this season - Leeds on the opening day, Atalanta at home in the Champions League, Arsenal in December and here at Villa Park.
Whilst you would have gladly accepted a point before the game, the level of United's performance and a late 2-0 lead means this ultimately feels like a loss, as Rangnick himself admitted afterwards. I recall a similar game in 2010 when United battered and laid siege to the Villa goal, but - on that occasion - it was us to come from two behind to salvage a dramatic late point. Twelve years on, the personnel and landscape may be different but the circumstances were not too dissimilar.
To add insult to injury, United can feel a sense of injustice Lucas Digne - Villa's other new signing at left-back - was only booked for his reckless lunge on Diogo Dalot, one of a series of 'strong' challenges as their newest recruit put himself about, shall we say. Quite how Digne remained on the field is perhaps an even bigger mystery than United's failure to win. We can certainly feel hard done by when it comes to refereeing decision, not for the first time this season.
Bruno Fernandes had scored his first brace since the opening game of the season and United - as interim boss Rangnick has so craved - surprisingly controlled and dominated the game for long periods even without the suspended Scott McTominay in midfield.
This meant Rangnick paired Fred with Nemanja Matic and it led to our most fluid performance of the season. This was everything we've wanted to see from the Reds for weeks - finally a United side carved in Rangnick's own image. The ball retention was good, we pressed well, moved the ball quickly and - at times - laid siege to Emi Martinez's goal. Indeed, our second goal came from one such moment as we moved the ball through the phases, Fred caught Morgan Sanson under the press, forced the Villa man into a mistake and fed Fernandes to fire in a finish - what looked to be the all important game clinching second goal.
Ironically given his early and uncharacteristic error (karma's a bitch isn't it Emi), the ex-Arsenal keeper did more than most to keep his side in the game. Unfortunately, Matic's race was run by half-time and he faded to the fringes which allowed Villa's midfield men Douglas Luiz (also lucky to stay on the pitch) and John McGinn - almost anonymous up until then - a way back into the game. Fitness and game management proved our undoing as Gerrard's side came on strong in the second half. Plenty for Rangnick to work on but plenty of positives and much improvement too.
He denied Mason Greenwood and the impressive Anthony Elanga before further saves from Edinson Cavani, the hat-trick hunting Fernandes and late sub Donny van de Beek. Martinez did more than most in claret to stem the side and, in truth, Villa can be indebted to their 6ft 3 keeper for their salvaging of a point. Indeed, it was cruelly ironic as only football can be Martinez was man of the match despite his early aberration and, in turn, Raphael Varane - probably the second best player on the pitch - allowed the ball to run through to Coutinho to score, with the Frenchman having done so much to help United control the game with a Rolls Royce style showing at the back.

Villa were reduced to half chances and speculative shots from distance with David de Gea a virtual spectator bar one or two routine saves which he would be expected to make. He had no chance with either Villa goal which both came from point blank range. I can't recall a clear chance they had apart from the two goals.

There has been a lot of criticism for us this season - indeed, some of it fully justified - but, on this occasion, we can point to our own misfortune and an unfortunate sequence of events. I won't accept criticism after that performance. Football - it's a Beautiful game but a cruel one, too.