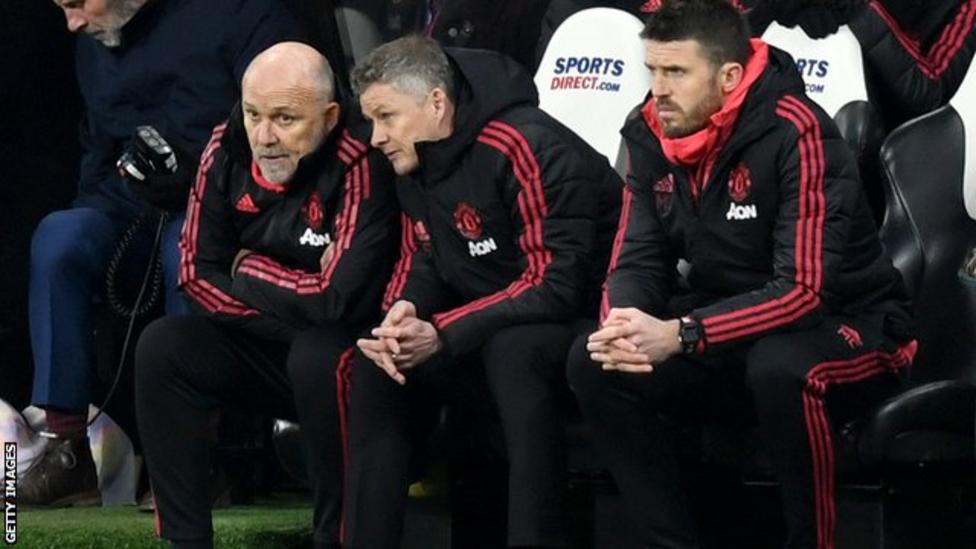 If a week is a long time in politics, then two weeks must feel like a century in football management. Just ask Ole Gunnar Solskjaer. When the affable Norwegian was appointed as interim successor to Jose Mourinho on 19 December, the challenge seemed impossible, so much so that United's chances of making a meaningful impact on the season had been written off by almost everyone - pundits, other players, rivals and us United fans alike. Solskjaer's solitary remit seemed to be to make everything fun again, to get the players smiling and - above all - to make us what we should always be - United. After all, it literally is in our very name.
For probably the first time ever in the career of any Manchester United manager, this five-month free hit of a gig seemed more than simply about results. Ole spoke of taking things game-by-game. Normally, that just would not be acceptable. But then again, so desparate, so seemingly hopeless, was our plight, that anything was an upturn. Hanging on the new Old Trafford manager's every word like a flock following their shepherd, we followed. The man simply known as 20Legend has already got the band dancing to his tune. He managed only nine wins in eight wretched months at Cardiff City but, four matches and 15 days into arguably the biggest job in the land, he boasts a 100% record and has already dispelled the pantheon of doubters that seemed determined to judge him solely on his time in south Wales. In truth, there was not a single man elsewhere at the time that could have saved the Bluebirds from the mess the Tan ownership had dragged them headlong into. Like Mourinho, it is irrelevant history.
Much has been spoken and written about the damning 3-1 defeat at Anfield and its aftermath on a day that saw Mourinho's inglorious fall from grace crash to a nadir shortly after 9am the following Tuesday, but it paved the way for Solskjaer's Red Devils rejuvenation over an
indulgent festive run that has seen United catapulted back into contention. In came the Baby-faced Assassin. A move that few saw coming and one that would have been laughed out of Manchester and all the way down the east Lancs Road. But one that already looks to be a masterstroke. So far, we can't have asked for much more than the first four games under OGS at Man Utd. Four games that I would dread under Mourinho were dispatched as you'd expect during the Fergie years. Mourinho may well have won all four, but one thing's for sure - he would not have done so in such a proactive and prolific fashion.
At this rate, Ole is going to force Ed Woodward and his merry band of men into a difficult decision in May. It's too early to tell, but if we get top four and win the FA Cup, then what? It's impossible to count him out.
At the time of Ole's appointment, United were eleven points behind fourth-placed Chelsea and eight off of in-form place above Arsenal in what looked a two-team tussle for the one remaining place in next season's Champions League. Hit the fast forward button, press play, and take stock. Three days into a new year, a new dawn and a new chapter, and the landscape couldn't be more different. United may still be sixth, but are now looking up the table and not over our shoulders. That gap now sits at six and three respectively. Our goal difference briefly dropped into the red, then stuttered back to zero at the time of the Anfield car crash. Now it is a much healthier +11.
It is the London duo who will be nervously sweating as the resurgent Reds race ever close into view through the rear-view mirror. Mission Impossible has become Mission a bit-more-likely. To coin a favourite saying of a certain former boss, United's "little horse" remain rank outsiders in the race with the thoroughbreds of the capital, but Maurizio Sarri's men are faltering just when the pressure begins to ratchet up. Unai Emery's Arsenal are wildly inconsistent and you'd tip them to stumble at any moment. To continue the equine analogy, Mourinho's ponies were left tied up in the stables, but Solskjaer's wild horses are running freely once more.
There is a caveat of course. Solskjaer and the side are yet to face any opposition of serious clout, and any United manager should be expected to pick up 12 points out of 12 from a fixture list that read: Cardiff (17th), Huddersfield (20th), Bournemouth (12th) and Newcastle (15th). The litmus test looms large on the horizon in the shape of Tottenham at Wembley in ten days time - as Solskjaer faces his toughest hurdle yet and the man tipped by many to become his permanent successor at Old Trafford in the summer. But you can only beat what's in front of you, Ole did not hand-pick his opening opposition and, don't forget, under Mourinho it was in ties against the league's so-called lesser lights
that United often came unstuck.
The race for the top four is well and truly on and the resurgent Reds are right in the mix now.