As the 2019-20 season nudges beyond its halfway point, there's one clear front runner for Manchester United's Player of the Season.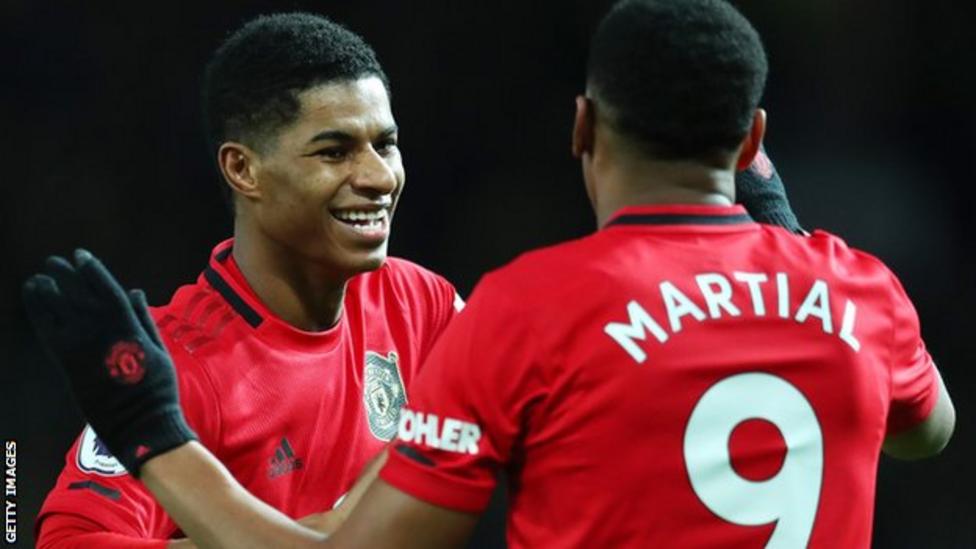 With honourable mentions to Scott McTominay and Aaron Wan - Bissaka, Marcus Rashford has emerged as the front runner for the Sir Matt Busby Player of the Year Award. Still only 22, Rashford now has 19 goals this season, the most in any campaign since his dramatic debut breakthrough in 2015. His previous best was 13 in 2017-18 and he equalled that tally once more last term. I've always felt there's a 20 goal a season player in Rashford and he's showing that now. Even more impressive is the fact that his best-ever goalscoring campaign is coming with him playing in a wide position on the left. Since his debut in fact, Rashford has scored more goals in all competitions for United than any other current player at the club.
Fast maturing into a clinical striker, Rashford has developed into the talismanic figurehead of this young United side. He captained the team for the first time against Manchester City last week, a show of faith from Ole Gunnar Solskjaer as one of the few players to genuinely understand what the fixture means. It wasn't so long ago that Rashford seemed stuck in a rut, with confidence and morale at an all time low amid calls for Solskjaer to drop him. You'd have got long odds that by early 2020 he would be Manchester United's go-to match winner. Four years on from his breakthrough and having been touted for the very top ever since, it feels like Rashford is at the peak of his powers and the finished product.
In a turbulent and inconsistent season for United, Rashford has been a bright spark. At times, he's been carrying us and that's a big ask for a player still very young.
After starting against Norwich City, Rashford became the fourth-youngest player to reach a double century of games in the red of United - only Ryan Giggs, George Best and Norman Whiteside sit ahead of him. Rashford has scored 64 goals in those 200 games and is a player in the finest of fettles, amongst the most in-form men on the continent in current form.
What the numbers won't be able to convey is the manner in which Rashford has lit up Old Trafford. There's a freedom of spirit and the sheer joy in his craft as he jinked, tricked and slalomed his way into the history books on Saturday. Norwich were left at the mercy of Marcus' magic.
It's not only his prowess in front of goal that has been impressive, though. Rashford is becoming a true leader, pulling the strings and making United's forward line tick. No longer forcing himself on a game or waiting for things to happen, Rashford demands the ball, drives forward, and knows when to shoot, when to wait for the killer pass and when to move the ball on.
Rashford's goal against Manchester City last week was a prime example, with Rashford drifting in and out of the game but timing his burst into the box to perfection to meet Mason Greenwood's through ball. Captain for the night Rashford finished superbly to give United the faintest glimmer of hope ahead of the second leg.
He led the line supremely against Norwich on Saturday, scoring twice and putting defender Sam Byram on his backside with an outrageous 'elastico'.
Whilst it would be churlish to compare a career still in its relative infancy with one of the greatest players this club has even seen, there are similarities. Wayne Rooney, like Rashford, was catapulted into the national spotlight at an early age.
Thereafter, Wazza's halo began to slip – his body battered and energy sapped by being a virtual ever present for both club and country. He was hardly ever rested and his unyielding determination to work, hassle, harry and press opponents into submission ultimately took its toll. Rashford was in a similar state of flux earlier in the season but - also like Rooney - he emerged from his slumber to return to former glories. B
oth saved their best for the big games and both were adored by the fans but divided opinion. Rooney, like Rashford, wore number 10 and although Marcus hasn't quite hit Rooney's stats yet he has outscored Messrs Cristiano Ronaldo and Harry Kane when they were his age.
Both Rashford and Rooney carried the weight of a nation on their shoulders by becoming key men for England and all eyes will again be on the Wythenshawe lad as a key part of Gareth Southgate's side for the Euros in the summer. With Harry Kane out until April with a hamstring injury, Rashford has the opportunity to be England's main man at the tournament.
You can't help but feel that if Jose Mourinho was still patrolling the Old Trafford dugout, Rashford would be playing somewhere abroad or stagnating in the Reserves. Instead he's come of age and is flourishing at the club he loves.