There are two names that instantly spring to mind when writing the story of this stranger-than-fiction Manchester United side.
Bruno Fernandes and Marcus Rashford came on to turn an illogical game wildly on its head, but we may as well just rename this football club as Jekyll and Hyde United. If ever there was a game that summed up a season in microcosm, this would surely be it.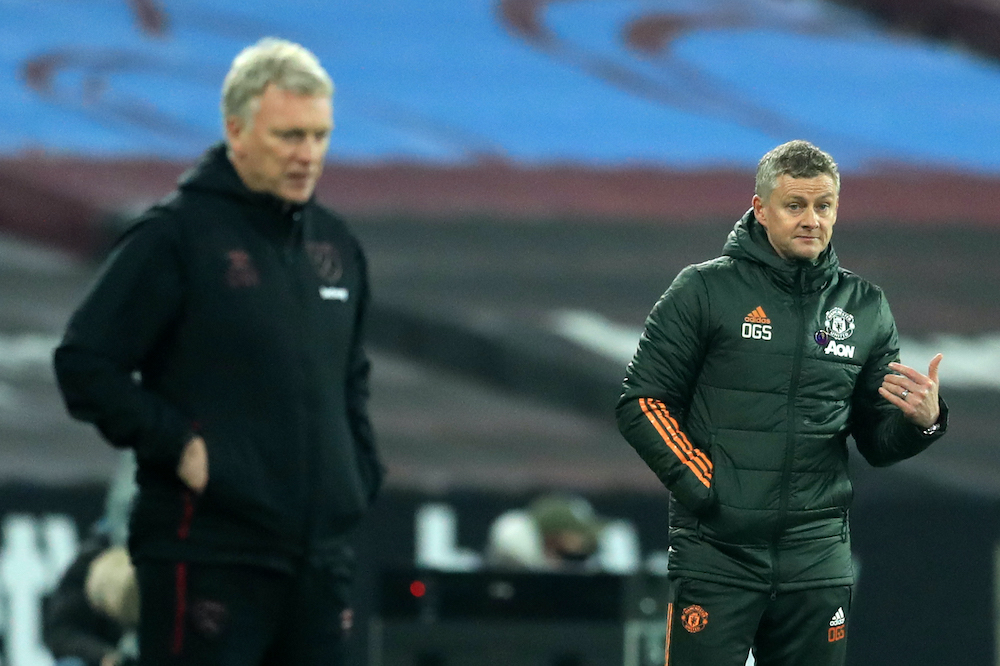 United - just as they had done at St Mary's last week - sparked another stunning recovery mission with three goals in thirteen sensational minutes despite a sorry, soporific and simply shambolic opening hour.
Somehow, despite their inconsistency and - at times - incompetence, United have cut a swathe through the league in recent weeks, rising to fourth and within two points of the Premier League summit. Nine successive away wins, the best such run in our history, and within touching distance of the Champions League knockouts. Not to mention a League Cup quarter final against a faltering Everton on the horizon. Not too shabby for a club in crisis with an inept squad, a useless board and a PE teacher masquerading as the United manager.
United have now won a league high 15 league points from losing positions and boast a 100% record on the road despite falling behind each time. It says as much about this side's spirit and character as it does about its shortcomings. The old adage speaks of a game of two halves, but this was a game of three thirds. United have been a 'streaky' side under Solskjaer - it certainly makes life infinitely more exciting than the death-by a-thousand passes regime of Louis van Gaal or the pragmatic raison d'etre of Jose Mourinho. Solskjaer's Reds are hair-raising and unpredictable but maddeningly inconsistent from game to game, even minute to minute, and that's not conducive to a side with major ambitions.
Whilst United's performance at Southampton perhaps didn't merit at 0-2 deficit at the interval, we could count ourselves fortunate to only be one down at half-time here. It was a poor goal to concede from yet another set piece as an unmarked Declan Rice flicked on to a free Thomas Soucek to tap in with the United defence flat-footed, static and running through treacle. United's fallibility from dead balls has been in stark evidence over the past few weeks. Both of the Saints goals came from set pieces and Marquinhos put PSG 2-1 up in midweek from, yes you guessed it, a corner. You'd think an 80m centre-back with the biggest head in football would be able to head clear.
West Ham thrived under a manager forever synonymous with Old Trafford failure. For so long, David Moyes Hammers side were everything United should be, but weren't - energetic, creative and industrious with a clear blueprint and tactical plan. They worked hard and harried, carving out a hatful of chances as United simply had no answer.
Yet for as bad as we were for so long, a fuse was lit, a light came on and a switch was flicked. The Reds put the game beyond the reach of the shell-shocked Hammers with a stunning, staggering and swashbuckling salvo. From rotten and rancid to ruthless, red hot and rampant, United climbed off the canvas yet again with three goals of brilliant quality. Paul Pogba thumped in a curler, before a lightning quick counter saw Mason Greenwood score and Marcus Rashford made it 3-1 at the culmination of a sweeping move that involved Pogba, Fernandes and Juan Mata. Not many sides on the planet can live with United in this mood.
All this begs the ultimate question - a question no one is prepared to admit to, or even think about what the answer might be. How on earth would Manchester United cope without Bruno Fernandes? Solskjaer's decision to bench his inspirational figurehead and string-pulling talisman would either prove to be foolish or genius. It was a bit of a surprise but the thinking seemed to be that Bruno was merely rested with Leipzig and Manchester City in mind. Solskjaer confirmed that his star man had an ankle injury, and he was forced to watch the first half horror show from the rare surroundings of the bench.
It's impossible to know how the first half would have panned out with Fernandes getting on the ball, driving the team forward and linking the play. It's also impossible to deny the impact he has. There was more zip, more urgency and more intensity upon the arrival of the magical Portuguese. Even his mere presence changes this side beyond all recognition. It was he who set up Pogba to kick-start the comeback and it was he whom created eight chances during his 45-minutes on the pitch - more than any other player in a single match this season.
No side has epitomised this crazy, unexpected and unpredictable season more than Manchester United. We were awful but yet sublime at the London Stadium - a pattern we've seen far too often this term. It's not one that can continue in a week with crucial ties against Leipzig and City. Solskjaer will be a happy man to see the side sitting in fourth spot and, improbably, within striking distance of the league leaders.
But we cannot keep playing as badly as we did in the first hour against the Hammers - there's only so many times we'll get out of jail.