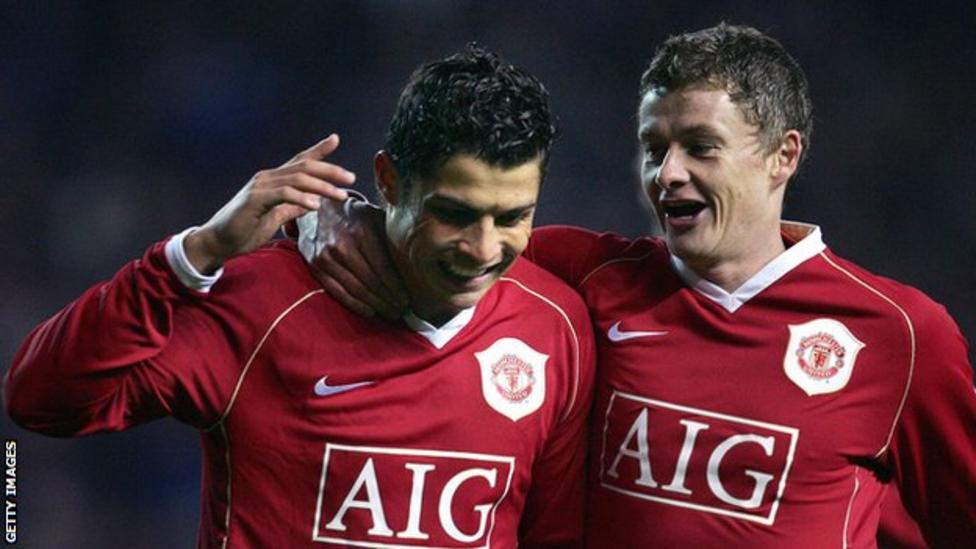 Cristiano Ronaldo's return to Manchester United will be seen as a fairytale denouement to one of the most decorated careers the game has ever seen.
The man simply known as 'CR7' was born to shine at The Theatre of Dreams with the 36-year-old superstar still fondly remembered at Old Trafford for his part in Sir Alex's final great dynasty.
Ronaldo won the Champions League, thr
ee Premier Leagues, the FA Cup and two League Cups in a glittering six-year stay under his mentor Sir Alex Ferguson before an 80m move to Real Madrid.
United boss Ole Gunnar Solskjaer will celebrate the recapture of Ronaldo - but his return also proves a double-edged sword for the affable Norwegian gaffer.
Solskjaer has done virtually everything right as United boss but his managerial CV at the club is still missing the biggest measure of success - silverware. Despite signing a new deal last month, he cannot afford to wait much longer to break the drought given the vast outlay this summer.
Ronaldo will be greeted as the returning hero, a moment twelve years in the making, the homecoming Old Trafford has much longed for but one none of us ever thought would actually materialise. It will be pure theatre when Ronaldo walks down the tunnel and out onto the hallowed turf in the Red of United once more.
It was a moment of high emotion when he came back with Real Madrid in 2013 in the Champions League as he received a standing ovation in one of the best atmospheres the famous old ground has ever witnessed.
Typically, he thanked us in the only way this phenomenal champion knows how - by scoring the decisive goal as SAF's last assault on the cup with the big ears was snuffed out. No sentiment from Ronaldo, only the most precious commodity of all - success.
Now he is back at the Theatre of Dreams in Red, Solskjaer will hope he can bring that champion's mentality with him.
Ferguson's father-son relationship with Ronaldo was believe to have played a key role in his eleventh hour diversion away from 'them' in sky blue, a move which the mere thought of led to death threats, burning effigies and shirts, accusations of betrayal and a man motivated by money rather than loyalty to a club where Ronaldo remains an idol.
It is an extraordinary coup by United, especially so given City's financial clout and the fact we've publicly finger blasted them makes it all the sweeter.
United's priority may lie in the defensive midfield area with re-enforcements desperately needed in that position, but how we could turn down the possibility of bringing back Ronaldo, a player whose star remains undimmed despite reaching the twilight of a magnificent career. We simply couldn't have passed it up.
Ronaldo brings a sprinkling of stardust, a touch of romance and enduring quality to Old Trafford. He's a certainty to plunder 25+ goals a season and provides a touchstone, a figurehead, for our emerging young talents in Mason Greenwood, Marcus Rashford and Jadon Sancho. Even his mere presence makes United a far more daunting proposition to our Premier League rivals.
Ronaldo is still in extraordinary shape at 36, still so potent in front of goal even in a poor Juventus side. He scored 35 goals across all competitions last season, outdoing even red-hot Romelu Lukaku (30 goals) before his 97.5m move from Inter Milan back to Chelsea.
For Ole, though, Ronaldo's return ratchets the pressure up tenfold. Of course there is always pressure on the manager of Manchester United, but there will be even more now. United have fallen short in the biggest matches under the Norwegian with the agony of last term's Europa Cup final loss to Villarreal still fresh in the memory as the prize slipped away from the Reds - strong favourites on the night - by the narrowest of margins.
Solskjaer has been building something special at Old Trafford but there was always going to come a time when that progress had to be replaced with success. Given the events of the summer - with the arrivals of Sancho and Raphael Varane as well as Ronaldo - that time must be now.
If United do not deliver a serious, prolonged, consistent title challenge and finally win that elusive trophy then scouring questions will inevitably be asked, given the embarrassment of riches at the United manager's disposal. Put simply, there can be no excuses for Solskjaer this time.
There are still flaws in this United side - the lack of defensive nous and creativity in central midfielder is a worry and we have no cover for right-back Aaron Wan - Bissaka. But with Harry Maguire and four time Champions League winner Varane at the heart of an impressive defence, Paul Pogba and Bruno Fernandes as our creative, string-pulling heartbeat, and Ronaldo in attack with fellow new signing Sancho, another ageless but nonetheless magnificent striker in Edinson Cavani, Solskjaer's United cannot afford to fall off the pace in the chasing pack. Chelsea and City remain, for my money, favourites to battle for the title but United, on paper at least, have a squad to push them all the way.
Solskjaer has put his nets out and landed his prize catch in sensational style. It cannot be claimed he hasn't been backed in his quest to deliver glory back to Manchester United.
With Ronaldo back on board, he will be expected to finally deliver.