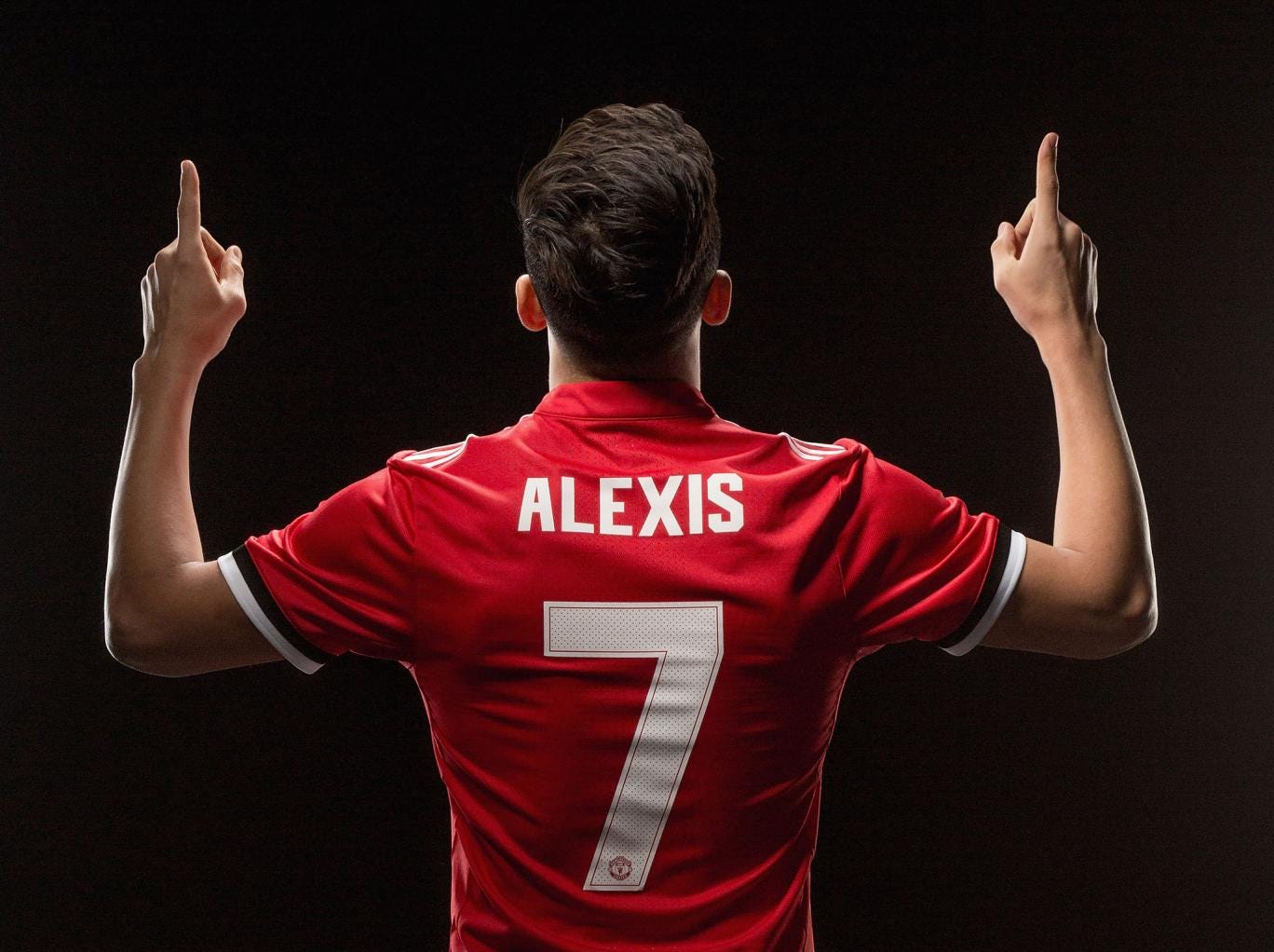 Alexis Sanchez will follow some of United's greatest ever players when he pulls on the famous number seven as the club's newest star signing. Every club has that one shirt that's not just a number - more an iconic symbol that defines everything the club represents. Think Lionel Messi and Johann Cruyff before him in the #10 of Barca, whilst three of Newcastle United's best ever strikers - Jackie Millburn, Malcolm MacDonald and Alan Shearer - represented the Toon Army with distinction in the number nine jersey. For us, it's our number seven shirt.
The number has always held that special affection in the hearts of us fans, and some of our most revered and iconic players have plied their Old Trafford trade with the number shining like a beacon on the back. For me, it will always be synonymous with two players that were head and shoulders above their peers - a duo that will go down as among my favourite all-time United players as the talismanic figureheads in two of United's greatest ever sides. David Beckham and his replacement - a braid-headed, showboating and tempermental teenage tyro by the name of Cristiano Ronaldo. Both came as boys and left having made the number their own.
I'm not old enough to remember George Best, but the list of legends to have donned our seven is an endless roll-call of some of this club's finest ever players and extends beyond the exploits of Messrs Beckham and Ronaldo - Bryan Robson, Steve Coppell, Eric Cantona and the fulcrum of Sir Matt Busby's second great side Johnny Berry, not to mention the flawed genius Best himself. If Alexis goes on to achieve even half of what that group managed, then he'll have done well. It's a special number and a shirt that's often reserved for that spontaneous, brilliant, edge-of-your-seat, something-out-of-nothing and once in a generation player that takes the collective breath away to send any Red into a misty-eyed stupor.
Sanchez will have illustrious footsteps to follow, but let's hope he's more successful that the more recent exponents to have donned the symbolic seven in the red of United. Since the days of 'BC' (that's before Cristiano), we've not had anyone who's done the most prestigious shirt of all any justice. Four have tried but all have failed, as if to crumbe under the expectation borne out by the pressure of wearing the shirt with the legendary, totemic number on the back.
Free transfer Michael Owen picked up the mantle following Cristiano's departure in 2009, and scored 17 goals - including his famous winner on Manchester derby debut - in 52 appearances across three-injury hit seasons at United. Antonio Valencia was next, but he ditched the jersey and reverted back to his preferred number 25 at the end of a single, undistinguished campaign in 2012-13.
Expensive exports Angel Di Maria and Memphis Depay both arrived with big price tags and much expectation but both failed to live up to the hype having inherited the seven. Di Maria in particular - unplayable during the peak of his career at Real under Jose - was always at odds with Louis van Gaal's dour philosophy and never settled in Manchester. He was moved on after a single soporific season. So too was Memphis who showed only flashes of his PSV form but generally underwhelmed during his two season stay at the club.
So, it's fair to say that the fortunes of those to don the iconic number have dwindled markedly since Ronnie.... over to you, Alexis. No pressure, lad..