Four minutes and thirty-nine seconds. How long it took for this finest Red vintage to cut a swathe through Manchester United's desperate and disparate defence. How long it took for the already obvious gulf in class to be so emphatically emphasised.
How fitting it should be Luis Diaz - the epitome of Liverpool's magnificent recruitment - to get it all started. The Colombian has slotted in like a glove at Anfield and in only his 17th game appearance for the club it looked like he's been there for years. The same can be said for Diogo Jota, and, indeed, almost every player to step through the door of Melwood for the last few years. It is testament to Jurgen Klopp's remarkable work as manager but also of having the right people in the right places doing the right jobs.
A chastening example of what happens when a club with structure that has recruited brilliantly comes up against one compiled via a lack of planning with a strategy seemingly based on plucking random names out of a hat. Liverpool's recruitment has been a triumph; United's simply a shambles. Just as in the reverse meeting at Old Trafford in October, Liverpool were as sublime as United were supine.
Liverpool have become everything we used to be. They are meticulous - both on the field and off it. A big element of their success is an uncanny ability to assess potential signings with data and estimate how well they will fit into the dynamic of the team. Signing superstars doesn't necessarily make you a top side - isn't that where we've gone wrong after all - but it's vital the blend of talents works well as a unit. It is this which Liverpool do so well and where United have got it so badly, terribly wrong.
When United's starting line up dropped an hour before kick off, it was almost impressive how a squad which has had so much spent on it looked like one you would see in the Championship.
Two full-backs who can't defend and have no positional sense, a man who's been here ten years too long and Harry Maguire who's just, well, Harry Maguire. In fairness to Phil Jones, you felt sorry for him in only his third start for nearly three years. He was sent out there like a prisoner walking to the gallows in the face of a ruthless and rampant Liverpool. He was far from blameless but cannot truly be held accountable as he was on a hiding to nothing. How is he still here never mind lining up at Anfield against the finest exponent of their craft on the planet? Inevitably and mercilessly, it was a bloodbath. Jones was put out of his misery when he was hooked at half-time.
Aaron Wan - Bissaka and Diogo Dalot are the two worst full-backs in the league, Alex Telles not much better - so much so he wasn't trusted here. All that and three centre-backs with not a yard of pace between them in an alien formation, and you have probably the worst defensive unit the Premier League has ever seen. Where was Eric Bailly? How can a back five with a combined value of over 200m look so completely inept, so utterly anodyne? So completely clueless and chaotic? None of them would get in any other Premier League club's XI let alone any strong second tier side. A jumbled collection of haphazard, mismatched and discombobulated pieces look like a side already on the beach, merely drifting through until the end of the season in a month's time.
Then we come to the midfield or - perhaps more pertinently - the lack of one. Two players who won't be there in a few short weeks, one of whom has probably played his last game for us in Paul Pogba. To quite literally add insult to injury, Pogba lasted ten minutes and his replacement Jesse Lingard is another headed for the Old Trafford exit door. Nemanja Matic, also leaving on a free, battled gamely but he was done at this level years ago yet there he was, the solitary shield in the holding role in front of the defence. Three players, one entire area of the team, which won't be here when 2022/23 rolls around. I suppose you could say it was a "free for all." Not signing someone in midfield either in the summer or in January was criminal and we've paid the price. And you wonder why they don't care. Why should Pogba care whether Manchester United will be in the Champions League next season when he'll already be in it with PSG. Matic will be sunning himself on a beach somewhere.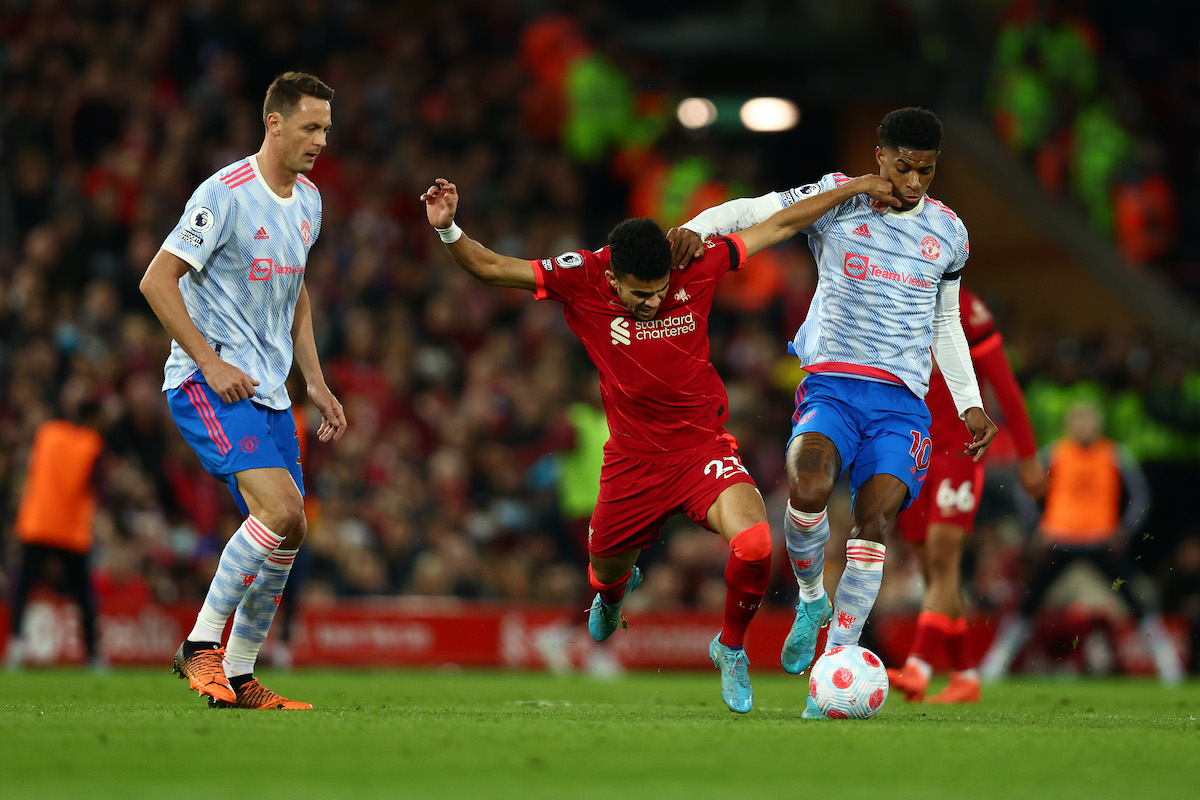 Let's get one thing straight: everyone knew what was going to happen. You simply couldn't make a case, even the semblance of an argument, over how United had enough not only to hurt them, but to stop them. Even the most optimistic of Reds predicted a Liverpool landslide. My pre-match prediction rang true. I didn't see anyone whom gave us even a prayer in enemy territory and Liverpool were simply magnificent. In mitigation, any side in world football would struggle to cope with their energy, intensity, power, pace and precision. You can see exactly why Jurgen Klopp's side have a genuine chance of sealing an unprecedented quadruple. On this evidence, I wouldn't bet against it. They were quicker, slicker and on a different planet to their battered and beaten rivals. United were ragged and rudderless in the face of a Liverpool performance for the ages, the gulf in quality and attitude a chasm.
We know Liverpool are better. The whole word knows it. I expected a hammering - everyone did. But where this side falls down is its lack of fight, guts and even the basics like tackling, running and closing down. Worse United sides than this - in terms of pound-for-pound quality, have won here against Liverpool sides at the peak of their powers simply because of this fixture's fiefdom. Even when United were England's pre-eminent force, this fixture was always a standalone anomaly, a ferocious proposition no matter the situation, setting or state of the combatants.
Instead, it merely served to show the size and the scale of the task facing United's incoming manager Erik ten Hag. What on earth must he be thinking?