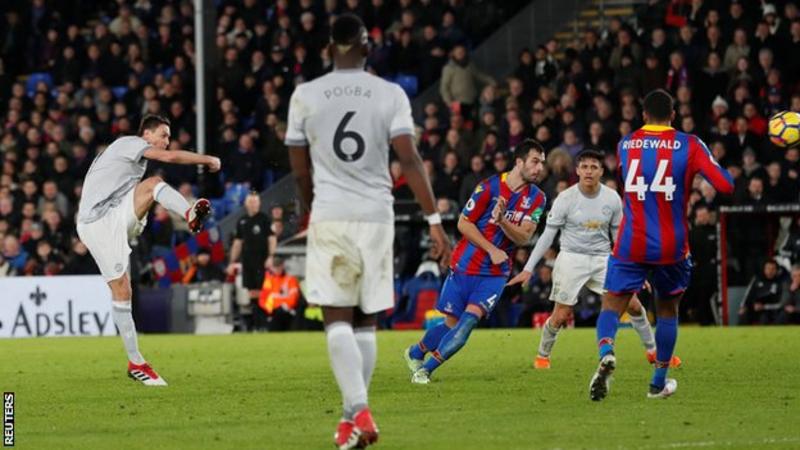 Get in! There is quite simply no better feeling than a last minute winner away from home, especially when you've gone 2-0 down and not been at your best. It's even more epic when it comes from the unlikeliest of scorers with a goal of the season contender, and takes you above your biggest and most hated rivals with the potential to transform the entire dynamic of a season.
When Nemanja Matic hit the back of the Crystal Palace net with a worldie from 25 yards at Selhurst Park on Monday, the scenes were reminsicent of days gone by. To see Jose race from his seat, arms aloft and embracing those around him whilst our exultant squad ran over to celebrate with the jubilant travelling fans amid a backdrop of crestfallen Crystal Palace players, this was a throwback to the vintage United of yesteryear and just like the old days.
It left me with a sense of something very special and a feeling inside me that I've not felt after a United game in a very long time.
Of course, there have been many wins under Jose, but few as dramatic and as improbable as this. Not since August 2016 have we won a tie with an injury time goal, and you have to go back to the Boxing Day of 2013 - at Hull City - to find the last time we won any game from this position. United have rediscovered a precious commodity that makes this great club what we are. A commodity that many felt had left us forever and one that had ridden off into the sunset alongside Sir Alex in 2013. The very attribute that remains ingrained in the DNA of Manchester United. Our once famed attribute of the never-say-attitude, the unyielding refusal to never give in, to snatch increasingly improbable and unlikely victories from the jaws of almost certain defeat. To never know when we're beaten and turn one point into three. This side may lack the panache of some of our greatest ever teams, but there can be no doubting that we possess courage, character, desire and fighting spirit in abundance.
For an hour in south London United were shocking - unable to string more than a few passes together, Wayne Hennessey left relatively untested and a struggling Palace side playing with the scent of a first ever Premier League win over us in their nostrils. United were sluggish, ragged and pitifully off the pace. Chris Smalling's header early in the second half belatedly kicked us into life, and from then on, we were tremendous. That goal turned the tide and with Palace pinned back by the pace of substitute Marcus Rashford, the Reds found a foothold, earned an equaliser and eventually the latest, most priceless of leads to complete a magnificent, climb-off-the-canvas victory.
Before the Chelsea game at the weekend, the Reds had completed come-from-behind wins on only four previous occasions in nearly two full seasons under Jose, in contrast to the seemingly weekly acts of escapology under SAF. For all the improvement we've seen under the boss, there haven't been enough ties where we've turned a game on its head, but we've now done so twice in as many games. It's the first time in the post-Ferguson era that we've mounted back-to-back comebacks and offers further promise of good times ahead for this evolving United side.
This one - sealed with a mighty swing of Matic's left peg - tastes very sweet indeed! What a result! Bring on the Scousers.