Oh to be a Manchester United fan. After the euphoria of Saturday when we felt on top of the world, I'm feeling rock bottom - gutted, frustrated and fuming after witnessing one of the worst 90 minutes in recent memory from a United team. How we can go from the euphoric high of beating our biggest rivals in the most important game of the season, to the desperate low of defeat against modest Spanish outsiders, simply defies logic and explanation and is beyond me.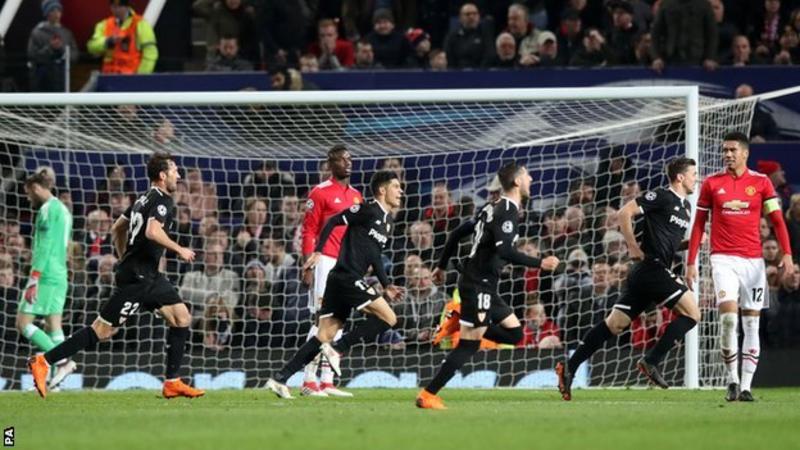 As Wissam Ben Yedder inflicted the knockout blow with his quickfire double and condemned a shambolic and disjointed United to an earlier than expected European exit, I had to remind myself that I was indeed watching the very same Manchester United team that were so impressive against Liverpool. Never have I seen two such vastly contrasting performances in such a short space of time. Having slept on it, I still cannot explain how we tried to approach this game, tactically. It was a muddled and confused mess with no clear game plan or strategy.
With the tie finely poised at 0-0 and knowing that Sevilla needed to score, the longer the tie stayed goalless, the more it would play into the hands of Vincenzo Montella's men. You kept expecting United to up the ante and intensity, but the Red tide never came. Mourinho and the team were content with the goalless draw in Spain and had backed themselves to overcome Sevilla on the hallowed turf, adamant that the occasion - and our vastly experienced squad - would overawe the visitors. Such hubris.
We tried to defend a lead that we never had. Once Ben Yedder broke the deadlock with 17 minutes to play, it was game over for a shell-shocked and punchdrunk United.
We needed the early cushion of a goal to settle the nerves, but instead played with the pace and tempo of a pre-season friendly. It seemed as if we were sitting off them and waiting for the inevitable before we spluttered into life. Only when Sevilla hammered the final nail in the coffin did we look anything like a Manchester United side. By then - 2-0 down with ten minutes to go - the damage had already been done.
Jose had attracted criticism for his cautious, safety-first approach in Andalusia, but although not ideal, that was away from home and not too bad a result. Pragmatism is understandable away from home in Europe - but only if you finish the job in the second game.
The lack of an away goal was not ideal but would prove vindicated if Jose and the team got through at home. Having gone out with merely a whimper, it's backfired spectacularly and the manager will - justifiably so - come under the harshest of criticisms. But the players should take responsibility too. The boss did surely not send them out to walk around the pitch and play with so little desire or effort - instead of hiding behind him and letting Jose cop all the flak, they need to take a long, hard, look at themselves. This miserable and moribund performance was everything United should not be - especially not at home and especially not in a European tie. The players looked like rabbits caught in the headlights: timid, naive, lethargic, tactically terrible and terrified of a side sixth in La Liga and with a modest record in this competition. Where before there had been courage, desire and character, now there was fear and anxiety. The tie was lost in Manchester because United were pedestrian, lacklustre and didn't perform, but the Reds looked devoid of inspiration and ideas throughout the entire 180 minutes of this knockout tie. Sevilla are nothing special but fully deserved their win.
Twice a winner with Porto and Inter, Mourinho looked the man most capable of turning United into the heavyweight European force we aspire to be.
Great strides have been made this season, but this was a night in which we looked further away than ever.