It's very hard for me to sit down and write this with a cool head and without expletives, but I'm probably still going to put more effort and energy into this blog post than every single one of those players did at Old Trafford last night.
Take nothing away from Sevilla, they fully deserved to go through and the better team won over the two legs. But what on earth was that? In my 20 years as a fan, that has to rank as the most lifeless, lethargic, lazy, timid, naive and downright disgraceful performance from a United team. Ever. I'd go so far as to say it's arguably our most insipid and embarrassing home defeat in Europe. Ever. It was absolutely shocking, and every single one of those players - with the exception of Romelu Lukaku, Eric Bailly and Marcus Rashford - should be made to come out and apologise to the fans who spent their hard earned money to watch a pathetic and borderline criminal showing that left an ugly stain on this club's proud and illustrious history. We were woeful, horrendous and played as if consumed by fear and anxiety. That was a wretched and unwatchable horror show - and that's being polite about it. Strutting around like the overpaid individuals they are, there was so sense of cohesion or collective responsibility. No one took the tie by the scruff of the neck. I shudder to think what the watching Roy Keane would have thought. The one tiny silver lining that we can lift from the shattered remnants of our Champions League campaign is that don't we have to suffer another tie like that against a Barcelona, a Bayern or a Real Madrid and face even an bigger humiliation.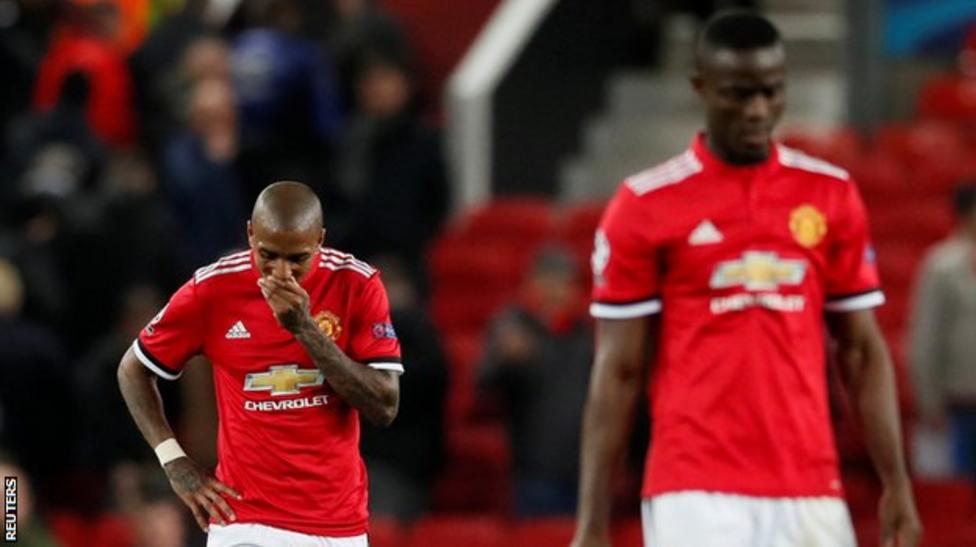 In a season defining tie with a place in the last eight on the line, certain players in the red of United were walking around the pitch as if out for a Sunday morning kick about. Walking. Around the pitch. In a knockout tie of Europe's elite competition. That attitude is simply not acceptable no matter who you are, let alone in the red shirt of England's biggest and most successful club, one that has produced some of the finest sides this country has ever seen. Can you imagine this happening during the tenures of legendary knights of the realm Sirs Matt and Alex. Those players would be lucky to make it out Old Trafford alive, forced to train with the reserves and sold in the next available window. Pulling on the famous and iconic red shirt of Manchester United should be the greatest honour bestowed on a professional footballer, instead for some it looks like an irrefutable burden. Can there be a more damning verdict on the very name and reputation of this great club when players start strolling through a match.
Would we ever have won the Champions League? Being realistic, no we probably wouldn't - not with the might of Barcelona, Bayern, Juventus and Real Madrid standing in our way. But I - and most of the football world - definitely expected us to get past Sevilla. But we didn't lay a glove on a side we should have sent packing. They're fifth in La Liga with a negative goal difference, shipping goals left right and centre and have only ever reached the last eight once before. Yet they came to Old Trafford and played like the home team. The quarter finals were probably the best we could have hoped for, and the semis looked a leg too far. But even so, the manner of this KO hurts like hell. I've had breakups that haven't felt as painful as this..
If you're going to lose a last 16 tie, there's a dignified manner of doing so. This certainly was not it. If you are beaten, you have a go. The way United went out with a whimper was the total opposite of that. There was no fight, passion, energy, desire or commitment - the very least you can ask for from your side. After such a superb and top class performance against Liverpool on Saturday, it's baffling. I'm embarrassed and ashamed - and I hope the players feel the same. But why should they when they continue to earn millions and drive around in their flash motors with top of the range clothing. They still pick up their pay cheques and will be picked for the next tie as if nothing has happened. Old Trafford was the quietest I have ever heard it - but the players have to help the fans by the performance they put in on the pitch. From start to finish, it was a messy, disjointed and unfathomable shambles. This club have given me some of my best moments and memories to last a lifetime as a football fan, but this was one of - if not THE - worst. There's simply nothing else I can say.