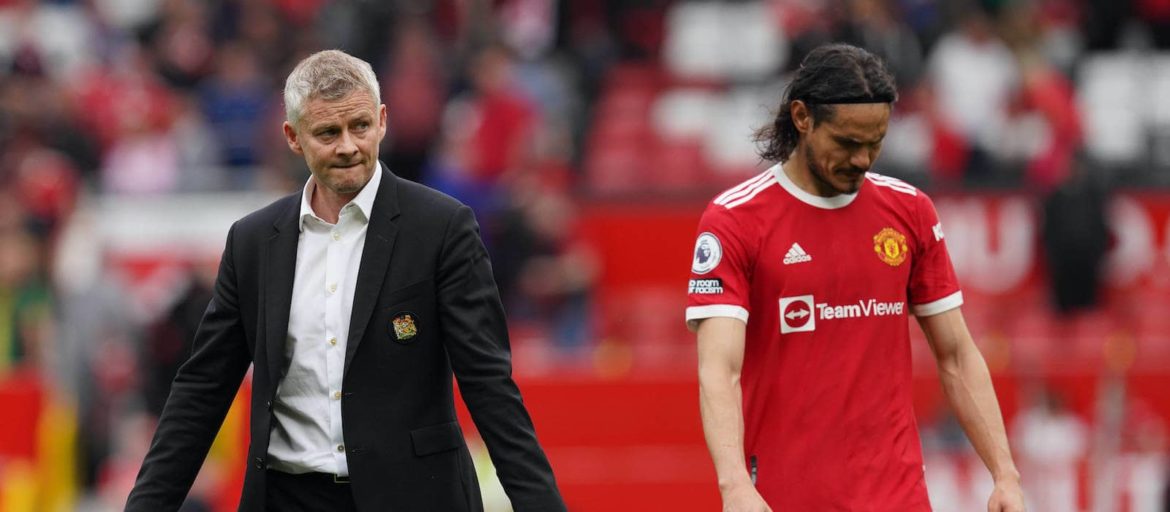 I love Ole Gunnar Solskjaer but the United boss must stop making excuses and take responsibility.
The Reds were beaten 1-0 at home by Aston Villa to conclude a miserable eleven days in which the Reds promising start to the season was eviscerated with three defeats in four games.
Solskjaer's thinly-veiled dig at Villa's winner - he felt there was an offside infringement as Kortney Hause headed the only goal - may have carried a modicum of truth but came over very Jose Mourinho-esque. Whilst there may be a degree of validity in Ole's criticism of the standard of officiating, he cannot continue to ignore the clear and obvious shortcomings on display.
It can be said luck has not been on United's side, with Harry Maguire and Luke Shaw both lost to injury during yesterday's tie. The usually dead-eye Bruno Fernandes ballooned his penalty, and Ollie Watkins did look distinctly offside in the lead up to the winning goal.
United have had 55 shots across two games without scoring in either - again, you cannot really pin that on Solskjaer. It could be considered highly unusual and/or unfortunate. These aren't excuses, they are stone cold facts, but nor does it tell us the whole picture.
United had 27 shots on Wednesday and 28 yesterday, but only ten of those were on target. Too often, there would be a hopeful pot shot from range, a deflection, a moment of brilliance to create an opening or the occasional set-piece. Cristiano Ronaldo, arguably the world's best finisher, was almost anonymous against Villa, gasping for oxygen and starved of opportunities. When even Ronaldo fails to have a shot on target, something is clearly amiss. With Fernandes, Diogo Dalot, Fred (of course) and perhaps the worst culprit of all in Mason Greenwood shooting on sight, it's either tactical failure or the team failing to follow their manager's instructions. Either way, that responsibility lies at Solskjaer's door.
With the summer additions of Jadon Sancho, Raphael Varane and Ronaldo, you feel Solskjaer now has everything he needs to succeed at Manchester United. Where before the focus was on a rebuild, dubbed a "cultural reset" by the club, the squad is now elevated to such an extent we're surely beyond that point. No longer can Solskjaer claim to "not have the players" with the team - bar the obvious midfield weakness - one any manager in world football would dream of having. There's only so long we can claim to be rebuilding. Eventually, you stop building and expect to see a finished product. With the squad we have, you feel that time is now. Not only have we made the three aforementioned world class signings, but throw Paul Pogba, Fernandes and Edinson Cavani into the mix and there really can be no more excuses now.
So whilst Solskjaer can legitimately claim to have had a raw deal from refs this season, he should not be relying upon such generosity to get past sides like Young Boys, West Ham and Villa.
No longer a team in transition, expectations are above that now. It's a make or break season for Solskjaer and, although I'm not Ole out, patience is beginning to wear thin. For the first time, the tide of support may be turning against the affable Norwegian. For my money, after four seasons without a trophy, a fifth would amount to criminal negligence when you look at the embarrassment of riches at his disposal. At the very least, there has to be a genuine challenge for the league title, where we're in the mix with four games to go, a deep run in the Champions League (quarters or semi finals) and an FA Cup win. I don't think that's too much to ask. Anything less and I'm afraid it has to be Goodnight Vienna, adios amigo.
Not only is the attack misfiring but the lack of control in midfield can also be put on Ole's shoulders. It's the one of the area of our team needing improvement, but - despite excellent recent performances from Nemanja Matic and Donny van de Beek - Solskjaer has stuck doggedly with the lacklustre pairing of Scott McTominay and Fred. Matic and van de Beek have played together only a mere handful of times but have looked good on those occasions and appear to complement each other well, but yet Solskjaer cannot tear himself away from the anodyne and incompatible McFred. Individually, the two players may not be as bad as we think, but the pair simply do not seem to be able to control the pace and tempo or dominate the midfield. I can see it, everyone reading this can see it but yet the men earning millions a year either can't or won't accept these two are just not good enough to play in the engine room for Manchester United.
Quite how Michael Carrick, one of United's greatest ever midfield players, continues to be blind to the situation is beyond me. Matic and van de Beek ran the show from deep against West Ham in the week. United lost that game because of the attack but Solskjaer restored McFred the first chance he got and Villa's dynamic duo of Douglas Luiz and John McGinn ran them ragged. Their limitations were ruthlessly and unforgivingly exposed by Dean Smith's side.
As a result of his obsession with the pair, Paul Pogba, one of the finest exponents of his craft in world football, has been shoehorned into the side on the left wing to accomodate them, whilst the apple of Solskjaer's eye Jadon Sancho - the right winger he's been chasing for two years - did not even get off the bench.
A case could be made last season that the McFred axis was often a sensible option and a necessary evil with the lack of pace in central defence forcing Solskjaer's hand. He felt Maguire and Victor Lindelof - neither of whom are quick - needed protecting against pace and so there was justification in picking them. But all that was supposed to change with the arrival of Raphael Varane.
The serial winner and world champion does not need his hand held in the same way, and so the argument goes out the window. Why are we protecting one of the best defenders in the business? For all the talk of a change in system and approach, Solskjaer has stuck with McTominay and Fred. It seems he simply isn't learning from past mistakes. Give van de Beek more chances - he can't do any worse. Matic can't play every game but you can rotate him with one of the pair when needed. What on earth Varane must be thinking as witness to the plodding pedestrians in front of him is anyone's guess.
It would be easy to dismiss this recent run as a sticky patch but we've seen it too often and, with respect to the opponents, Young Boys, West Ham and Villa are hardly resident in the upper echelons of the game's elite. As Villarreal come to town on Wednesday, Solskjaer needs to pull a rabbit out the hat to prevent the pressure from building even more. There are signs he is starting to lose the backing of some of the fanbase, and - whilst I'm not that far down the road yet - time may be ticking and
starting to run out.