As Ralf Rangnick watched his sorry and soporific Manchester United side go south in Brighton, the evidence was loud and damning.
The 3,000 or so travelling fans tucked away in the South East corner of the Amex - myself included - had finally seen enough. Manchester United's worst ever Premier League season, confirmed by this latest horror show, brought our famously loud, proud and loyal visiting support to boiling point. In that moment, we showed more honour and pride than these tragic and abysmal wasters masquerading as professional footballers had shown all season.
You had to feel for every single one of them in that away section, shelling out hundreds of pounds to make the 615-mile round trip at great expense and watch that shit. The two lads I went to the game with left their native Ireland at 2am to get over for the game. They deserve better. We all deserve better. I'm proud to say I didn't leave early and stayed until the end, more in defiance than anything.
Indeed, those seven words summed it all up: "You're not fit to wear the shirt." The spleen was vented at no one specifically, but everyone collectively. Some Reds sat motionless, unable to even comprehend what we were seeing. Others echoed the behaviour of beleaguered United right-back Diogo Dalot come full-time by simply standing dumbfounded, a shake of the head and a glance to the heavens, as if asking for divine intervention. Not even the Lord himself could save this lot. Just when you think United could get no worse, they continue to sink to new levels of ineptitude by the week. Only another 90 minutes of torture to go before we can forget and move on.
It has been a car crash of a season and the Brighton brutality was surely the nadir. Put it this way: I got a free ticket for the away end and still felt like I should be refunded. Harry Maguire has epitomised United's troubles in a desperate season, but the fact he came on to limit the damage at 0-4 down and actually improved things in his brief cameo seemed to simply say it all.
Chants of "viva Ronaldo" immediately followed, as if to render the United great exempt from the criticism. In all fairness, if not for his admirable efforts of 18 league goals, often in a team where he gets no service, United wouldn't even be clinging to the final European spot (fuck me, never thought I'd say that back in August). The fact we're even in sixth position is primarily down to him and David de Gea. United have had several shockers in this cataclysmic campaign: 5-0 and 4-0 vs Liverpool, 4-1 at City and same at Watford and 4-2 at Leicester, but this was surely the worst of the lot in our worst Premier League season of them all.
When Ronaldo was United's talismanic figurehead in our last Champions League win, circa 2008, Brighton&Hove Albion, plying their trade at a rundown athletics stadium, finished seventh in the third tier. Ronaldo hit 42 goals as the spearhead for United's Double-winners - one of the greatest club sides ever assembled - whilst Brighton, under the tutelage of Dean Wilkins, missed out on the League One play - offs.
Take nothing away from Brighton: they were simply magnificent and, for as brutal as United were, Graham Potter's side were brilliantly impressive. A talented team of grafters with a sprinkling of flair and attacking spark, this was arguably their finest hour. Notoriously goal shy, Brighton have mustered only 12 in the league front of their own fans despite their position in the league.
That was until Rangnick's Reds rocked into town. We're the worst team in the league, definitely the easiest to play against and headed home humiliated and outclassed. With a sold out Amex rocking to the beat of the high flying Seagulls in the finest of fettles, brilliant Brighton battered United, bludgeoned us to death and served us with chips. It has been good to see this top class side given their due amidst the inevitable post-mortem which follows every United defeat. Potter and his merry band of men deserve all the praise they get. Meanwhile, forget open heart surgery, Potter's soon-to-be opposite number Erik ten Hag needs to completely resuscitate his new side upon arrival in the summer.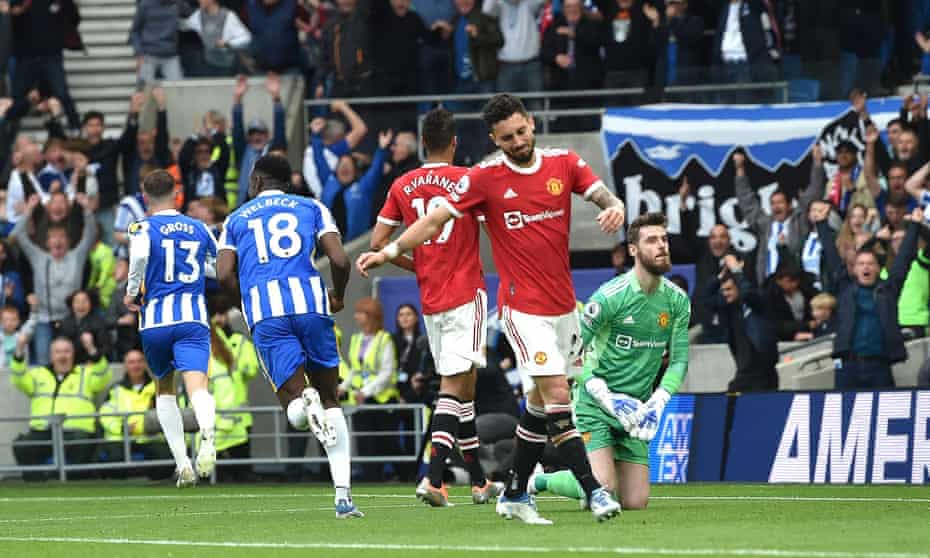 Marc Cucurella was majestic - although he was aided and abetted by Alex Telles going MIA which gave Cucurella, Brighton's unsung hero, the freedom of Sussex to hold United in his thrall. Dalot put a shift in but wasn't much better on the other flank. I struggle to think of a worse pair of United full-backs than Dalot and Telles, and I lived through the Rafael and Alexander Buttner 'era.' Raphael Varane, a world champion and four-time Champions League winner, looks cowed and terrified of opposition forwards a player of his undoubted quality should be in cruise control against.
In midfield, Yves Bissouma and Moises Caicedo showed why they would fit this United side like gloves with a dominant and irrepressible demolition job of their opposite numbers - the anodyne Scott McTominay and Nemanja Matic - to cut a swathe through midfield. Caicedo, Cucurella, Pascal Gross and Leandro Trossard all feasted upon United's banquet of ineptitude.
United's dreadful players looked like they would rather be sunning themselves on Brighton's iconic beach. In fact, they looked as if they'd rather be literally anywhere else. There's a thing called professional pride, a commodity called honour and a badge on an iconic shirt demanding nothing less than 100%. That's true for any player at any level but this mob either can't be bothered or aren't good enough. We are absolutely tragic and I cannot wait for this season to be finally fucking over.