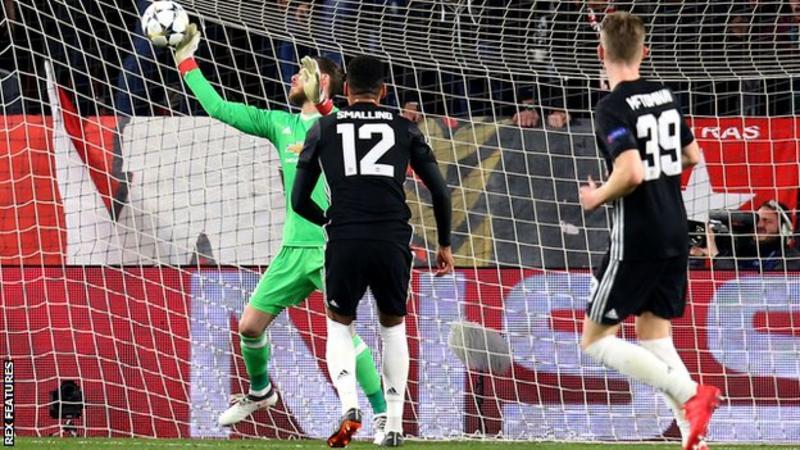 United's first Champions League knockout tie for four years is not one that will live long in the memory. The performance wasn't bad but not great. The result - at a Sevilla side who boast an impressive record at the Ramon Sanchez Pijuan - is one you would settle for all day long.
True, the lack of an away goal makes things a little bit harder than they could have been, and means that there's no margin for error in the return leg back at Old Trafford on 13 March.
But United have won 15 out of 18 ties at home this season, with City, Burnley and Southampton the only sides to get anything. The tie remains on a knife edge, but Jose and the team are definitely favourites back in Manchester - especially when you consider that Vincenzo Montella's side have lost nine times on the road this season, in stark contrast to that form in Andalucia of one defeat in almost 40 games.
I've heard some United fans say that such is the strange dynamic of a two-legged European tie they'd rather have taken a 2-1 defeat rather than going to OT with a blank slate. The psychological impact of an away goal lingers favourably and conceding at home does not dramatically alter the hosts' aggregate objective. Personally, though, I don't buy that. The truth is, you never really truly know what constitutes a good result until after the second game. If we go through, Jose will claim that his approach here was justified. If we go out, though, questions will be asked and the critical lynch job will be out in force for the boss. It's a double edged sword but ultimately time will tell. Sevilla played on the front foot here, as you would expect them to do being at home and had 25 shots on goal, but it's hard to envisage the visitors creating too much at OT, given their aforementioned travel sickness and United's miserly defence.
This was a performance straight out of the Jose Mourinho copybook. A tight, tense, tactical battle that sometimes more resembled a chess match than a Champions League round of 16 tie. No quarter given, with the emphasis on sitting deep, stifling the opposition and looking to nick a goal on the counter. Not pretty and it might not be what everyone wants to see but there can be no denying that it's very effective. The guy has won two Champions League titles using the exact same blueprint and ask yourself this - if, and admittedly it's a big 'if', we go on to win a fourth European Cup come May, will anyone really care how we did it. Roberto di Matteo used the same formula when in charge of Chelsea's maiden win in the competition back in 2012. If we'd got that goal when the match opened up in the closing stages, this would have been a perfect smash-and-grab away performance.
No further forward to knowing whether we'll be in the quarter finals, but we've done the hard bit and now our aim is simple - to finish the job.