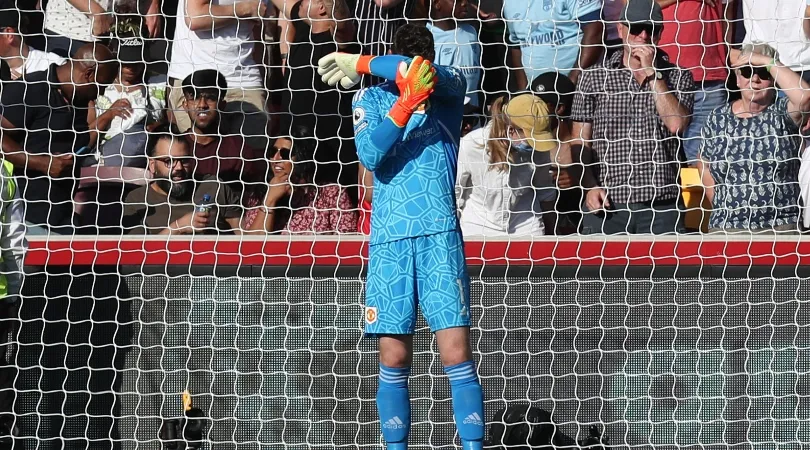 You can't help but feel sorry for Erik ten Hag. If he had hair, he would already be balder than he already is now.
What on earth he must be thinking as he muses the mess before him is anyone's guess - two games into life under immense scrutiny as Manchester United manager and the knives are already out. Please, please, do not blame this on him. We knew it would take time and we knew how difficult his job would be, but I don't think any of us could have anticipated just how bleak it would be.
It wouldn't matter who the manager is. You could have Pep Guardiola, Jurgen Klopp and Sir Alex as joint managers and they couldn't get a tune out of this side. It is a dreadful, League Two quality side with a disgusting mentality and attitude. Bar the wantaway, 50-year-old Cristiano Ronaldo, there is not one single player here who would get in any other Premier League or Championship team.


You can't polish a turd: these players have been shit for years and won't magically improve now. ten Hag is working with one hand behind his back and has been hung out to dry. He should get on the phone to his parasitic paymasters, tell them he cannot work in these conditions and walk out the door. He has been lied to, shat on and betrayed. It certainly feels like the club are setting him up to fail. He would have my eternal gratitude if he admitted he's been let down by his bosses and walks out into the sunset before his reputation precedes him. For the first time ever, we may have a manager too good for the club. It is like going up Everest blindfolded whilst wearing a dressing gown and slippers.
Ralf Rangnick's press conference - the one in which he said United needed ten new players - is probably the most accurate thing any football manager has ever said. His infamous words have re-surfaced after out cataclysmic start to the season. He certainly wasn't wrong but got sacked from the consultancy role for speaking the truth.
The blame lies squarely at the feet of these players, many of whom are on their third manager in a year (four if you count Michael Carrick's brief stint as caretaker). Yes, the squad has had money spent on it but if I spent 2bn on a car with no engine, it won't get me very far. Money has been spent but completely in the wrong areas and on the wrong players. Ten Hag wanted Jurrien Timber, Frenkie de Jong and Antony. Instead he got a back-up left-back, a centre back he didn't need and a freebie midfielder. It screams of the infamous second summer under Jose Mourinho when he went to then CEO Ed Woodward with a list of players he wanted but ended up with a veteran keeper, an unknown full-back from Portugal and Fred. In stark contrast, his counterpart across the City, Guardiola, spent just shy of 300m. It just shows the chasm between the clubs, the difference in ambition, vision and forward planning.
David de Gea had probably his worst ever game for United between the posts. It's common knowledge he is some way behind his goalkeeping contemporaries when it comes to the modern day pre-requisites every top keeper needs - handling, distribution, communication and command of his area, to name but four. His one staple, the one skillset he has always had to fall back on was his status as probably the best shot-stopper in the game. Yet on Saturday, even that deserted him.
Josh Dasilva's daisy cutter from distance should have been bread and butter for De Gea. Indeed, for any goalkeeper at any level of the game. I would expect the keeper for my Sunday league side to deal with it. There was no power on it at all, it was straight at de Gea and looked a gimme. You cannot legislate for mistakes like that.
The second and the third goals can both be pinned on him, too. His loose throw out lacked power and accuracy and was seized upon by Mathias Jensen to score and de Gea flapped helplessly as Ben Mee's header travelled beyond him and in. There was little he could to prevent Bryan Mbeumo's close range finish for four, but of the six goals we have conceded in our first two games, de Gea can legitimately be blamed for five of them. In fairness to the veteran Spaniard, he did at least have the guts to front up and take public responsibility for the side's defeat.
It makes the decision to dispense Dean Henderson - a far from unflappable but certainly capable deputy - out on loan to Nottingham Forest all the more head-scratching. A baffling indictment of United's muddled thinking when it comes to transfer strategy. Now de Gea has no competition save for the 36-year-old Tom Heaton and is undroppable by default.
ten Hag may have dropped Scott McTominay to the bench after his disasterclass against Brighton, but it did little to restore the equilibrium in midfield. Christian Eriksen returned to Brentford as a six but it was a mismatch in his battle with Jensen and Dasilva. Fred was anonymous and McTominay was somehow even worse than he was last week when he came on for the second half. Frenkie de Jong and, indeed Adrien Rabiot, would be upgrades but you would not blame either man for not wanting to sign for the club. ten Hag has wanted de Jong since day one but has been let down by John Murtough and his merry band of men who have faffed and dallied all summer over the Barcelona player to such an extent the deal for a man who should have been here weeks ago is now dead in the water.
ten Hag hasn't got any of the players he wanted, he's having to make do with last season's shit and so it figures we will see the same dreadful results, no matter who is in the dugout. The fans continued to sing loud, proud and unstintingly despite another horror show in a long trip to the capital, battling a train strike in the process. They don't deserve this. None of us do.