After a week in which Manchester United's troubled season reached its nadir, it was perhaps inevitable Cristiano Ronaldo would have the final say.
Even in absentia, Ronaldo continued to dominate the headlines. Despite playing no part in the derby debacle, he was not immune to the wave of criticism that followed - his conveniently timed trip to Portugal led to accusations of Ronaldo shirking responsibility, refusing to play, 'bottling it' and letting his team-mates cop the flak whilst he took a back-seat, safe in the knowledge the result could not be pinned upon him in any way whatsoever.
The fact he had picked up a hip flexor problem in training pre-City seemed to be forgotten as a footnote. It seemed many did not believe that particular party line. Ronaldo responded to the critics in a way only he knows - with a stunning display of poise, power and perfection to inspire United to a crucial victory over top four rivals Tottenham.
As a riposte to the doubts and rumours of last week, it was simply magnificent. But yet - as so often when it comes to Ronaldo - there are other issues at play. There is no reason not to believe he was genuinely suffering with injury last week, but the furore around his withdrawal told its own story. Ronaldo has become so big, whichever club he plies his trade for becomes Ronaldo FC. That in itself presents issues, with modern football about more than simply the impact of individuals. Ralf Rangnick's philosophy is a case in point - for gegenpressing to work, the whole team needs to be able to do it. He will grab the headlines after United's win, but it's important to remember the impact of others too - Fred and Nemanja Matic played well, Jadon Sancho was good again and Raphael Varane ensured it was a much better defensive performance from the team.
Whatever this remarkable footballer says and does, he is never far from the spotlight. It epitomises the career of this simply stunning, once-in-a-lifetime player he continues, even now, to hold the footballing world in thrall. Whilst his rival for the title of the greatest player ever toils in the one-team league of France's Ligue 1, Cristiano's out here scoring hat-tricks in the most difficult, unpredictable and harum scarum league in the world. Lionel Messi has done next to nothing in Paris, but Ronaldo has continued to show he remains the finest exponent of his craft. 59 hat-tricks - only two of which have come for us - sees him become the leading goalscorer of all time and also bears testament to how he has changed and adapted his game as a player.
His three goals against Tottenham were a showreel - a highlights package, a compilation, of Ronaldo at his brilliant and bludgeoning best. His hat-trick was like a greatest hits of the man's career: finishes from all three phases of his career rolled into one to show exactly why he still has so much to offer.
His first, a 25-yard screamer as Eric Dier sat off him, conjured up images of his goal against Porto in the Champions League quarter-final of 2009. Then we saw the predatory instincts that have been Ronaldo's trademark in his latter years, as he loitered with intent to time his run and stroke home a Jadon Sancho cross beyond Hugo Lloris. The third was a classic denouement, the epitome of Cristiano circa 2015, as he rose majestically to thump in a header with the ball behind him, all bulging neck muscles ala Tommy Lawton to cap his best performance of the season. From the way he read the flight and weight of the cross, to the way he attacked it and timed the jump to meet the ball with accuracy and power - it was the perfect textbook header.
Such finishes have become the stuff of legend, with theses written, lectures given and studio hours given over to the science behind the archetypal Ronaldo raison d'etre. When CR7 was substituted in the closing moments of Saturday's exciting 3-2 win over Spurs, Old Trafford rose as one in appreciation of one of our greatest ever. Ronaldo held 76,000 people in the palm of his hand after a vintage display, rolling back the years in a performance for the ages.
His once seminal impact at United has been questioned as our season has unravelled, but only Liverpool's Mohamed Salah has scored more league goals than him this season and no else has reached double figures in the Red of United.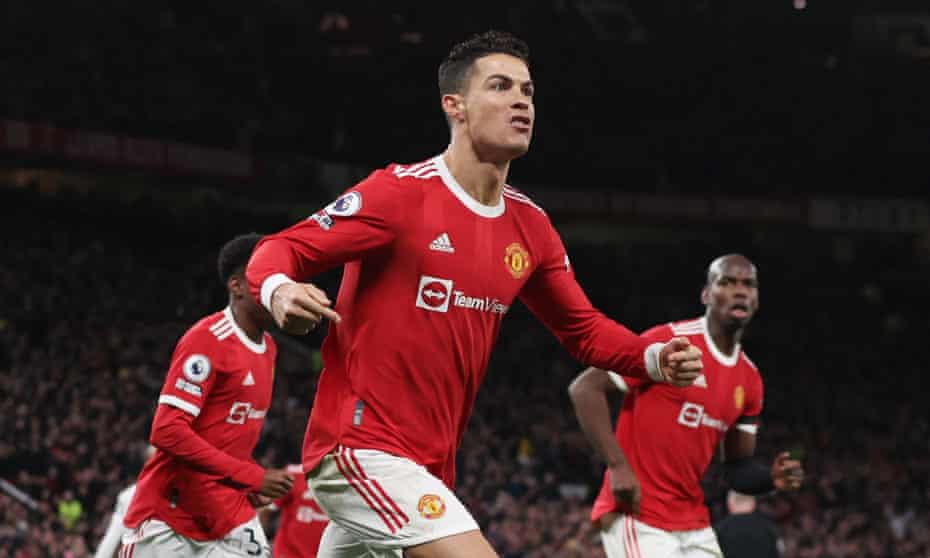 At times, there's no doubt a man who appeared to defy Father Time has finally started to look his 37 years. He has created tactical problems, particularly for Rangnick and his preference for gegenpressing. He is not the player he once was, but did we really expect him to be? He's not the flying winger he was when he left us in 2009 as a wide forward occasionally deployed up the middle. But although much has been taken, much still abides.
But goodness only knows where we would be without him - out of the Champions League already and nowhere near the top four, for a start. There are plenty of problems at our club (how long have you all got) - no one can deny that - but don't you dare ever tell me Ronaldo is one of them.