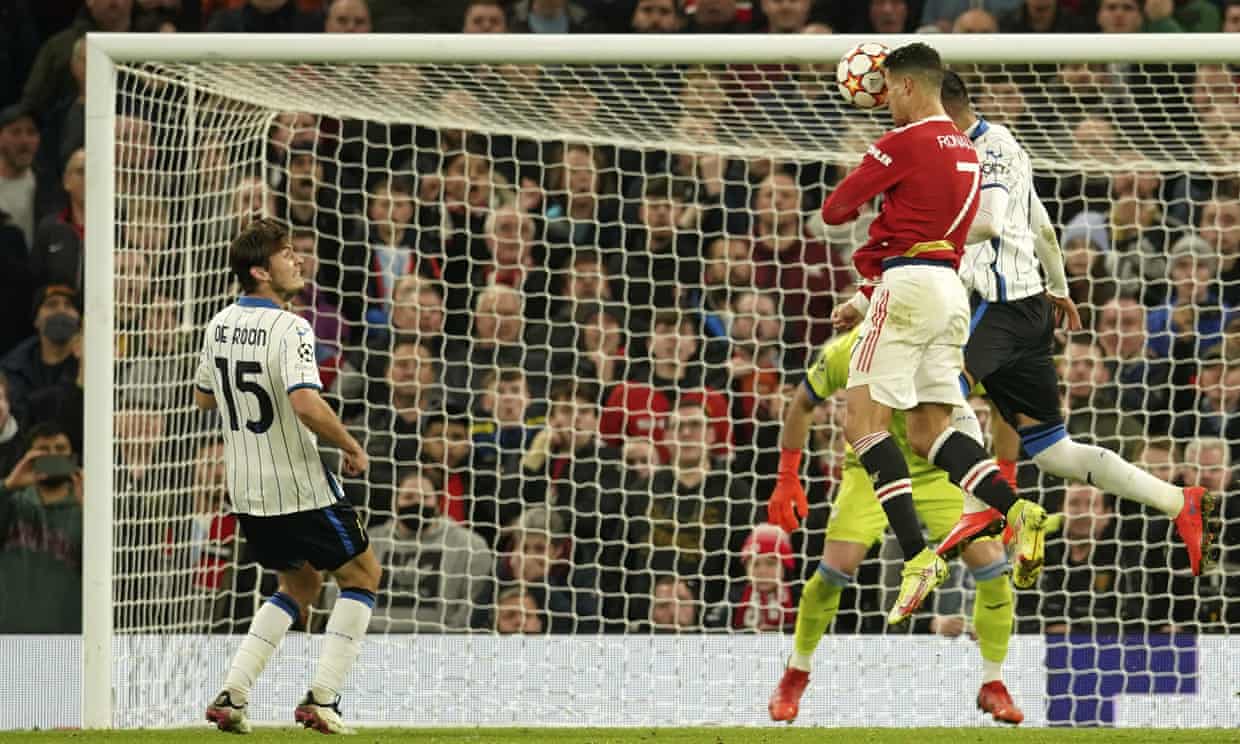 There was a sense of inevitability when Harry Maguire popped up at the back post to wipe out Atalanta's advantage and pull United back from the brink.
With 15 minutes to go and the Reds almost entirely in the ascendancy, there was only going to be one winner, and - indeed - only one man to provide it.
As the old adage says, lightning doesn't strike twice, but try telling that to Cristiano Ronaldo - a man born for nights such as this on the biggest stage of all. Sometimes you just know how the script is written, how the story will end, where the journey will take you to.
Just as he had three weeks hence against Villarreal, the Champions League's all time top scorer rose in the dying embers of a crucial European tie to earn United a thrilling, heart-stopping, priceless victory.
But whilst the Spanish side could legitimately have felt aggrieved, Atalanta could have no such complaints. We battered them and could, probably should, have been out of sight long before Ronaldo's thrilling coup de grace. But of course, this side never do things easily. Supporting Manchester United should come with a health warning. It was all part of the master plan.
Even having fallen 0-2 down, the Reds - ironically - had put in their best performance of the season. Only a combination of the woodwork (Marcus Rashford struck the bar) and a string of top stops from the impressive Juan Musso had kept United out. Indeed, the Italian side's 2-0 lead came through their only two attacking moments - despite dominating the game, United somehow found themselves in a whole heap of trouble - bottom of the group and nothing going for us. For so long, this looked to be "one of those nights." But in the end, there can be no denying the fact United were worthy and fully deserving winners.
This superbly see-sawing contest seemed to epitomise everything United are and will continue to be under Ole Gunnar Solskjaer. Spasms of action, moments of broken, disjointed play, space for high class players to carpe diem and seize the day off the cuff. It felt like an anatomy of this strange red machine: one so gloriously brimming with talent, but yet so brittle, so prone to collapse at the slightest probing, the one punch KO artist whom seems to spend so long of each encounter gassed out and on the ropes. The boos at half-time were sporadic and seemed a little wide of the mark, masked by vehement vocality for a man we're desperate to do well here.
It's difficult to predict predict which United will turn up - even half to half, never mind game to game. Yet this is why we love football and this most unique of clubs. The Reds had enough first half chances to win three games, Atalanta - for all their enterprise - were wide open at the back and you still made us favourites to prevail despite irrefutable evidence to the contrary.
United conjured the spirit of Sir Alex's finest Red vintage, as we built pressure, pinned an increasingly aggy Atalanta back and laid siege to Musso's goal. Both Ronaldo and Rashford should have scored before the latter finally did with a neat finish across the keeper and into the corner. Scott McTominay struck a post and Ronaldo had another shot saved before Maguire - unmarked - caught the Italians napping to smash into the far corner.
If anyone was in any doubt, this was most certainly a side still playing for its manager. Solskjaer hasn't "lost the dressing room" and you feel they would run through brick walls for him to succeed. Where others may have turned ages ago, the loyal, proper, hardcore match going fans remain united - pun intended - in our backing of Ole. Met by a wall of noise as the Stretford End, almost as one, tried to suck the ball in - United were a side possessed, transformed and inspired, particularly in the second half, every stride and surge met by a rising of the decibel levels. The fans were just as relentless as the players - there may still be justifiable doubts over the manager's ability and acumen but this wasn't a night for that.
When it came, the winner was a thing of brutal but simplistic beauty. Ronaldo made one of those half movements, the run that isn't quite a run, then stretched his stride as he picked up the flight of the ball from Luke Shaw's telling delivery on the left.
This is one of the things the master does so well: the algebra of flight, speed, timing, gravity, contact, the millions of equations and muscle-mnemonics that go into making these moments.
Two quick steps, a press with his right foot and Ronaldo was clear of Merih Demirel and up into the atmospheric Old Trafford air. Time seems to stand still when Ronaldo does this - objects, bodies, pressure, all seem to fall away as if he's suddenly the only person present - alone in all that air with the outcome of a team's destiny entirely in his hands.
The header from Ronaldo was almost a parody of Ronaldo-ness, the neck cocked, the muscles wrenched, the ball sent like a bullet into the corner.
Even his landing was balletic, a moment of display, of showmanship. Was it ever really in doubt?