Manchester United and Ole Gunnar Solskjaer set up a sixth successive FA Cup quarter final with a
3-0 win over Championship Derby on Thursday. The result continued United's recent upsurge in fortunes and extended our best form of the season.
Solskjaer - twice an FA Cup winner as a player - has now stitched together a nine game unbeaten run to move to within 90 minutes of Wembley, a place in the Champions League and a strong chance of the Europa League quarter finals. Still in contention for the top four and two potential pieces of glittering silverware - I think we'd all have settled for that back in January when the team suffered arguably its worst post Ferguson night at the hands of Burnley.
Have you all noticed how the vultures have stopped circling the wagons? Solskjaer's never going to get exalted from the rooftops for the job he's doing but if the critics are silent that at least means there's nothing to discredit him for. That's good enough. Of those nine games, United have won six (Tranmere, Man City, Chelsea, Watford, Brugge and Derby) and drawn three against Wolves, Brugge away and Everton, with 22 goals scored and only seven conceded. It's the longest current unbeaten run of any Premier League side, and our best run since February last year and Solskjaer's first eleven games in charge. In other words, we're in our best shape since Ole was given the permanent job at Old Trafford a year ago almost to the day.
We don't need to embellish the new manager bounce of his interim days - the players were uplifted, their spirits cleansed and they had a collective point to prove. It was the longest managerial honeymoon in history but proved yet another false dawn. Mediocrity returned and questions arose. We all got swept along, surfing on the crest of a wave but yet reality set in and the season ended with United in relegation form and a wretched run of two wins in 12 games. This time, though, it feels different. We've got a long term captain in Harry Maguire, a player who has come on leaps and bounds since donning the armband, we boast the joint second best defensive record in Europe, have a new hero in Bruno Fernandes (more on him later) and a sprinkling of Carrington's latest conveyor belt of young talent - we had none of that during the bleak depths of the embers of the 2018-19 season. It really does feel as though we're building for the future rather than merely enjoying a temporary, three-month renaissance.
When Mauricio Pochettino was sacked by Spurs in November, it would have been the easiest thing in the world for United to cut their losses on Solskjaer, admit it hadn't worked and appoint the Argentine as the next man to carry on the project. The whole world and his wife seemed to think that Pochettino to Old Trafford was signed, sealed and delivered but we admirably stuck with Solskjaer and he seems almost certain to still be here next summer unless there's a collapse of Devon Loch style proportions.
So what's changed? Injuries, the Bruno Fernandes factor, and the winter break. At times this season its felt like the whole of our regular starting XI have suffered a lay off of some sort, but 'only' Marcus Rashford and Paul Pogba are on the sidelines. Both men have long term injuries, but in January signings Odion Ighalo and Bruno Fernandes United have filled the void. Speaking of which, the addition of the latter has lifted the entire club on and off the field. I can't remember a playing making such a huge impact in such a short space of time as Fernandes has done. He's made a world of difference and ask yourself this: where would we be if we'd signed this man in the summer? We no longer have to rely on the not-fit-for-purpose Andreas Pereira and about-as-much-use as a chocolate teapot Jesse Lingard.
I, and many others, had my doubts about the signing of Ighalo - even if it was just in the short term - but three goals in five appearances have dispelled those doubts. In his fledgling United career so far, boyhood Red Ighalo has offered us something different as an "out and out striker" and has caught the eye with his enthusiasm, work rate, physical presence and link up play.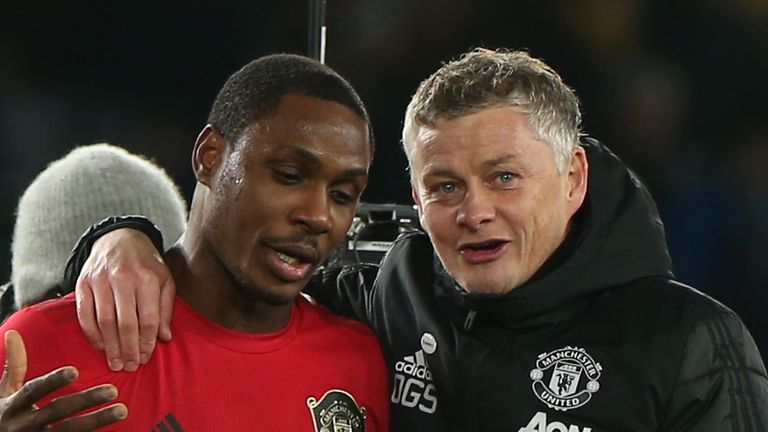 If not for the outstretched arm of Jordan Pickford, it could have been even better! A rich man's Romelu Lukaku? His fitness is improving all the time and, even though I don't think he's the long term answer, he gives us another option to tide us over until the summer (oh and his new chant is a banger as well).
Solskjaer took the squad to Marbella during the two week hiatus for England's first ever domestic winter break and there's been a notable upturn in fitness and match sharpness since that warm weather training camp. The team look more cohesive, more settled and everyone's pulling together. We look a seriously good team at the moment - but there are acid tests to come. Our next two league games? Manchester City at home (already beaten them twice) and a first visit to Tottenham's new ground to face Jose Mourinho's Spurs (we've turned them over, too). You can't question Solskjaer's record and mentality in the biggest of games and we're often at our best against the so called "big six" sides. Bring it on.
Is Solskjaer simply a "momentum manager" - a man who strings a couple of results together then can't stop winning? Equally, when things start to go south and he loses that momentum, Solskjaer has also showed he's prone at making questionable judgements and poor in-game management. When the rot sets in, he's struggled to get out of it. It's either feast or famine with little middle ground. In a way though, that certainly makes things more fun and unpredictable - and isn't that what supporting a club is supposed to be about?
In other words, a manager just as likely to preside over title winning form as that befitting of relegation fodder with nothing in between? That's not sustainable and we saw that last season when early optimism crumbled and the season subsided into nothingness.
After those two totemic tussles with Messrs Guardiola and Mourinho, United's run in looks favourable with the trip to faltering Leicester the only other fixtures against sides above us. We face relegation battling Villa, Bournemouth, Brighton and West Ham and - in Southampton and Crystal Palace - two sides sat with nothing much left to go for in the comfort of mid table.
Onwards and upwards then - there's no guarantee this form will last - but let's just enjoy it while it does. Up the Reds!