 One of the most seismic 24 hours in the illustrious history of Manchester United culminated on Friday with news twelve years in the making: Cristiano Ronaldo has come home.
Our summer business was seemingly done and dusted with the arrivals of Jadon Sancho and Raphael Varane - a dash of youth and the sprinkling of a genuine, world class 24-carat serial winner, a man to offer an instant upgrade to any defence in world football. Even only 24 hours ago, all was quiet and peaceful in the Old Trafford garden. There was not even a hint of the drama only just beginning. This will go down as surely the most remarkable transfer window football has ever seen.
But then came the bombshell. If you thought Lionel Messi's departure from Barcelona - something we never thought we'd see - was big, then what followed was simply seismic. How very Manchester United to upstage even the greatest player of all time. What would the odds have been on Messi's move to PSG becoming merely the second biggest transfer drama of the summer?
But then, Cristiano Ronaldo has made a career out of doing just that. Whatever Messi does, this champion - this remarkable, record smashing, stellar, once in a lifetime player - has to do it better.
Coupled with Manchester United's penchant for the spectacular and the unexpected, you have a match simply made in heaven. Two men, surely the pair of them the best players we will ever see, both moving to new clubs in the same season in the same transfer window? No one, not even Mystic Meg, could have predicted this. Even if she had, you'd tell her to lay off the sauce and go for a lie down. These two have defined a generation, exalted above all others as the finest exponents of the Beautiful Game the world - and we - will ever witness. Their legacy and greatness will live on long after both have ridden off into the sunset.
For the past 12 years, we had all dreamed of this moment. But for so long, it has seemingly been only exactly that - a dream. Never did I think my shut eye fantasy would become a reality. The notion of Cristiano Ronaldo one day, some day, coming back to Old Trafford was like the ex you never really get over - you spend long hours pining, wondering, cherishing the memories, all the while thinking "maybe, maybe, we've got one last shot." For years I've hoped, somewhere deep inside, but never believed it would actually happen. Until this moment - a "where were you" moment on Friday, 27 August 2021. Almost twenty years on from when the braided, teenage tyro stepped through the door as a relative unknown from a small club in his native Portugal: Cristiano Ronaldo has come home.
We watched 'Ronnie' with immense pride at Real Madrid - United had developed him from a talented if frustrating showman with poncey hair and earrings into a superstar with legendary status. We didn't mind him going - he stayed with us for one more year and had a dream to go to Real - who were we to stop him? When he went to Juve in his 30s, you felt United's chance to bring him back to where it all began - the hallowed turf of Old Trafford - had gone.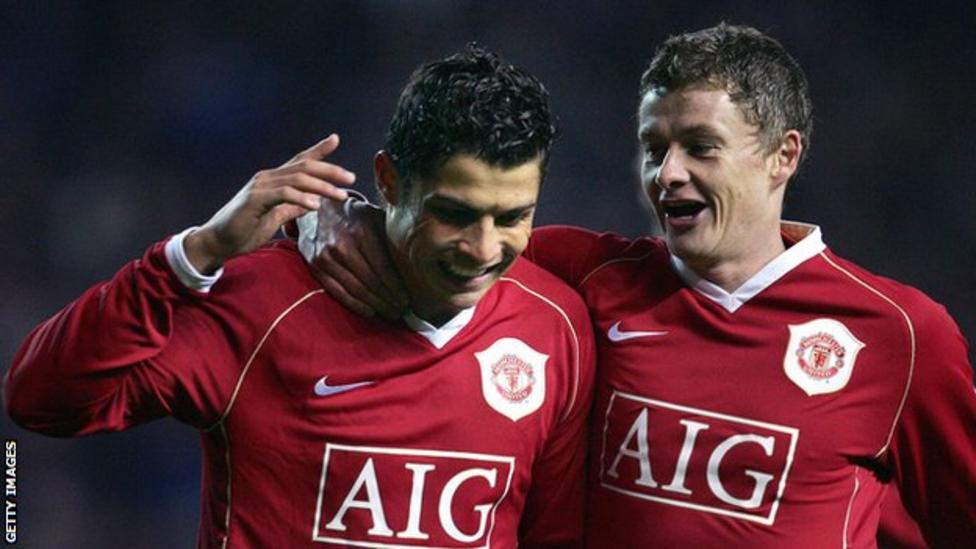 It's at this point we should really say thank you to our nearest and dearest across the road. You see, without City's interest none of this may have ever happened. It wasn't until the mob in sky blue made their move the wheels were set in motion. From death threats, accusations of betrayal, burning shirts and effigies, disloyalty and being derided as a fallen hero, even the thought of an idol - a man we still idolise on the terraces, joining 'them' was unthinkable.
As soon as City made their move, in came United and a phone call from one 'goat' to another, Sir Alex Ferguson (still regarded by Cristiano as a father figure), sealed the most remarkable of deals. If a week in a long time in politics, then 24 hours is an eternity in football. No club can put you through the entire gamut of emotions or pull at the heartstrings quite like Manchester United. This club, man.
In a parallel universe, both Ronaldo and Messi may have been lining up in sky blue on the opposite side of town as the latest components in Pep Guardiola's oil driven juggernaut. We can shudder at the thought but let's thank divine intervention it never came to fruition.
Never mind the fact we can debate if Ronaldo is "what we need" or the fact he's 36 and in the twilight o a glittering career. When a player like this becomes available you'd be mad not to try and get him and the fact City just got absolutely finger blasted in public merely adds the icing on top of a delicious cake.
Even at 36 and ageing, Ronaldo is still unrivalled at the top of the game as his status as joint top scorer in the Euros attest. He's a guarantee of 25+ goals a season, brings experience, a champion's mentality and an aura around him even if he is - unsurprisingly - not the same all action player he was first time round.
So what next in this madcap summer? Ronaldo's come back home, Messi's moved to pastures new, and Real Madrid have lost both Varane and Sergio Ramos but acquired Kylian Mbappe. As the man who even in retirement still holds the key to the modern day Manchester United once said: "Football eh, bloody hell."
They say never go back but Cristiano Ronaldo has always been unique. By doing so, he made mine and millions of others dreams come true.
Viva Ronaldo, viva Ronaldo!! Welcome home, legend. Let's finish what you started.