When Donny van de Beek made the slow walk to the touchline to end 73 minutes of torture, the only surprise was that he had lasted that long. It summed up his Manchester United career in microcosm.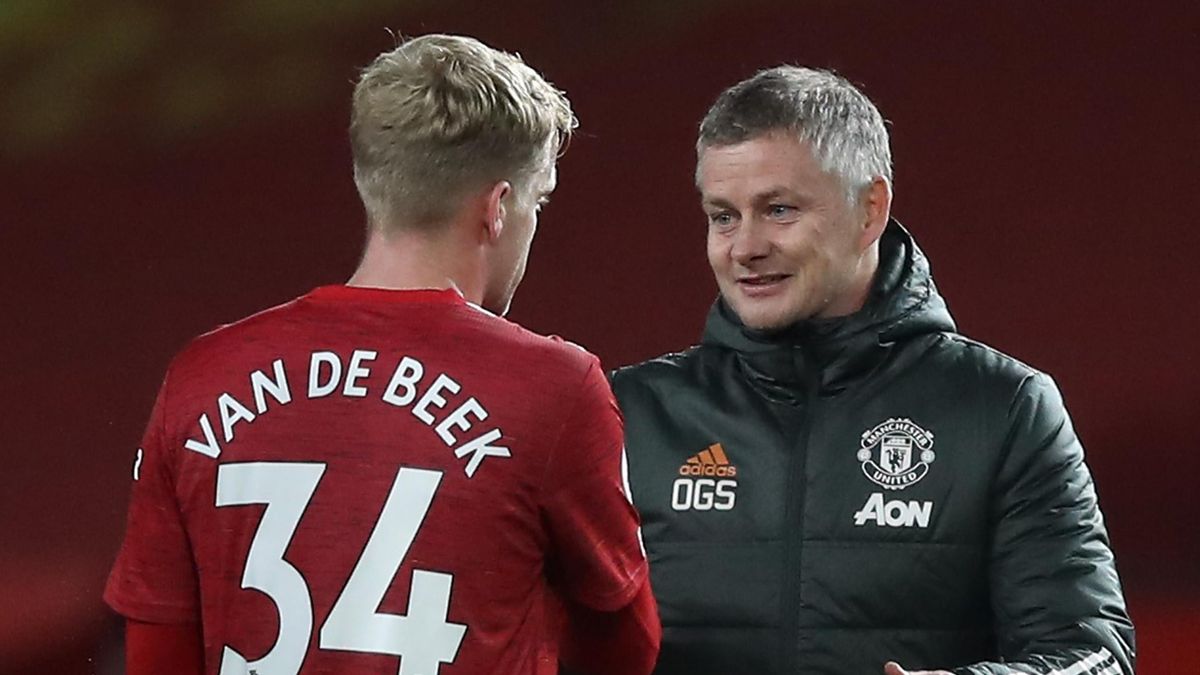 As United toiled through 90 minutes of nothingness before eventually seeing off the Hammers in extra-time, van de Beek was mercifully put out of his misery after another performance that amounted to the square root of not much at all. This was a game in which a player of his reputation and potential should shine, but yet one in which you almost forgot he was there at all.
It was hard not to feel for him when his number flashed up and van de Beek resignedly trudged off, as United turned to Bruno Fernandes in a belated attempt to take control of the cup tie.
It took some doing to fade to the periphery of a match that won't live long in the memory, but yet somehow van de Beek managed it . Handed a rare start in the absence of the usually undroppable Bruno Fernandes - watching from the bench - instead he ran like nobody was watching for much of what had come before.
For a man schooled in the magnificent artistry and technical brilliance of Ajax and the Dutch raison d'etre of "Total Football", it is baffling to see him look so completely lost and out of his depth in the red of United. Even more so when you consider Edwin van der Sar, director of football with the Amsterdam giants and once of this parish, was quick to champion the qualities and skillset of van de Beek. One of the greatest keepers in United's long and illustrious history, he is one of several dazzling Dutchmen to grace Old Trafford - Jaap Stam, Ruud van Nistelrooy and Robin van Persie to name but three others. Unfortunately, in his seven months in Manchester, van de Beek has been more Memphis and Alexander Buttner than RvP and RvN. All hype but zero ability.
Ole Gunnar Solskjaer has had criticism for not giving the Dutchman enough game time but yet, on this evidence, came you really blame him? You have to earn that chance, but van de Beek simply hasn't. Every time he has been given an opportunity, he has spectacularly failed to grasp it. Why therefore, should the boss continue to select him?
It's no wonder Solskjaer doesn't seem to trust him, or have faith in the player. Indeed, it makes you wonder whether the United manager even ever wanted him at all. If it wasn't for the effects of a freak pandemic for the ages that crushed the world's economies, the previously Real-Madrid bound van de Beek would be locked in to the Bernabeu by now. His stats made for impressive reading - 33 goals and 27 assists from midfield in 141 Eredivisie and European games. Admiring glances from Real Madrid, a commendation from a United legend and impressive numbers - it seemed we were getting an excellent player with burgeoning potential. Sadly, it simply hasn't worked out that way. His influence - or, more pertinently, lack thereof, has flown in the face of such glowing character references.
Perhaps it's became he hasn't had a run of games. Perhaps it's because we expected him to be something he will simply never be. Maybe he's struggling to adapt to the pressure of a new team in a new league and a different role, in an alien environment a world away from the technical piece de resistance of his native homeland. Perhaps he simply isn't good enough. Whatever the reasons, van de Beek looks a man at odds with himself - a thinking footballer thrust into a side that plays on instinct, a man who moves trying to do the job of a man who finds movement. Either way, the situation already looks irretrievable - we've already reached the point where it's hard to see a future for van de Beek at Old Trafford. I spent most of the match trying to work out what he does.
Everything is very safe with van de Beek - he doesn't take players on, he doesn't drive forward, doesn't pass, doesn't shoot and doesn't link the play. It's all a five yard sideways pass here, a two yards backwards ball there. Is he a ten? A six? A box to box player or a link man? There is simply no identity in van de Beek - bizarre for a player signed from a club synonymous for exactly that. He came to Old Trafford touted as a player to set pulses racing and one to get you off you seat in excitement but instead I just do not see what he offers, or what he's supposed to do.
Compare van de Beek's anodyne and anonymous performances with those of Fernandes - the very antithesis of the struggling Dutchman. Fernandes never stops running, always wants the ball, never takes the easy options and always makes this happen. Van de Beek appears as if he's WAITING for things to happen - the bridesmaid to Fernandes' bride, the back up to the best man.
To add insult to metaphorical injury, Scott McTominay came on and instantly offered everything van de Beek didn't - he quickened the tempo, made runs, broke the lines and created attacks. Indeed, his match winning goal came from a run and finish that you would expect from van de Beek, bursting into the box at just the right moment to thump the ball home in a manner reminiscent of Paul Scholes. It was the Scot's seventh goal of the season and the fact he upstaged his perhaps more illustrious colleagues tells you everything you need to know. Indeed, it's a damning indictment of van de Beek's current plight that McTominay continues to epitomise everything we thought we were getting in the Dutchman - Van de Beek has played roughly half as much football as a man nowhere near his technical level.
It's clear that van de Beek is a man out of touch, out of sync and ill at ease. He may still come good, and plenty of players have started poorly at Old Trafford before coming on strong later. But, right now, Donny van de Beek and Manchester United look a rotten match.