Anthony Martial delivered again and is making a mockery of talk that his face no longer fits at Old Trafford. Perhaps even more decisively, he's also showing that, just maybe, for once, Ed Woodward and the United board were right to refuse his sale when Jose Mourinho wanted him out. There's a sense of delicious irony that it's Martial whom has done more than most to save the job of his manager and injected new life into the fraught United tenure of a man who clearly did not see Martial as a key part of his future, long-term identikit.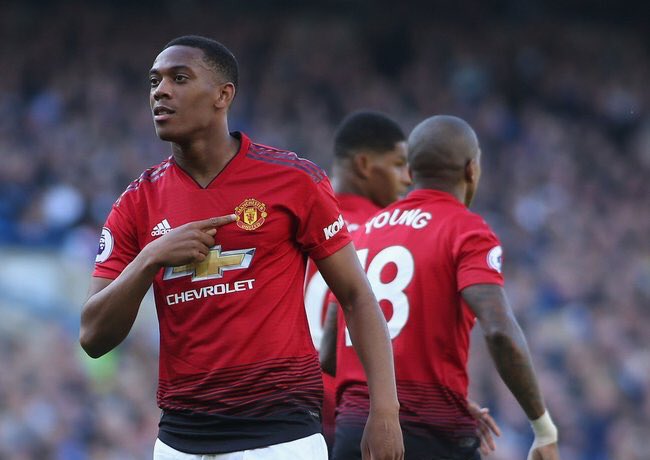 Martial has often cut a discontended figure at Manchester United this season - and his relationship with Mourinho has been the subject of much debate.
The 22-year-old France forward has been marginalised on occasions this campaign, but has now proved his worth and quality in successive games.
Martial's snapshot finish played its part in the comeback from two goals down to beat Newcastle United before the international break, and on Saturday at Stamford Bridge he was the spearhead for United's revival after Chelsea controlled the first half.
He equalised with a finish of superb technique on the turn, then coolly completed good work by Juan Mata and Marcus Rashford by steering a low shot into the bottom corner for his third goal in two games.
Martial was also willing to do the dirty work and was rewarded with a warm embrace and words from his manager that brought a smile to his face when he was substituted.
United's hierarchy clearly see Martial as a key element of their future and hope he will commit to a long-term contract. Mourinho will certainly be grateful for his contribution in the past two games.
Jose went from dreaming about stopping Eden Hazard to whispering sweet nothings to his player.
Well, not quite whispering. Rather emphatically bawling 'Yes!' into the Manchester United winger's ear as they embraced on the touchline.
There are still wounds to be healed in this relationship – but this felt like the beginnings of a blossoming bromance, even if Mourinho was ultimately denied a hugely satisfying win by Ross Barkley's injury time equaliser.
After gushing about Hazard on the eve of his return to Stamford Bridge, Mourinho was reminded of the quality at his own disposal.
Reminded of a talent he was prepared to wash his hands of just months ago. Reminded why the board were so keen to keep Martial at the club.
Hazard, he claims, is a one-man title-winning machine. If the brilliant Belgian is at his best, Maurizio Sarri's Chelsea will be Premier League champions.
Martial has a long way to go to emulate Chelsea's talisman – but when United agreed to spend £36m on the then-unknown teenager three years ago, it was in the belief that he was destined to become the next superstar of world football.