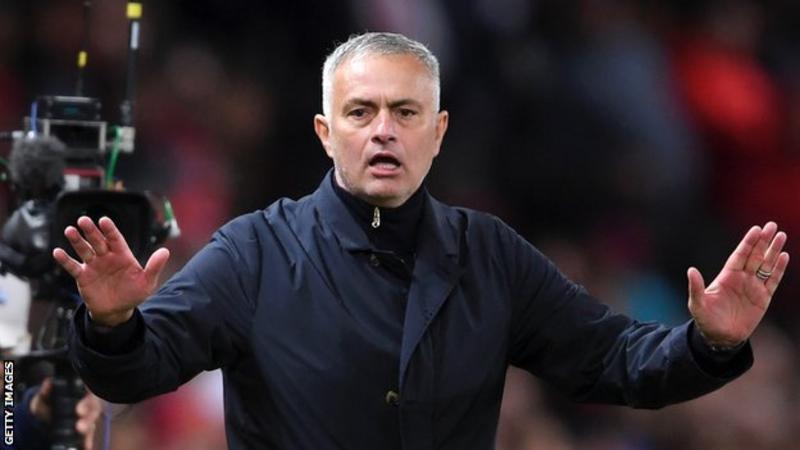 Even in the tumultuous world of Manchester United, the 36 hours between 08:00 BST on Friday and 20:00 on Saturday were bordering on the unbelievable.
Manager Jose Mourinho went from surly and monosyllabic, straight through the centre of a whirlwind of rumour, speculation and denial - and came out the other side victorious and vindicated.
Quite how long the euphoria lasts given the next set of fixtures between international breaks includes visits to Chelsea and Manchester City, plus back-to-back Champions League encounters with Cristiano Ronaldo and Juventus, is open to debate.
But for now, Mourinho appears to be a man with breathing space.
No official explanation was offered as to why Mourinho decided to hold Friday's pre-Newcastle news conference at the unusually early hour of 08:00.
Later in the day, a rumour began to circulate that he had done so because he had to fit in a trip to London where he was going to meet United's executive vice-chairman Ed Woodward, together with his agent Jorge Mendes.
The rumour, it turned out, was false. Mourinho remained in Manchester.
Whatever the reasoning for his early date with the media, there was no positivity in his mood. When the presser did get underway, there was the stench of defeatism throughout the vastly truncated three and a half minutes.
When a newspaper report emerged late on Friday saying Mourinho was to be sacked over the weekend no matter what the outcome of the Newcastle fixture, only the timing came as a surprise.
Although United had consistently indicated a preference to stick with the 55-year-old Portuguese in private, numerous sources had described the atmosphere around the club as "toxic".
The news vacuum created by the absence of an immediate response from Old Trafford was filled by former Red Devils captain Gary Neville who, qualifying his comments by saying "if the story is true", then waded in, saying some decisions at his old club were "rotten to the core" and laying the blame squarely at the feet of Woodward.
Others, who have long-standing associations with United, were stunned at how the club appeared to be descending headlong into a mess of its own making.
It was not until early on Saturday that the robust denials filtered out - no matter what happened against Newcastle, Mourinho was not going to be sacked and would, for now at least, remain firmly in the Old Trafford hotseat.
A bit like a pair of brothers who bicker constantly in private but defend each other to the death against outsiders, United fans traditionally respond to crisis by adopting a siege mentality and it was anticipated that would set the tone for the game - but Newcastle had other ideas.
Their fast start rocked Old Trafford to its core as the Magpies took a 2-0 lead in at the break. The response from the stands was sporadic, until United's second-half comeback changed all that.
As Alexis Sanchez raced away to celebrate his 90th-minute winner, Mourinho's name was sung once more. Loudly. By the whole stadium. He could not have missed it.
And neither could have Woodward, sitting in the directors' box some way above the manager's technical area. He is the man who would have to swing the axe should Mourinho's time in charge be brought to an end.
In contrast to recent games, when he looked impotent and out of touch, it was impossible to ignore Mourinho's behaviour on the touchline.
With his side two goals down, he became almost manic - maybe not Manchester City boss Pep Guardiola manic but, for him, wildly expressive.
Watching his behaviour - waving, urging, complaining - it was impossible to know that much earlier in the day he had received a text from the United hierarchy, telling him to ignore all the speculation around him. This was the raw, visceral, me-against-the-world Mourinho.
So much has been written about Mourinho and his players over the past few days, it is impossible to pick apart fact from fiction.
Paul Pogba, Martial and Sanchez have been identified as three of the players who have major issues with their manager.
Pogba was outstanding, especially in the second half when he played so deep a reporter referred to him in a post-match question as being part of a back three.
Martial terrorised the Newcastle defence after half-time, dragging United level by finishing off a brilliant interchange with Pogba.
And Sanchez, the £400,000-a-week man, whose performances have been so far short of expectation he started the game on the bench and was the last substitute Mourinho used, headed home the winner as Old Trafford erupted.
Did these performances come as payback to the man they have let down? Were they for the fans who help pay their wages? Were they from a sense of personal pride?
Again, it is impossible to know the answer.
Mourinho - and United - can only be grateful they delivered.