Not since we last won the thing have Manchester United seen anything like this. Certainly not in Europe, and certainly not since Sir Alex Ferguson called it quits in 2013.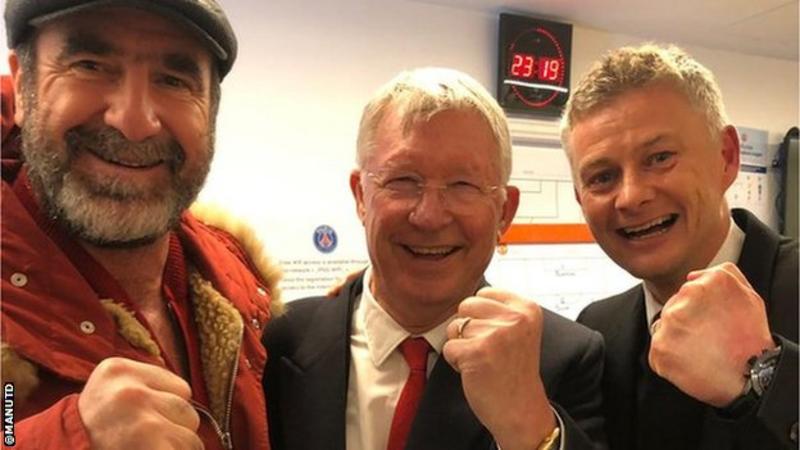 Moscow in 2008 will forever be remembered as a night when United delivered a third European Cup triumph in dramatic style as we vanquished Chelsea in a ding dong drama that rolled into the early hours of a sodden Moscow morning. In the year of the fiftieth anniversary of the Munich tragedy, there seemed a sense of fate and destiny as United paid tribute to those we lost in the most fitting manner of all. I've been fortunate enough to see the club I love win titles, trophies and glittering honours aplenty that many can only dream of. But this will go down in the annals as one of the greatest nights of all. No matter that it was 'only' a last 16 tie and not a final - United had no right to go to Paris and do what we did last night. Especially not with a team with an average age of 24 and with five teenagers on the bench. It was history in the very making, with a legendary player turned caretaker manager returning to a competition in which both us - and he - enjoyed our greatest triumph. Ole's at the wheel and he's leading this club back to the glory days. Even if we had gone out, the sense that something special is building is inescapable. Ole is clearing every hurdle, climbing every mountain and throwing down every gauntlet.
PSG were 2-0 up after the away leg. No side had ever lost a Champions League tie from that position before. They were playing a United without 10 players, with a bench full of teenagers. As second legs in European ties go, it should have been as easy as it comes. Sit back, wait and use Angel Di María and Kylian Mbappé's ability and pace on the break, as they had at Old Trafford. Yet still the French side were beaten as United confounded hubris and defied the odds.
In part, it's true, that's down to the frankly inexplicable magic of Solskjær, Dorian Gray as the Milky Bar Kid, living his eternal 1999. But it's also down to the fact that PSG are the opposite of what Ole represents. He is romance and fun and loyalty and doing your job even if it frustrates you; open them up and where the heart should be you'll find a fetid roll of banknotes. When it comes to the crunch, doing it to enhance the reputation of a faraway state seems not to stir the loins. We've seen this before, of course, most notably when a 4-0 lead was squandered two years ago. PSG, just as much as Solskjær, will always have Barcelona.
More than a decade on, the sight of Ferguson sitting next to executive vice-chairman Ed Woodward, sitting high up in the Parc des Prince posh seats as the seismic events unfolded below was, perhaps, the most significant sign a club that has struggled so badly to find its identity over the past six years has reconnected with its glorious past.
Solskjaer has restored the team ethic and speaks positively about the club and its challenges, both immediate and long-term. In allowing Ferguson and Eric Cantona into the dressing room, Solskjaer was reinforcing the pillars on which the club used to stand. In his own understated way he is forcing them back into position.
With three time defending champions Real Madrid and now Thomas Tuchel's Parisian heavyweights having bitten the dust, the tournament has arguably never been more open. Why can't we win it - I'm not saying we definitely will - but last night showed that nothing is impossible. When you get as far as the quarter finals it's anyone's game. If you can beat Juventus and PSG away from home in Europe, you can beat anyone, One thing's for certain, Europe's biggest clubs will not fancy the prospect of a last eight tie with Solskjaer's Manchester United team.
When Solskjaer answered Woodward's SOS, we felt his responsibilities extended no further than putting smiles back on faces and addressing a toxic situation before the summer, when Spurs boss Mauricio Pochettino could come in and be the next man to have a stab at returning United to the top.
Yes, if he somehow got United into the top four, or won something, or beat Paris St-Germain in the Champions League, he would become a contender. But those scenarios were so far-fetched they weren't worth thinking about. It was merely a pipe dream that has somehow now become a reality.
That is not even three months ago. Now, the only scenario to be considered is the timing.
And Solskjaer has won it!!