Shortly before 8pm on Tuesday 20 April 2021, an already seismic 72 hours took another stunning turn with the news every Manchester United fan has been waiting for.
From the depths of despair as we struggled to comprehend news of our beloved club being sold down the water in the name of greed and money grabbing pocket-lining came a complete turnaround in emotions. Even when we aren't playing, no other club can pull at your heartstrings quite like Manchester United. Ed Woodward - the Glazer puppet primarily responsible for nearly a decade of failure - has resigned as the club's chief executive officer. It came in the wake of the Super League debacle as United contemplated withdrawing from the ill-fated idea with Woodward to leave his role at the end of the season. After three days of darkness, finally there is light at the end of the tunnel as a new era beckons for this great old club.
Let me just repeat that sentence: Ed Woodward has resigned as the club's CEO. It feels too good to be true. Even now the news hasn't quite sunk in, and it feels as if we've won the Champions League. A day every Manchester United fan has wanted has finally happened. Woodward has held too much power for too long at this club. A man who knows the square root of nothing about football but yet is responsible for holding all the cards when it comes to the major on-pitch decisions.
Old dick Ed has a charge sheet as long as both my arms during his nine year reign of terror. The man responsible for rubber-stamping the takeover of his American paymasters, that was only the start of this man's criminal, repulsive ineptitude. A shambolic recruitment policy, three failed managers, a chronic lack of investment and a willingness to stand idly by as Old Trafford, piece by piece, fell into disrepair. He's mishandled contracts, lied to fans, had his grubby fingers in every commercial pie and - most heinously of all - infamously muttered a line that should have got him fired on the spot: "Manchester United don't need trophies to be successful." Shameful, disgusting, and absolutely criminal. Quite how a man with no football knowledge at all was ever allowed to be chief executive of the greatest sporting institution in the world I'll never know. The plane that flew over Burnley's Turf Moor in 2018 had it right: specialist in failure indeed. Ultimately, Woodward is the common denominator in eight years largely of failure at Manchester United AD (after dominance). The club have spent nearly 1bn on transfer fees on Woodward's watch and only an FA Cup, a League Cup and a Europa League to show for it. Five of the last seven seasons have ended potless.
When the news broke, I rose from my living room perch and proceeded into a full on knee slide across the room, I was that happy. I'm sure I wasn't alone - my head spinning in disbelief at the breakneck speed of events throughout a tumultuous two days.
This man is the one responsible for slowly pulling apart our beloved Manchester United, acting as nothing more than a puppet, a yes man, a pitiful mouthpiece for his bosses - reviled, hated and doing their cancerous bidding even in absentia whilst his chronies counted their dollars across the pond. David Moyes failed, Louis van Gaal failed and Jose Mourinho failed - the common denominator? Ed Gareth Woodward.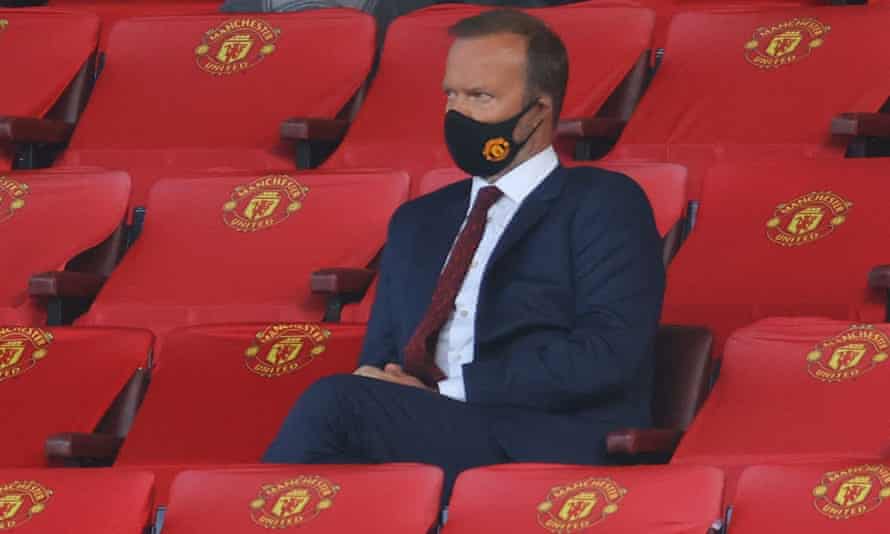 Good riddance and thanks for nothing, old dick Ed. You absolute parasite. You cancerous, ruinous, vile, disgusting piece of shit. Please never step foot inside Old Trafford again and make sure you get hit by the door on your way out. Get lost and take your parasitic paymasters with you. Get to fuck. Thanks for ruining our football club. Thanks for destroying a legacy, a proud history, painstakingly built over decades of courage, passion, commitment and hard work. How dare you. How very dare you even try and sell this club's soul to a bunch of American wankers with no interest in us fans, our club or the Beautiful Game. It has broken my heart to see 140 years of illustrious history mismanaged to the point of criminal negligence by evil, glorified bank managers with not an iota of knowledge about what this club is, who we are and what we stand for. A club built from humble beginnings by railway workers, 1958 and the Busby Babes, Bobby Charlton, George Best, Dennis Law, 1968, Sir Matt Busby. Sir Alex Ferguson. The Treble. 2008 - Rooney, Ronaldo, Tevez et al. We've had all this. And you lot, you evil wankers, you corrupt, greedy, nasty, self-indulgent, power hungry parasites masquerading as 'owners' were prepared to throw all this down the drain in the name of a few extra zeros.
The biggest irony of all here? The Super League - the controversial new plan to take 20 clubs (including United as one of them) into a breakaway, elitist and closed shop league - has ended with the best possible outcome for all concerned. The ESL looks to be on the brink of collapse and one of United's biggest problems - one that has been wreaking havoc since 2013 - has finally relinquished his suffocating stranglehold. The proposed new league has gone and Woodward has sunk with it. A great day for Manchester United. I haven't been this happy in a long, long time.
Hounding Woodward out is a start - but it can only be that, a start. We must do more, we must continue the fight to get the Glazers gone as well. Woodward is the tree, but these wankstains are the roots. One leech gone, three to go. All the time they are there, this club will continue to rot and be bled dry. Nothing will change until they have gone. The Super League looks certain to collapse now and it could be exactly the catalyst we've been waiting for. This could be the straw that broke the camel's back - maybe now, finally, 15 years on, we can drive the Glazers out of Old Trafford for good.