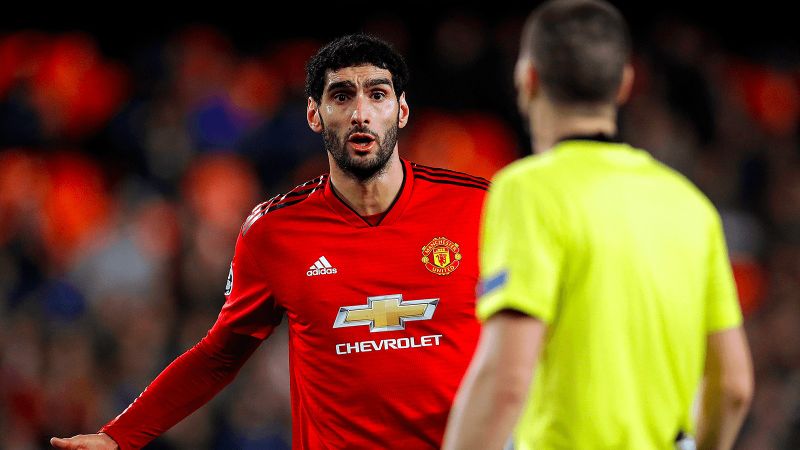 Marouane Fellaini will end his five year career at Old Trafford having agreed a deal to sign for Chinese club Shandong Luneng. The burly Belgian will move to pastures new for a fee in the region of £15m, bringing to an end a United stay that will be quickly forgotten.
The first major signing of the post Sir Alex era, Fellaini has been a divisive - and often derided - figure at Old Trafford. Synonymous with the torrid ten months of the man who signed him from Everton, Fellaini never won over the United fans despite his limitations. Clearly, he enjoyed adulation and trust of three consecutive United managers - David Moyes, Louis van Gaal and Jose Mourinho. In that respect, he has been lucky to survive as long as he has at the club. There's no way he'd have been afforded that luxury at any other so called top club. We also cannot forget the manner in which he held our club to ransom last season during attempts to pen a new deal.
There has been the good, the bad and the ugly from a player that has offered delight and despair in equal measure. Fellaini has scored at Wembley, bossed a Europa League final, run the show against City and kept this season's Champions League run going. He proved to be a useful option off the bench as a Plan B, and - to his credit - always did the job he was asked to do and gave 100% each week when called upon.
Despite those commendable efforts, Fellaini will be a player and a man whose face never really fitted at United. He had no technical ability, no skill, no pace and often proved a liability with his flailing elbows and ill-discipline. His qualities are not what we expect - or want - from a United player. Particularly as a midfielder at a club blessed with the metronomic talents of yesteryear in Messrs Paul Scholes, Michael Carrick, Bryan Robson and Roy Keane to name but four.
Perhaps unfairly, Fellaini will forever be synonymous with failure, and the epitome of the chaotic state of flux and turbulence that has enveloped Old Trafford in the post-Ferguson years. I don't think we under-appreciated Fellaini, he just became a symbol of United's lost identity. He became a tool for playing horrible hoof ball tactics up to him when United had to grind out results and win ugly against opponents that would have been beaten with a more positive approach. It's not his fault, just what he was asked to do in a conservative and cautious side - but mud sticks.
To give him credit, I cannot fault his dedication and willingness to fight for the team where others had downed tools. He's flourished in ungainly fashion to do a job, but - still - feels like an unwanted side effect of the Moyes era.
Unless he's an idiot, Fellaini knows his time at United had hit a dead end with the club looking to move away from conservative managers with the appointment of a forward-thinker. Ole Solskjaer may be interim boss, but even if the club get Mauricio Pochettino in the summer it would also have signalled bad news for Fellaini. The Reds finally seem willing and able to right five years of wrongs, so it makes sense for the Belgian to move on having made only two brief appearances as a sub under Solskjaer.
There is a different mood at United now and Fellaini represents the old. Solskjaer has built on team spirit and togetherness and it doesn't feel like the big man is part of that.
Best wishes in your move to China, Marouane.