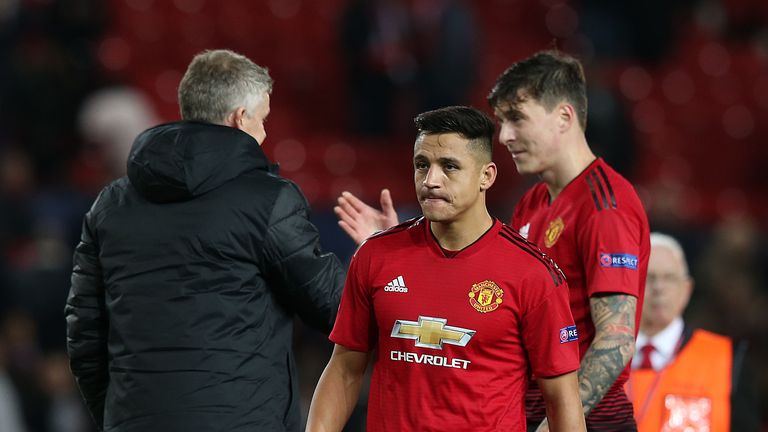 Where do we even start with Alexis Sanchez? What on earth has become of the player whose world class influence carried an average Arsenal team for so long? It was another night of toil for the Chilean as he again fialed miserably to live up to the heightened expectations he arrived with.
The highest paid player in the league, it is not unreasonable to expect Alexis to do what Sergio Aguero does for Manchester City, what Mo Salah does for Liverpool, or indeed what his replacement Pierre - Emerick Aubameyang does for his former club.
Sanchez has been at United for a little over a year but the only thing he's managed to play well so far is the piano. Free from the shackles of the Jose Mourinho regime, under the lights on a European night against genuine European powerhouses - it was an occasion that the best players perform in, a stage to relish. Instead, Sanchez looked more like a lottery winner whose prize was to blag a game in attack in a United shirt. It's games such as these that you make you a bona fide cult hero, but also can expose you as a player found wanting should things go awry. Indeed, how things have gone so badly awry for Sanchez.
I lost count of the number of times he lost the ball, there was no desire to win it back, he never lifted his head up and looked a man completely at odds with himself. Maybe we shouldn't persist with him, but then again, who else is there? If Anthony Martial's injury is as bad as first feared, Sanchez will have to start. He replaced the injured Jesse Lingard moments before half-time, but was rendered anonymous and proved completely ineffective. So much so, I forgot he was even playing. It was a mistake to ever sign him, Sanchez is simply not a Manchester United player and is surely living on borrowed time. Ask yourself this: what has he done is his 13 months at Old Trafford? Had one good half in the Manchester derby at the Etihad back in April, and scored against his former club in the FA Cup. Two significant moments in over a year for a player on reported wages of £400,000 a week.
It's remarkable how so many of his team mates have risen superbly in form and stature since Ole's arrival, but this lad continues to look as awkward as a priest in Ireland's largest lingerie section.
He is ill disciplined, overpaid and harms the entire dynamic of the team. Playing in the space often occupied by Paul Pogba, the Frenchman's influence is neutered and that in turn makes the team ineffective and unbalanced. For a player widely regarded as a rare Premier League example of a world class talent during his time at Arsenal, it is a baffling fall from grace. Under Mourinho perhaps that could be excused as the life was suffocatingly squeezed out of our attacking players, but you hoped that - under Ole - Sanchez too would be given a new lease of life.
Ole Gunnar Solskjaer has done many good things during his two-month tenure, but even he seemed at a loss when it comes to helping the player rediscover his peak Arsenal form. He said that Sanchez had to do it for himself after another abject showing against PSG.
That question remains - just how do you solve a problem like Alexis?...