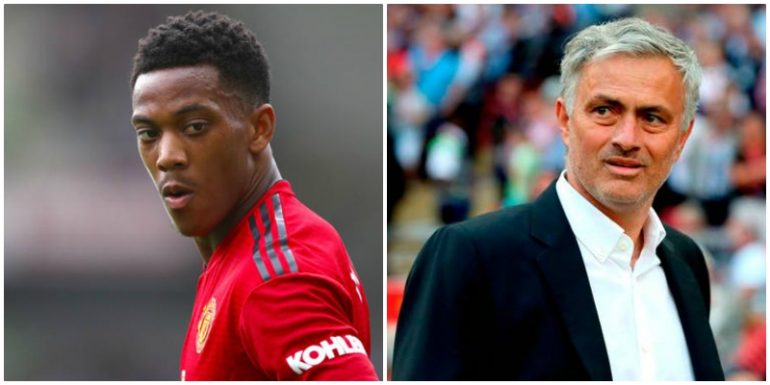 As one of, if not THE, biggest club in the world, United are accustomed to hitting the headlines whatever we do, but none more than in the past week. As if the home defeat to Tottenham was not bad enough, the club's predicament has only worsened - in these patience wearing, troublesome, tense and turbulent times, we must be a headline writer's dream at the minute.
It's no secret that United are just as much of a mess off the pitch as on it, and if there's one situation that epitomises the divisive, shambolic and upside down way the club is being run right now look no further than Anthony Martial. A player that doesn't want to be here and a player that Jose Mourinho blatantly wants rid of. Patience has worn thin with a player constantly threatening to throw away the world class potential that he possesses. The news that he's in line to sign a new five-year deal has left me, and I'm sure many others, scratching my head in bemusement and disbelief.
At the moment, these rumours may just be that - rumours, but there's often no smoke without fire and this is a deal that has the ugly stain of Ed Woodward plastered all over it. It's increasingly clear that this man - not Jose Mourinho - has the power and that he's running the club completely at odds with how Mourinho wants things done. Now it appears that this man - an accountant with absolutely no knowledge of football whatsoever - is sticking his oversized nose into business that's nothing to do with him once again. Words can't describe how much animosity I'm feeling for this power hungry, ego-driven, money obsessed, clueless, useless, toxic and pretentious puppet. He's determined to continually undermine one of the best managers in the business, a man whose task of reviving United's fortunes are becoming more and more complicated, to satisfy his own commercial agenda and greed.
This is what happens when a club prioritises commercial success over the playing side- you get the commercially driven signing of Paul Pogba seemingly dictating terms in ugly fashion and a CEO obsessed with that dreaded re-sale value angle. It is wretched, but that seemingly only scratches the surface as far as Martial is concerned. When we signed Pogba, Woodward said it had been a deal two years in the making. In other words, long before Mourinho even arrived at Old Trafford. Proof, if it were needed, that Woodward is going over Mourinho's head when it comes to recruitment and contracts.
If rumours are to be believed, the factor behind Martial's new deal revolves around the fact there is a belief within his camp that he can outlast Mourinho. He's basically admitted that all the time Mourinho is here, Martial is not even going to bother giving his all for the red of United.
This is what Manchester United have turned into, a club with no direction from the top. If you will, well Mourinho won't be here soon anyway so I'll bide my time.
How vile and disrespectful, how about wanting to stay for the badge and playing for, still, one of the biggest clubs around? Forgot that was too much to ask for…
This is a guy who Mourinho omitted from his Tottenham 18 for footballing reasons, a tactical call after his no-show, quelle surprise, against Brighton, much like the season before. This is a guy who has done absolutely nothing for the past year, a player who is lazy and body language horrible.
We are indulging players who frankly do not give a monkey's backside about the badge or striving to reverse United's slide into laughing stock. Yes, Paul Pogba, I include you in that too.
The cameras have been deliberately fixating on Woodward at full-time of both defeats to Brighton and Spurs, and each time the anger within me has risen to boiling point.
The Glazer puppet is running the show, not one of the best managers to have ever graced the game. Divided, broken and ripped apart from top to bottom, offering Martial a new contract is further proof that there's a bitter power struggle raging fiercely in the Old Trafford corridors of power.
A battle that one way or another, will inevitably end in tears.